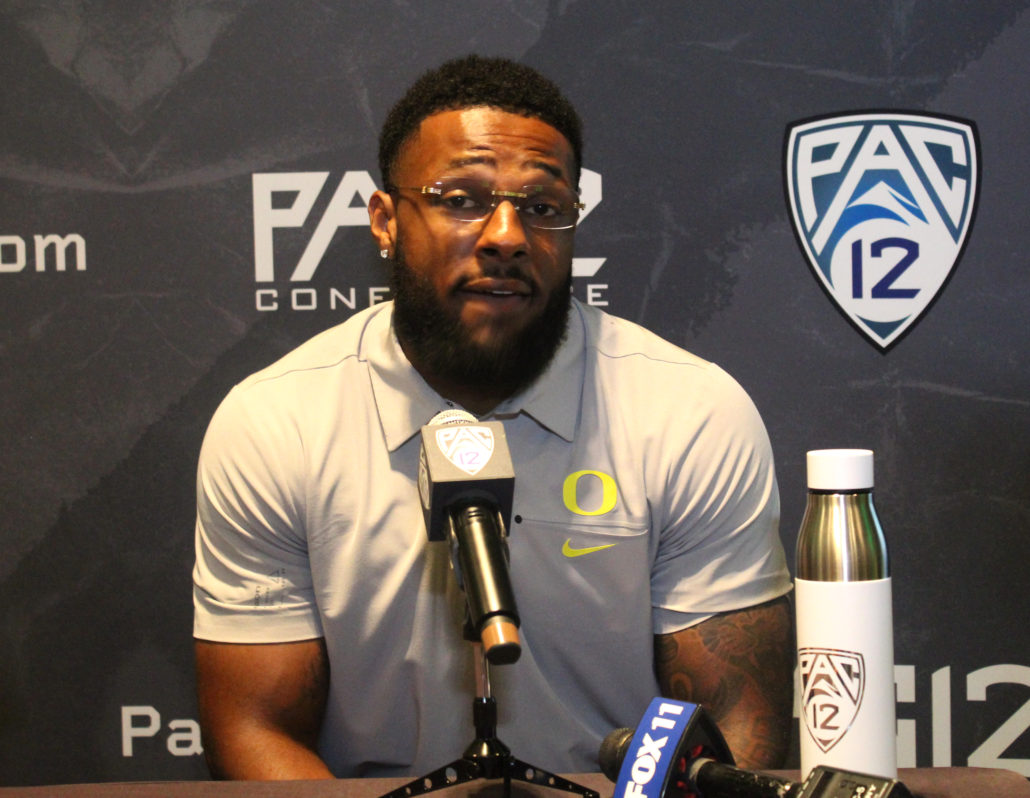 HOLLYWOOD — When Commissioner George Kliavkoff took the podium at Pac-12 Media Day, he labeled Oregon's edge rusher the best defensive player in College football.
After all, Kayvon Thibodeaux has NFL first round draft potential written all over him. He's a freak athlete, who has led the Ducks in tackles for loss and sacks over the past two seasons. With 77 total tackles, including 23.5 for loss and 12 sacks through 21 games, it's safe to say Thibodeaux has lived up to his five-star billing.
However, Coach Mario Cristobal feels his defensive end still has an extremely high ceiling and has yet to reach his potential.
"I think anytime you sign a player that has that five-star status, you want his work ethic, demeanor and leadership qualities to be that of a five-star as well, and he has that," Cristobal said. "The way he pushes himself and what he demands out of himself, is really his best trait, and I think it carries over in a great example of leadership for those coming up behind him."
Cristobal believes Thibodeaux is one of the most explosive players he's ever coached and that his best football is still ahead of him. As a true sophomore last season, the South Central Los Angeles native recorded a sack against Oregon State, California and UCLA, plus he finished the year with third-team AP All-America honors.
Thibodeaux wore his conference championship rings at Pac-12 Media Day, but emphasized to reporters how they're a constant reminder of his journey that he uses for motivation, because he's always proactive towards the future.
"I just try to live in the present and really focus on what we have to do the next day or how can I get better for the next challenge," Thibodeaux said.
As he approaches his third season with the program he's ready for whatever comes his way. Opposing Offensive Coordinators will game plan around him and know where he's located on every play. Instead of playing with his hand in the dirt along the edge this fall, Thibodeaux will be standing up more and using his six-foot-five frame to bat down balls.
"It's something that has changed in my game, it has made me more versatile and gave me more to my resume," he said. "It's not a position change because the rules and regulations are still the same."
He's already relentless, with a high motor and a killer instinct, which is a bad recipe for ball carriers. Off the field Thibodeaux feels the new NIL deals for student athletes are a blessing for all parties involved. Most importantly he wants to change the narrative of what outsiders think of Oregon's program as Nike University.
The Ducks could care less about the alternate uniforms and the shiny helmets they play in if they aren't winning games. Despite winning the Pac-12 Title for two-straight years, the team still feel like they have a lot to prove. Everyone put in the work during the offseason, including Cristobal.
The coach has spent countless hours at the facility. His passion and sacrifice hasn't gone unnoticed by Thibodeaux either. Which is why the star defender is going hard each day during practice for his coach.
"He (Cristobal) barely has time for his own family because he does so much for this Oregon family," Thibodeaux said. "I feel like that exemplifies in his team."