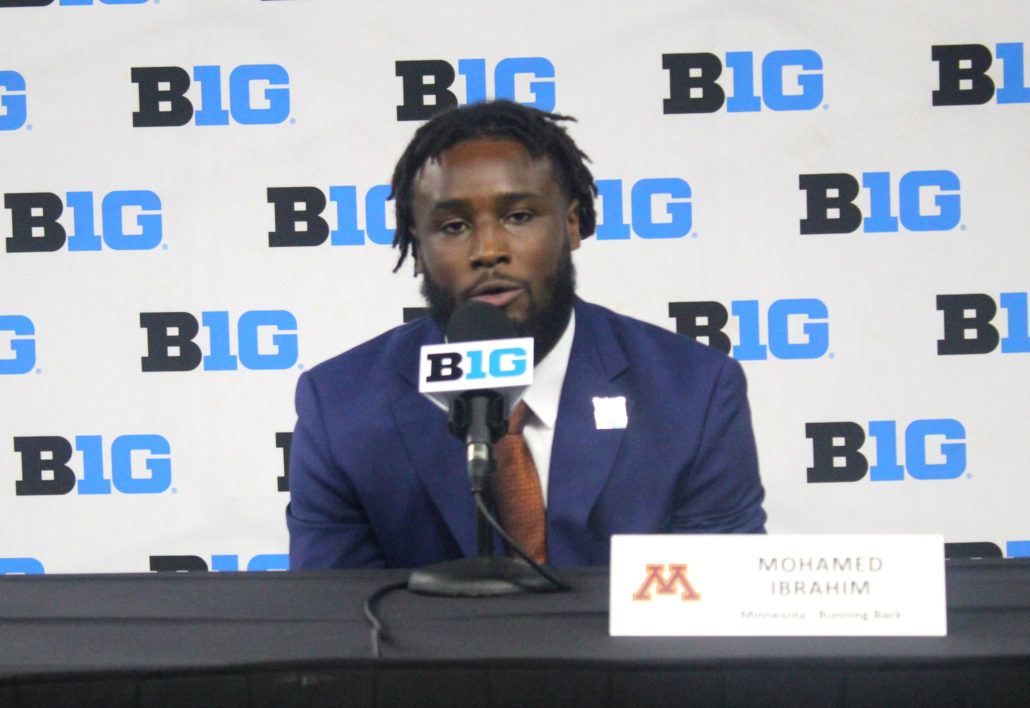 INDIANAPOLIS — He's College football's No. 1 workhorse, and the lone running back in the Power Five with two 1,000-yard seasons under his belt.
Mohamed Ibrahim only stands 5-foot-10, and weighs 210 pounds, but the Minnesota rusher plays with the strength and durability of NFL great Derrick Henry. Last season he averaged 153.7 yards on the ground per game, which ranked second in the FBS.
Handling the load is nothing new to the Baltimore native, considering he had three games of 30-plus carries in 2020, including 41 against Maryland. Which is why Ibrahim is expecting opposing defenses to stack the box this fall in hopes of stopping him.
"I'm pretty sure that the coaches are going to put me in the right situations for me to benefit in the right way," Ibrahim said. "They are going to show me eight or nine men in the box all fall camp, so I'll be used to it by the time season comes."
The Golden Gophers will be operating under a new Offensive Coordinator in Mike Sanford. Ibrahim is doing what he can to build a bond with him and trust the plays he calls. Meeting over zooms wasn't Ibrahim's cup of tea and he prefers doing things in person with teammates and staff.
The former three-star prospect embraces the pressure that comes with being the reigning Big Ten Running Back of the Year. He has no personal goals and could care less about any accolades. Ibrahim's main focus is helping the Golden Gophers get back on the winning track, after the team took a step back in 2020.
Although he has 2,840 rushing yards and 31 touchdowns on the ground over the past three years, Ibrahim has never caught more than eight balls in a single season. He doesn't want to be limited in what he can do as a rusher, so Ibrahim been getting more involved in Minnesota's passing game.
"Just getting my route-running down, getting my hands together, just making sure I can do it all," he said. "I think that's the most important part."
Everyday Ibrahim takes pride in leading by example. He believes he's an ideal student athlete and wants to be an individual younger players can look up to. Ibrahim has been guiding some of his teammates with their NIL deals. He doesn't want any short-term NIL deal and instead he prefers something that'll provide him with stability after his collegiate career is over.
"Leadership is more than just on the field, it's more about off the field and making sure these guys are developing in the right way," the junior rusher said. "I don't want to lead them in the wrong direction and they think that it's the right way, so I'm always on my best behavior and showing them the right things to do."
Ibrahim is glad he'll be accompanied by quarterback Tanner Morgan in the backfield again. He feels the signal-caller regressed a bit last year, but Morgan been on top of his game during summer workouts and Ibrahim his confident in the duo's potential approaching fall camp.
Having Ibrahim by Morgan's side will take the pressure off the quarterback and he doesn't mind putting the Golden Gophers on his back and carrying them to the finish line.
"I'm willing to do anything for my team, if that means carrying the ball 70 times, then I'll do it."