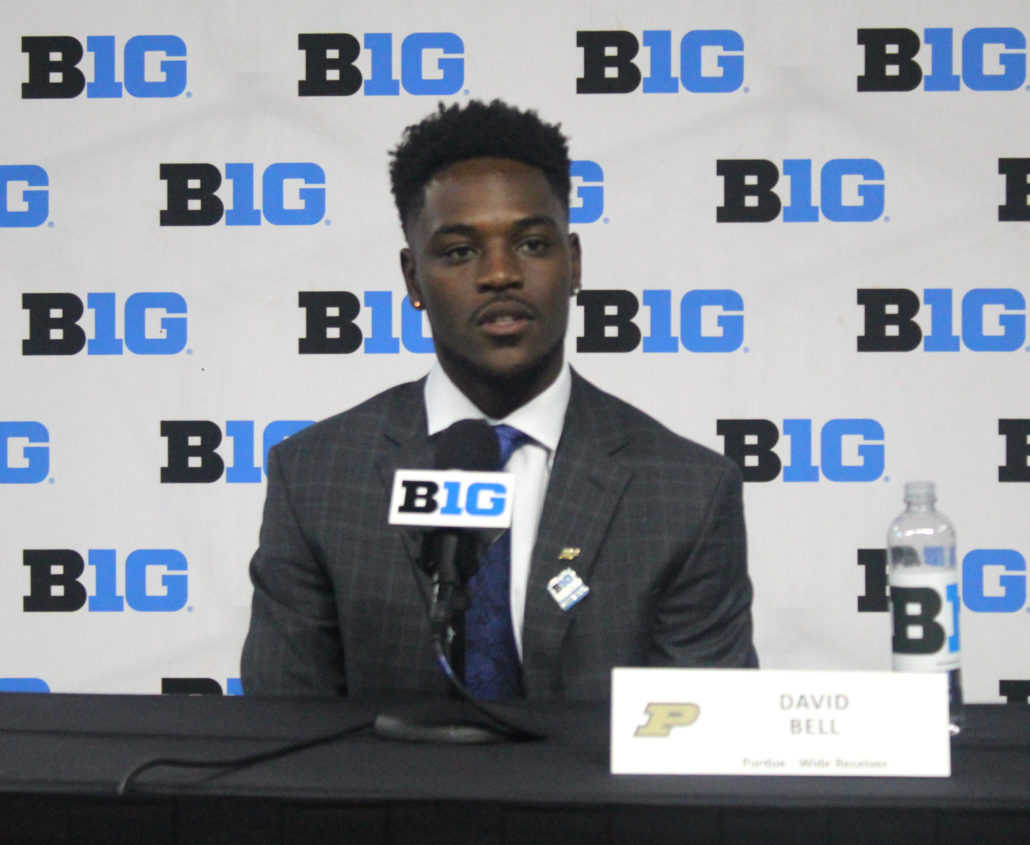 INDIANAPOLIS — Despite being one of the most productive Big Ten wide receivers over the past two seasons, David Bell still doesn't get the acknowledgement he deserves.
The Purdue wideout has scored a jaw-dropping, 16 total touchdowns and went over 100 yards receiving 11 times during that span. However, for some reason Bell's video game numbers don't move the needle nationally.
The lack of recognition could be due to the fact that the Boilermakers are coming off three-straight losing seasons. Usually receivers are only as good as the individual throwing them the ball. However, Purdue hasn't had much stability at quarterback either, with no All-Big Ten signal-caller since Drew Brees.
The league is full of talented wideouts in 2021, so it's almost like being a needle in a haystack for Bell. Indiana's Ty Fryfogle was named the Big Ten's Receiver of the Year last season. Ohio State's Chris Olave and Garrett Wilson has received all the media love. And Penn State's Jahan Dotson considers himself the best of the best. It doesn't bother Bell though, but gives him a big chip on his shoulder.
"Every list that comes out I'm bottom 10, eight or nine, so I definitely see it, but I don't pay too much attention to it," Bell said. "At the end of the day, this is the year that we can squash all of it, we're all big time names."
Bell's No. 1 goal this fall besides getting the Boilermakers to a bowl game, is to win the Biletnikoff, the hardware awarded to the nation's best receiver. The Indianapolis native believes it was beneficial for him playing alongside Rondale Moore for two years, who's now with the Arizona Cardinals.
Leadership and hard work is what Moore taught Bell. The former four-star prospect feels obligated to carry the torch in Purdue's wide receiver room, considering Bell is now the veteran.
"Rondale set the foundation of that and I'm just trying to carry it on and pass it to the young guys," he said. "The No. 1 thing I'm trying to teach them is how to be a professional, and make sure hey clean up their social media, because everyone is watching."
Bell tries to lead by example and spends extra time after practice everyday working on his craft. The six-foot-two, 205-pound Bell has ideal receiver size and he knows how to use his frame. He believes one of his greatest strengths as a receiver is his ability to catch the ball, no matter where it's at in traffic. Bell thinks it all translates back to his days as an adolescent playing backyard football.
"I wasn't the best growing up in my neighborhood, therefore it was ways I had to find to get on the field," the All-Big Ten receiver said. "It was guys in my neighborhood 20 times better than me, but I was good at what I could do, so that's why I always got picked up."
Although Bell has a unique skill set, he still feels there's a lot of areas he can improve in his game, particularly his releases in man-to-man press coverage. Bell felt defenses started to adjust to him over the first two seasons because of his limited releases. Now he feels more versatile in the slot and on the edge.
"I've been working constantly, just been watching videos, talking to NFL guys, working with Brock Thompson and other receivers," Bell said. "Just finding ways I can get off the line and I think this offseason I definitely gained separation."
Bell molds his game after NFL receivers Allen Robinson, Michael Thomas, Keenan Allen and Davante Adams. His 149 catches and 1,660 receiving yards during his first two years with the program has been astonishing. He also finished first in the conference in receptions and receiving yards per game last season. Still, Bell feels like he's just scratching the surface of his potential.
Off the field, he's a Chevy Impala driving and chicken wings loving student athlete. He fell in love with the  color maroon after his mother dressed him in a suit when he was a kid. Not to mention Bell loves to listen to music by Lil Baby and Lil Durk to get him pumped up for gameday, but his favorite artist right now is his cousin P.B.T. Ace.
He's more than ready to prove his worth for the upcoming season, and plans on showing the nation why he's one of the best receivers in not just the Big Ten, but the entire FBS.