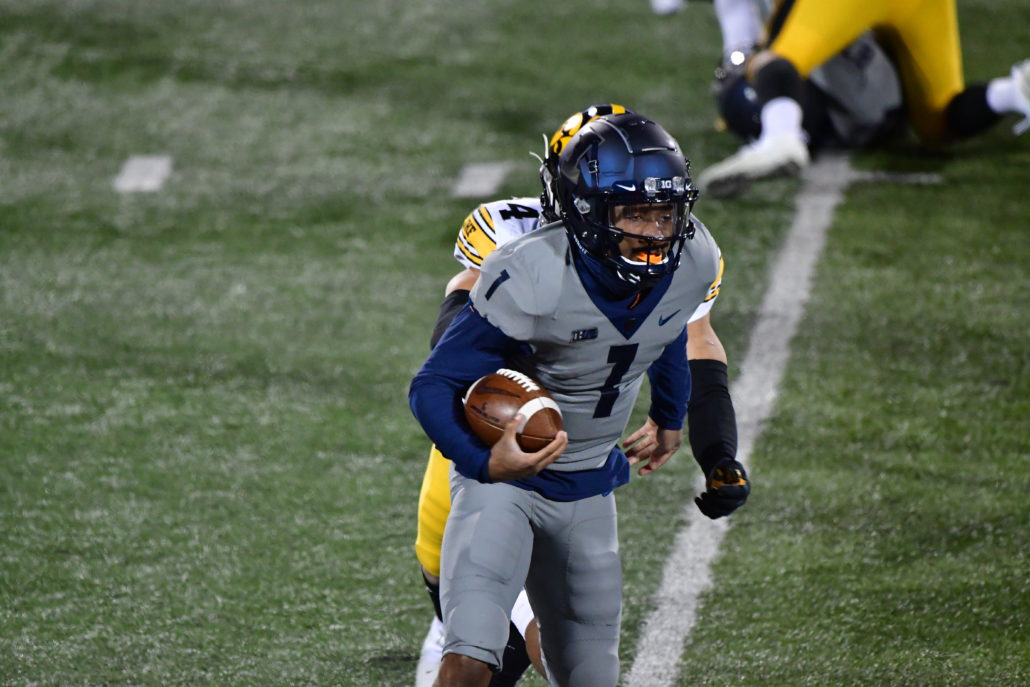 INDIANAPOLIS — Lovie Smith played musical chairs with Illinois' quarterbacks last season.
Brandon Peters, Isaiah Williams and Coran Taylor all had significant action behind center through a 2-6 campaign. However, after the Fighting Illini's first spring with Coach Bret Bielema, Peters and Taylor remained signal-callers, while Williams moved to wide receiver.
Bielema wants his best players on the field at the sametime. Williams is too good of an athlete to be on the sidelines while Peters is taking snaps. So it was a no-brainer that the 51-year old coach would use Williams talents in the slot and on the edge.
"He's been a great asset for us, not only is he a good football player, I think he's an exceptional person," Bielema said. "Great leadership qualities, he's lightning in a bottle, just a very active and natural receiver."
Williams is a former four-star prospect from the Fighting Illini's 2019 class. Most major recruiting publications had him listed as an athlete. He attempted 10 passes as a true freshman, but showed his true potential last year.
The 5-foot-10, 180-pound Williams started and showcased his dual-threat capabilities in the win at Rutgers. He finished with 104 yards through the air, and a jaw-dropping, 192 on the ground against the Scarlet Knights. Williams also looked solid in the season finale at Penn State, when he threw for 120 yards and rumbled for 102.
The Saint Louis native finished the season with five total touchdowns and averaged 6.2 yards per carry, but only completed 41 percent of his passes. Several rumors surrounded Williams' status with the team after Smith got fired. Fans wondered if he was going to stay with Illinois and battle Peters for the starting position in 2021, or transfer.
Spring ball wasn't the first time Bielema got to see Williams in action. Bielema was actually at the Penn State game and was impressed with Williams' performance. He paid close attention to all of his quarterbacks during spring ball and got Williams to agree to the unthinkable. Anytime a players changes positions, it humbles them and they have to swallow their pride.
Still, Bielema is happy with the decision and confident Williams will have an immediate impact at wideout this fall.
"Just that simple transition right there made us better at the wide receiver position by transition from the quarterback," he said.
Smith didn't leave the cupboard bare for Bielema and a plethora of players decided to return to Illinois after his arrival. Now the Fighting Illini leads the FBS with 22 super seniors. The Fighting Illini will be one of the most experienced teams in the Big Ten West this season.
Bielema believes everything has come full circle, with him returning to his home state and back in the Big Ten. After all, he played and coached in the conference. Bielema also knows the speed of the game,  different teams' physical style of play and the passion of the fans.
Regardless, he would never second guess himself. Putting pieces in new places will only be beneficial for all parties involved. Williams speed will do damage out in space against Big Ten defenders. That's why Bielema remains optimistic as Illinois approaches fall camp.