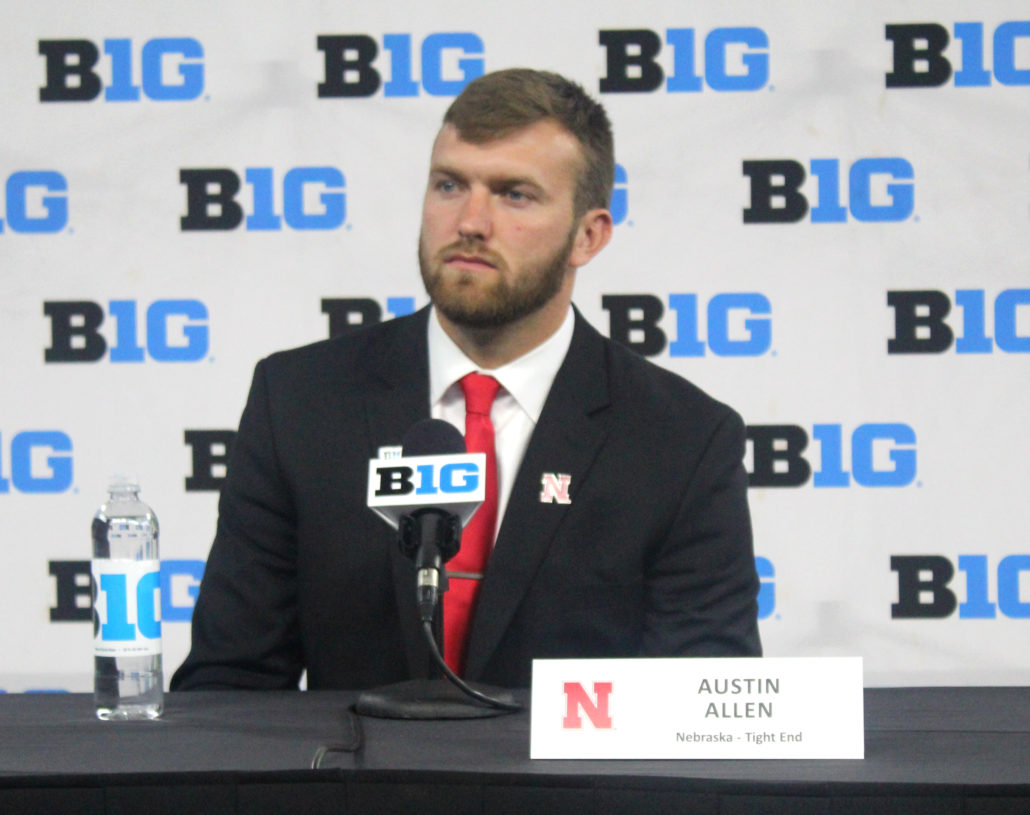 INDIANAPOLIS — Several streaks have ended over the past 20 years with Nebraska's football program.
Streaks of wins, losses and yards may have come to a halt, but there's one remaining that Husker Nation still controls. It's a streak that consists of 375 games and dates back to 1962. Junior tight end Austin Allen, who's a Nebraska native, understands what the sellouts mean to the University's athletic department, and the state as a whole.
After all, Husker football is tradition in the community. Nebraska fans gained notoriety through the years for many reasons. Loyalty is the main one. Despite the program's struggles over the last two decades, Husker fans still support their team.
Packing Memorial Stadium is what they take pride in, so when there's talk about the sellout streak ending, it bothers Allen.
"I know the sellout streak means a lot to a lot of fans, I encourage fans not to let that happen because it's kind of a big deal," Allen said. "I think in my eyes it's not always about sellout streaks, it's about the passion of the fans."
Nebraska fans are arguably the most knowledgeable and passionate ones in the country. However, there's been rumors swirling about the sellout streak ending for years. Whenever there's talk about it actually coming to fruition, a private donor or booster emerges from the shadows and buys up the remaining 7,000 available seats.
It's no mystery Husker fans have spent a lot of money with the program. Local celebrities like Gabrielle Union, Terrance Crawford and Larry the Cable Guy all have supported Nebraska. Go Big Red has witnessed countless hires with head coaches and Athletic Directors post Tom Osborne.
Husker fans are actually the last line of stability the program has. Nebraska's shortcomings over the years is what has fractured the fanbase. Some thought Frank Solich should've never been fired. Others feel the same about Bo Pelini's departure.
The product on the field has slipped drastically over the years and it's evident in the win-loss column. Instead of Husker fans clapping their hands all the time through the glory days, they've been having their arms crossed watching their team struggle. And they aren't afraid to let the players and coaches know during games and on social media. Allen has found that out first hand.
"I want 85,000 passionate fans giving their all to Husker Athletics," he said. "I don't want 5,000 guys that are just going to flick you off and call you this and that."
Once upon a time boos were unheard of inside the Sea of Red. Now there's a new generation of fans and these aren't your grandaddy's Huskers. Fan attendance had already dwindled across the country, even before the pandemic started. Watching games have become so convenient for fans. Now they can view any game they want from their living rooms, apps on their phones and through social media.
It all has jeopardized fan attendance in recent years. Still, Allen believes with the pandemic over and everything going back to normal, Memorial Stadium will be the place to be this season on Autumn Saturdays. Whether the fans pack the stands feeling satisfied or disappointed, Allen will just be content playing in front of them again.
"Fans are going to be passionate, they're going to say what they want on a loss, and they're going to say what they want on a win," Allen said. "Come one, come all, and let's keep the sellout streak going."