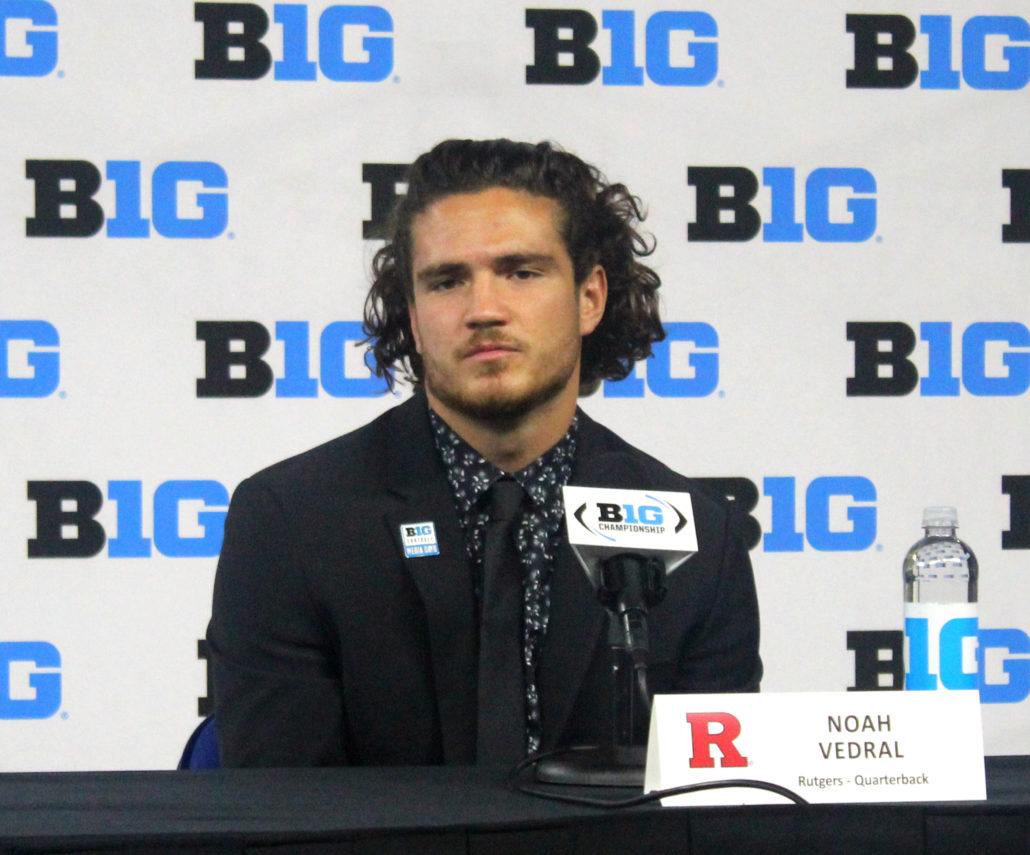 INDIANAPOLIS — His collegiate career dates back to the 2017 season, and it has been a roller coaster ride for the veteran quarterback.
Noah Vedral has played for three different teams during that span, but he remained resilient throughout the process. Going through the trials and tribulations has molded him into a leader and an inspiration to his teammates. The former three-star prospect played behind McKenzie Melton at UCF and Adrian Martinez at Nebraska, before becoming a full-time starter with Rutgers last year.
It all has been a learning process for Vedral, which is why he doesn't take anything for granted. Having the high and low moments during the Scarlet Knights' 2020 campaign, helped earn Vedral the respect of his coaches and teammates. Coach Greg Schiano obviously had an impact on the signal caller's maturation process, and now the Scarlet Knights believe they can be successful in 2021.
"I think he (Schiano) brought back the culture that's going to serve Rutgers well far into the future," Vedral said. "That winning, selfless, trustworthy and accountable culture is going to last for a long time."
Vedral passed for 1,253 yards and nine touchdowns last season. The Nebraska native threw three interceptions apiece in losses to Indiana and Illinois. However, Vedral displayed his potential and threw for a career-high, 381 yards and three scores against Michigan.
Vedral suffered an ankle injury from a dirty play by a Maryland defender and couldn't suit up against his former team Nebraska, which he wanted to do dearly.
"It was a bummer for sure, like I really was looking forward to that game all year to get to compete against some friends," he said.
Vedral's injury kept him from walking during winter workouts and lingered into spring ball. Although Vedral wasn't able to participate like he wanted to, he was still able to play pitch and catch with his receivers. He found out fast that the chemistry was still there, plus Vedral made a good enough impression with his play last year that quarterback Artur Sitkowski transferred during the process.
Rutgers' no-huddle offense looked smooth in the spring game, plus the unit returns a plethora of starters, with stud receivers like Bo Melton at the skill positions. Now the six-foot-one, 205-pound Vedral is back fully healthy just in time for fall camp and everyone is improving.
The entire team has bought into the foundation Schiano is trying to establish with the program.
"The realistic goal for us is to be better than what we were," Vedral said. "We have a talented team, weapons galore, offensive line is really good and the defense is sound."
The schedule is challenging, considering the Scarlet Knights play in one of the toughest divisions in all of College football. The first game against Temple has everyone's attention. Vedral knows it's important for his team to get off to a fast start for momentum and he's itching to get back on the gridiron. His goal is to show the fans how he has matured and that he's back like he never left.
"I think the first game of any season is super important, it just sets the tone," he said. "You've waited a calendar year to play it, so you got to come out ready and ripping."