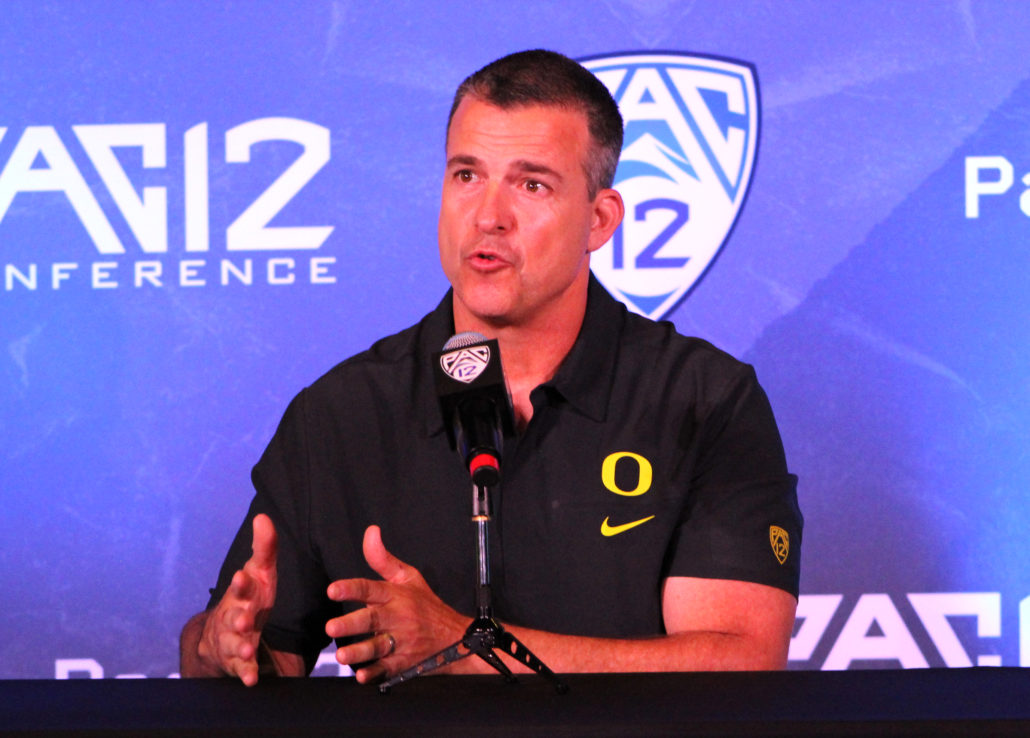 HOLLYWOOD — Winning back-to-back Pac-12 Titles would be the mountaintop for many Pac-12 programs, but not Oregon.
Head Coach Mario Cristobal is constantly coming up with ways to keep his players hungry and striving for more. In no way, shape or form does he believe a conference championship is the ceiling for the Ducks' program. Nike University has bigger aspirations and it's all about reaching that postseason glory.
Oregon came close to crashing the Playoffs in 2019, but a three-point loss at Arizona State kept the team on the outside looking in. Which is why Cristobal has kept his foot on the pedal ever since.
"We're in a profession where you have to be committed to improving every aspect of what you do and how you do it, and if you're not, you'll fall behind," Cristobal said. "There's no staying the same, you're either getting better or someone is passing you up."
It's a constant reminder to the coach that success is a marathon and not a race. It's all about handling prosperity and everything starts with recruiting. Cristobal has already established himself as a monster in that department. During his tenure the Ducks have annually lured in top-10 classes. He also develops those players and makes them NFL Draft picks.
In hindsight, the 50-year old rules the Pac-12 with an iron fist, but there's a secret recipe to his success and that's bonding with his players. The Miami native believes spending a large amount of time together helps with chemistry, trust, respect and the dynamic of brotherhood. That's when players will run through a brick wall for their coach.
Despite all of the success, Cristobal wants the Ducks to remain the hunters and not the hunted. He never wants his players to view themselves as having a target on their backs. Cristobal wants every Duck on the roster to be driven, but humble at the same time.
"I think the most important thing in the offseason is to find out what your team is all about," he said. "In the form of presenting them with challenges, presenting them with adversity and finding ways to group leadership."
Last year's starting quarterback Tyler Shough transferred to Texas Tech. However, Oregon will be loaded on offense, especially at the skill positions. The Ducks also have what many believe is the best defender in the league in edge rusher Kayvon Thibodeaux.
All eyes will be on Oregon's week two matchup at Ohio State. Cristobal knows the entire Pac-12 will be judged on how the Ducks perform in that game. A win over a top-three team would boost Cristobal's squad into the top-10, but a loss would put them behind the eightball for the remainder of the season.
However, Cristobal is 2-0 against the Big Ten as Oregon's coach. He beat Michigan State in the Redbox Bowl in 2018 and defeated Wisconsin in the Grandaddy in 2019. There's no denying the magnitude of the contest with the Buckeyes, and the College football world will quickly find out if the Ducks are the real deal.
As of now, Cristobal believes his team can win every game on their schedule this fall, but it's going to come down to how focused they'll be every week. And that's when Cristobal and his staff comes into play to keep everyone locked in on the task at hand.
"There's a very strong sense of urgency to detail and intensity in our players, and they're ready to compete."