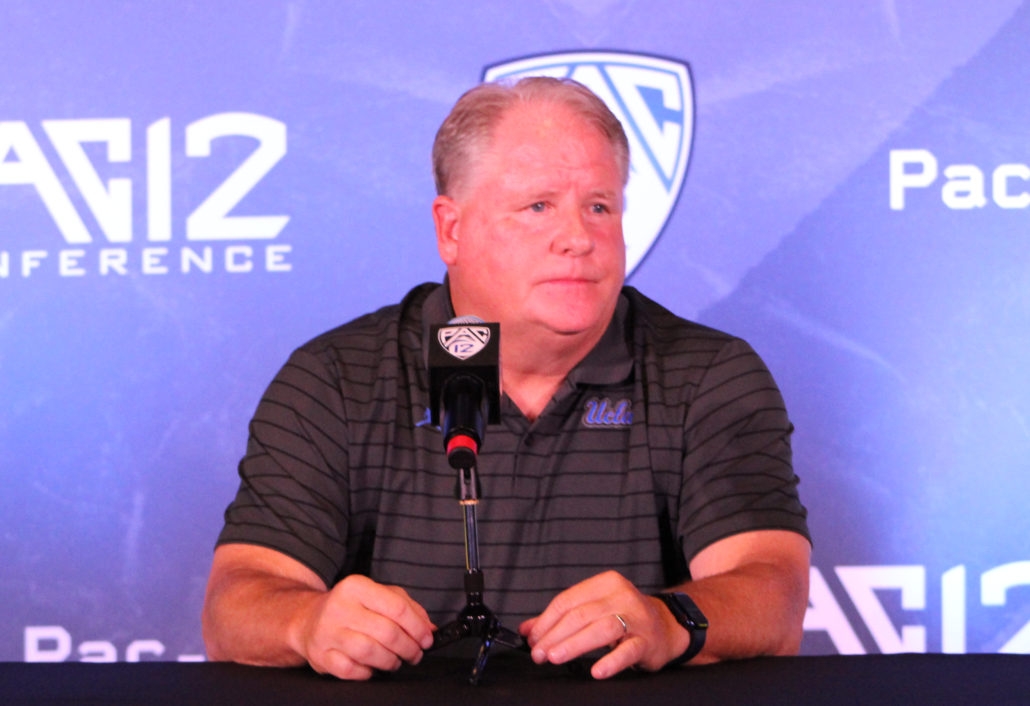 HOLLYWOOD — UCLA is three weeks into its' deal with the Jordan brand and Nike, which all sides agreed to back in December.
The Bruins were previously with Under Armour. However, having an LA-based program link up with a legendary brand, was a match made in Heaven for Chip Kelly. The UCLA coach believes it will elevate his team's merchandise, status and most importantly help with recruiting.
Other Power Five programs such as Oklahoma, Michigan, Florida and of course, North Carolina all have deals with Jordan. The Bruins' deal started July 1 and it's for $46.5 million over six years. That's worth about an average of $7.7 million annually.
"I think that helps, it always helps, it's such an iconic brand that everybody wants to be associated with," Kelly said. "I've always been such a big fan of the product."
Kelly is approaching his fourth season with UCLA and everything appears to be falling in place. A plethora of starters return on both sides of the ball. Not to mention the players and staff are highly motivated to get the Bruins their first winning campaign since 2015.
Having that Jordan logo on front of the team's jersey means a lot to the players and something they're going to take pride in. Everytime they put on their uniforms it's like extending a part of Jordan's legendary legacy. Although the Bruins are enjoying the clothing and apparel, other items have been beneficial to the team, especially for Kelly.
"I spend a lot of time with our equipment guy, checking on the new stuff that came in," he said. "You're looking at the new prototype things Jordan has and what that's going to provide for us, especially the big guys on our team."
It all comes with its' perks too. Student athletes get customized retro Jordans. It's a brand that's synonymous with the older and younger generation. It's still relevant in hip hop music, which a lot of recruits relate to. Now all of the UCLA players want to win and look good while they're doing it.
Three-year starting quarterback Dorian Thompson-Robinson has been using the brand as a pitch to potential recruits. He feels the brand represents players that come from backgrounds like him and the journey he's on. Michael Jordan is arguably the most competitive individual ever in sports.
Not to mention his brand is rapidly growing in the NBA and collegiate athletics. In hindsight, it's only a matter of time before other Power Five programs start to jump on the bandwagon. The player admire their workout gear and how their dry shirts don't get wet.
There's some buzz surrounding the program approaching the 2021 season and everyone is expecting UCLA to take a big leap forward. Defensive back Qwuantrezz Knight believes it's only right that a program hungry for credibility, like the Bruins are, be associated with the Jordan brand.
"Just having Jordan and Nike gear, every player wants to that on, so I feel like it's huge for us," Knight said. "I remember when I first tried the Jordan gear and cleats on I didn't want to take them off."