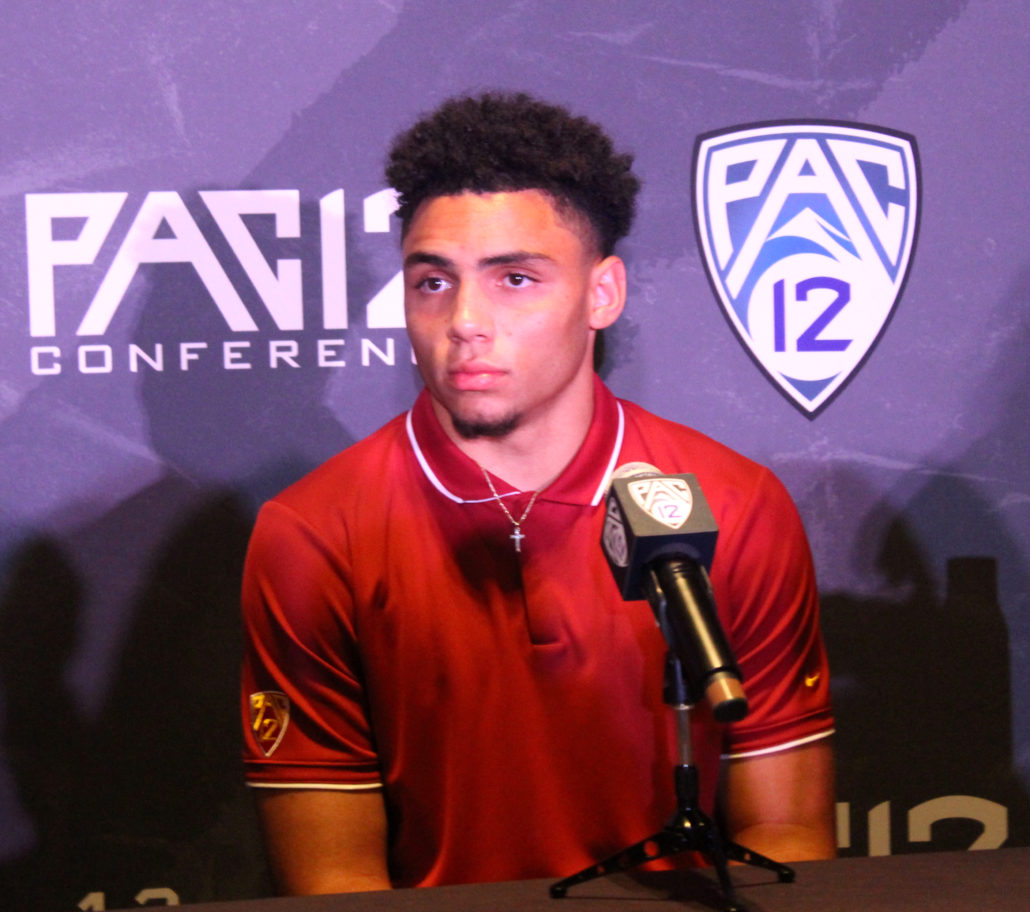 HOLLYWOOD — Last season he made a name for himself in a crowded USC wide receiver room.
Drake London led the Trojans in receiving yards, despite playing alongside Amon-Ra St. Brown and Tyler Vaughns, who are now on NFL rosters. He admired both receivers' skill set, plus what they brought to a USC passing attack that finished first in the Pac-12 and 11th nationally in 2020.
Now London is applying what he learned from St. Brown, Vaughns and Michael Pittman over the past two seasons, in hopes of becoming the best wideout in the conference. The six-foot-five, 210-pound London is a tremendous athlete, with a stellar background in basketball.
Although London miss playing hoops and put it aside to focus solely on football, he still uses some of those moves on the court in his route running.  Everything is starting to pay off for the junior, and it's not like London hasn't already established himself as a beasty receiver to defenders around the league.
London caught a least three balls in every game as a true sophomore, including eight for 125 yards and a score in the opening win over Arizona State. The California native also hauled in two touchdown passes in the victory over rival UCLA. For his efforts, London earned second-team, All-Pac-12 honors, but feels like the accolades are just the tip of the iceberg for what he can accomplish this fall.
"I think every aspect of my game has improved, this is the first time ever in my life that I have been able to focus on one sport," London said. "I think speed, strength, explosiveness and my route running has definitely improved."
He has no self expectations for himself this upcoming season, but he wants to help USC get back to the Pac-12 Championship Game, and win the hardware this time around. So far, he feels good about how the Trojans been preparing. All of the quarterbacks, receivers and tight ends are dialed in and getting better.
Having arguably the best quarterback in the country throwing them the ball helps a ton also. This will be Kedon Slovis' third year in Graham Harrell's offense and the chemistry with the signal-caller and London is at an all-time high right now.
"We're out there just having fun, getting our timing right," he said. "It's serious, but at the same time we're having fun and getting to know each other as family."
London is appreciating everything the pandemic took from his last year, from practice, time with family, the fans and not having to take a COVID test every morning. The former four-star prospect has shifted his focus to fall camp. London knows he's the old head in a talented wide receiver room, so he's guiding the younger receivers, while refining his own skills.
Jump balls, spacing and gaining separation from defensive backs is a non-stop grind for London. Seam routes are his favorites to run because it matches him up with a middle linebacker, who's usually slower and he loves jumping over them. After all, London believes he's elite in the slot, out on the edge, and he's willing to be inserted wherever his coaches need him to make a play.
Still, he's not taking anything for granted and remains humble. That's why he's not afraid to pay homage to his Trojan wide receiver predecessors. He admired Pittman's leadership and dog mentality. He thought St. Brown had a work ethic and demeanor that reminded him of Kobe Bryant. Not to mention London still talks to Vaughns everyday for advice on what he should do with his routes.
"Them taking me under their wing and picking their brains, to see how they handle all of the pressure and how they lead that wide receiver corp," London said.
He's also enjoying his time in the classroom, including a physical education class that specializes in yoga, which has helped London stretch more efficiently. As for USC's 2021 season, London believes it's going to be like a perfect storm. All of the right pieces are in place with recruits, transfers, coaches and strength training, so London is feeling very optimistic.