Ryan Day not concerned with bullseye on Buckeyes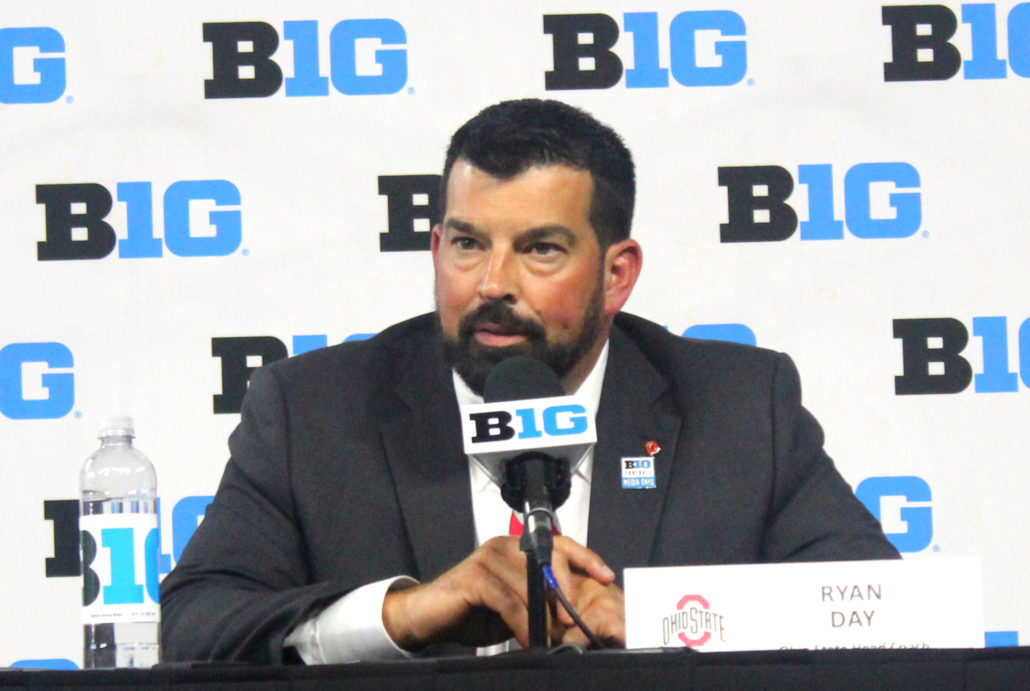 INDIANAPOLIS — With 20 wins over the past two seasons, that includes two-straight conference titles and a National Championship Game appearance, it's no mystery that Ohio State rules the Big Ten with an iron fist.
Monster recruiting has led to the Buckeyes having a roster full of four and five-star talent. From top to bottom the scarlet and grey appears to be light years ahead of the rest of the league. So it's no surprise that  Ohio State has gone unscathed against conference foes under Ryan Day's leadership.
In hindsight the Buckeyes' dominance appears to be a trend that's going strong, making the targets on their backs that much bigger in 2021. However, Day doesn't want his players taking the success for granted. Although a winning culture has been cemented and they might seem invincible at the moment, it's still any given Autumn Saturday.
"I think that there's been a target on the back of Ohio State for a long time since I've been here," Day said. "That has continued to be the case and that's a a good thing, obviously you want to get everyone's best shot, but that means you have to bring it week in and week out."
Day will be breaking in a new starting quarterback this fall in C.J. Stroud. Now opponents on this year's schedule are viewing it as a potential weakness for a team loaded at the skill positions. Regardless, the 42-year old Day believes it's going to be a smooth transition for the young signal-caller because of a great supporting cast.
"We have the pieces around him where if he takes care of the football and makes the routine plays, he's got a chance to be successful in this offense," he said.
Unlike what happened at Iowa in 2017 and at Purdue in 2018, Ohio State has yet to suffer any conference blowout losses during Day's tenure. The talent gap is that huge compared to the rest of the Big Ten, but that won't stop upset-minded foes.
Minnesota would love to rain on Ohio State's parade at home in week one. Not to mention Oregon will be looking to accomplish the same feat inside the Horseshoe nine days later. So Day wants his players focused and prepared for some potential dogfights. Sustaining success is more than just players executing x's and o's.
Day emphasized how Ohio State has 45 first and second-year players on the roster, but not much experience out of those individuals.
"Talent is one thing, but you also have to have a level of maturity with your team," he said. "I thought we struck that balance the last couple of years, and we had some really good leadership with our fifth-year seniors."
Day understands experience, leadership and production will be vital for the Buckeyes again as they navigate through the Big Ten meat grinder. The New Hampshire native knows his younger players are still raw, but having those three attributes can be the difference between a nine-win season versus another berth in the National Title Game.
Handling prosperity will be an everyday challenge for this year's version of the Buckeyes.