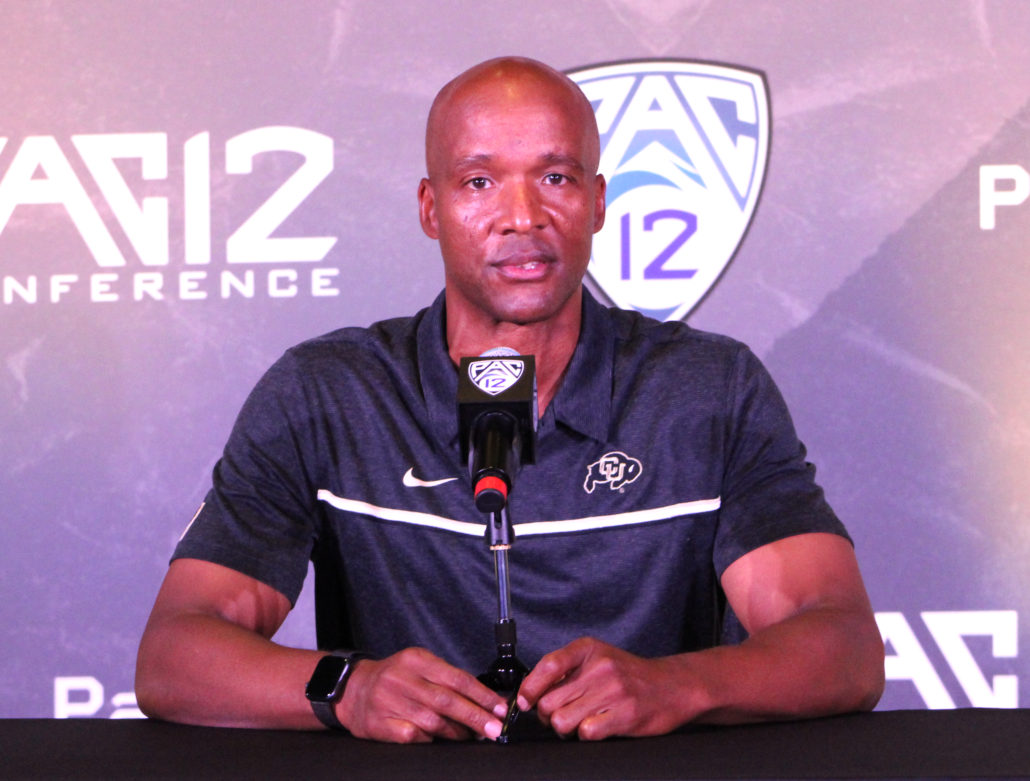 HOLLYWOOD — When a coach nabs a signal-caller to lead his offense, a lot of time and effort goes into the decision.
Colorado entered spring ball with three quarterbacks worthy of taking the reign of the offense, including one who earned All-Pac-12 honors last season. However, once the smoke cleared, only two remained for Coach Karl Dorrell.
Sam Noyer wound up transferring to Oregon State and spent most of spring ball recovering from shoulder surgery. During his absence Brendon Lewis and J.T. Shrout were able to take a plethora of reps with the Buffaloes' No. 1 offense. Both players impressed Dorrell with their leadership and how they commanded the unit, so they're basically neck-to-neck heading into fall camp.
"The fairest thing I can say is it's a two-man race," Dorrell said. "We think they're both very qualified and capable players."
Lewis got his feet wet as a true freshman in last year's bowl game against Texas. He led Colorado to a scoring drive and displayed dangerous mobility. Dorrell thought his performance was promising and Lewis' football knowledge continues to grow every week.
"If you remember what he (Lewis) did during his first time playing, I would say he had a passing grade," the second-year coach said. "He did some positive things that I would say any first-year quarterback might've done poorly."
Shrout is a former three-star prospect, who played the last two seasons at Tennessee under Jeremy Pruitt. He had a solid performance against Florida in 2020, when he completed 12 of his 14 passes for 121 yards and a touchdown. Shrout also threw for two scores in the win over Vanderbilt. Not to mention the California native had 104 yards through the air and a touchdown against Texas A&M.
There's no denying Shrout has carried that momentum with him to Boulder, plus he impressed his teammates and coaches. He has dazzled Dorrell with his decision making and competitive spirit, which will be needed when the Buffaloes navigate through the Pac-12 meat grinder.
"Being a kid that just transferred in a short period of time, he digested our offense," Dorrell said. "He spent the overtime hours doing that and giving himself a chance to compete."
Colorado is approaching its' last week of summer camp and Dorrell doesn't have a clue who'll be his starter. The 57-year old coach doesn't expect to make a decision until at least two weeks into fall camp. Regardless of who he finally picks, both quarterbacks want the team to win.
"All of our players offensively respond to both of them in a positive way," he said. "Everybody on offense thoroughly enjoy both of those guys under center, so it's a great competition."
Dorrell emphasized how it's going to be a day-to-day test as he gathers information from their performances in practice. The reigning Pac-12 Coach of the Year is preparing to take deep notes. There will be a lot of emphasis on the plays the quarterbacks make, just as well as their mistakes, in order to put Colorado's offense in the best position to be successful.
Still, Dorrell is very confident that when the time comes, both players will respect his decision and there won't be any animosity that'll divide the Buffaloes' locker room.