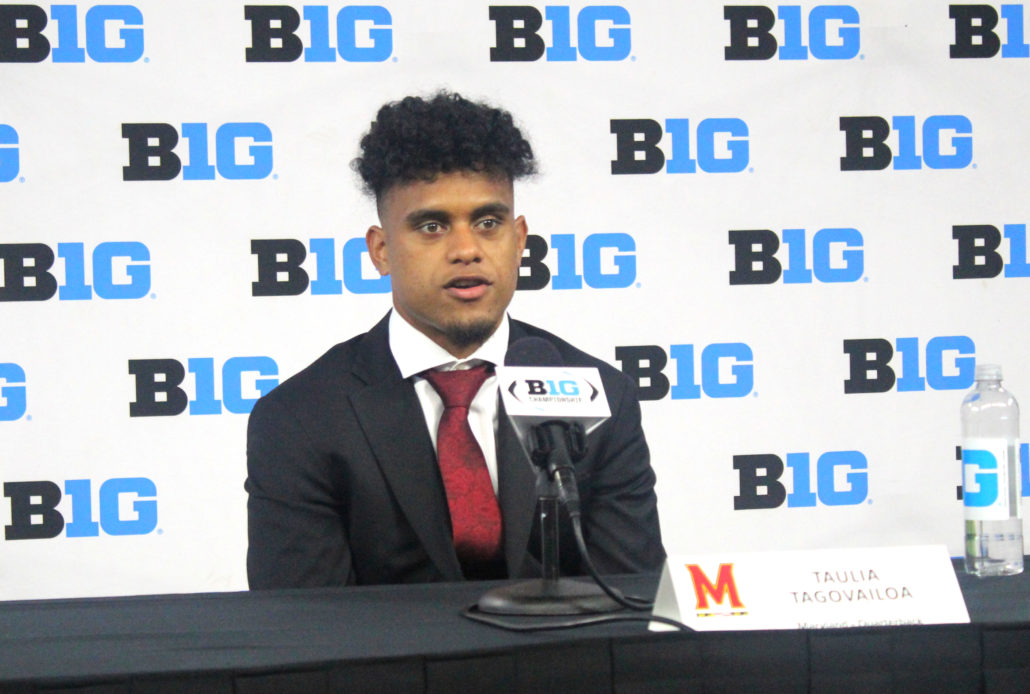 INDIANAPOLIS — Two years ago he watched his older brother Tua garner several accolades during his last season with Alabama.
Taulia Tagovailoa understands that his name rings bells to College football maniacs because of the amazing legacy Tua left behind. Even after a promising campaign during his first rodeo in the Big Ten last year, Tagovailoa feels he's just scratching the surface of his potential.
The Hawaii native threw three touchdowns apiece for Maryland in victories over Minnesota and Penn State. Not to mention his 394 passing yards and five total touchdowns were both career-highs against the Golden Gophers. However, Tagovailoa went through some growing pains, including three interceptions each in losses to Indiana and Northwestern.
He still accepts the roses with the thorns and believes it all has molded him into a high-caliber quarterback. The Terrapins are going to need Tagovailoa to play at a high level if they have any hopes at securing their first winning season since 2014.
Tagovailoa is excited about this year's team though, and how the players are all motivated. Maryland fans are expecting big things from the second-year quarterback and that he'll display flashes of his brother. Still, Tagovailoa doesn't see it as any pressure.
"Regardless of me thinking I have to carry the torch or that I have to live up to what my brother did, just being a Big Ten quarterback for a big school, I think that pressure alone is tough," Tagovailoa said. "For me and the way I handle it, I ask God to give me peace, so I can play the game smoothly."
The former four-star prospect is seeing a surge in his teammates' emotions during player-driven practices over the summer. Everyone is taking their own reps and leading by example. Tagovailoa hopes that it will all lead to perfection in return.
Now it's more of a family vibe on the sidelines and in the locker room. Tagovailoa is also confident that his chemistry with the receivers have improved significantly. He's hoping their bond will help his maturation process. Calling audibles at the line of scrimmage and getting the ball out of his hands faster is just a couple of ways he believes he's been better at.
"I feel like this is a different team, we come out there to work Monday through Saturday, everyday," he said. "I think this year everyone is locked in going into fall camp and I think we should be good."
Tagovailoa and the rest of his teammates have bought into what Coach Mike Locksley is trying to establish with the program. There has been a shift in culture for the better and everyone is holding themselves accountable. Tagovailoa believes a great quarterback makes others around him better.
Locksley has history with Tagovailoa, who he helped recruit during his time at Alabama. The 51-year old coach played a big part in luring the quarterback to Maryland. He also believes Tagovailoa is just reaching the tip of the iceberg in terms of potential.
"He showed some signs of being a guy who can be a great playmaker for us and now all we got to do is get the consistency out of him, which I expect him to be able to do," Locksley said.
As of right now it's all work and no play for Tagovailoa. Playing in the Big Ten East, which is arguably one of the toughest divisions in all of College football, has made Tagovailoa and his teammates battle-tested for the upcoming season. In return he feels it'll lead to better results in the win column.
"It's just the hard work that we're putting in," he said. "If you were to come to one of our workouts, you would feel the confidence, knowing that we can do something special this year."