Jahan Dotson assertive about his receiver skill set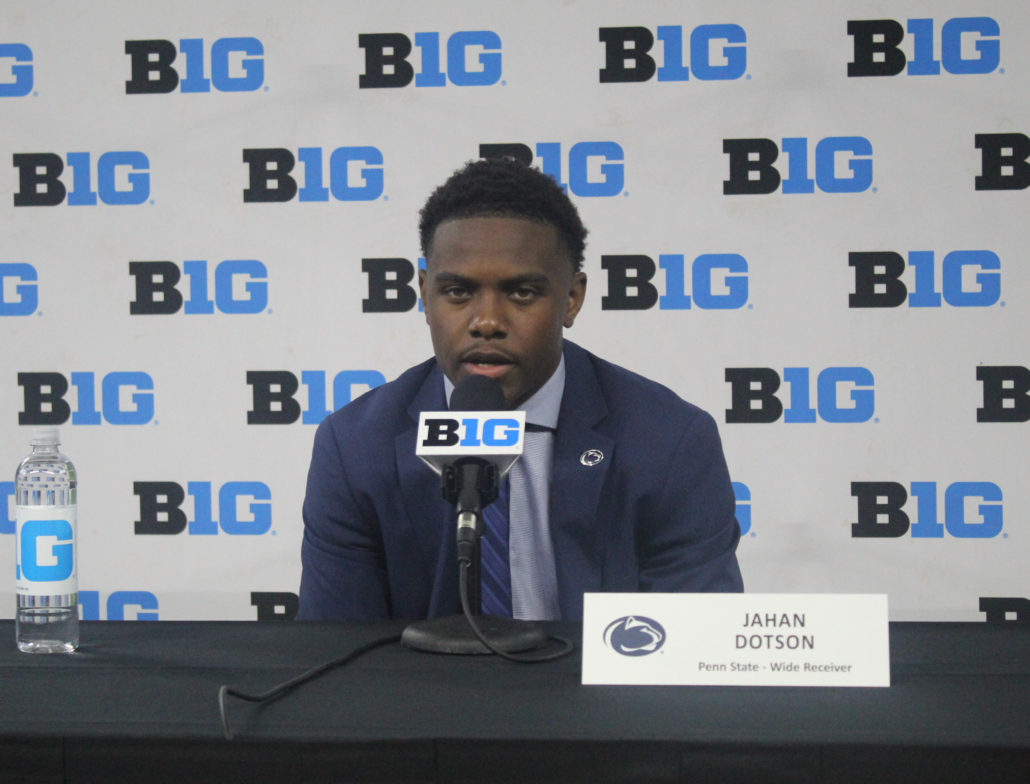 INDIANAPOLIS — Whenever a player scores five touchdowns in a three-game span, it's hard to ignore their dominance.
Jahan Dotson accomplished that feat last season for Penn State and made himself a household name in the Big Ten. The Pennsylvania native led the Nittany Lions in receptions, receiving yards and touchdown catches. He made acrobatic catches look easy with his athletic ability and made life easier for quarterback Sean Clifford.
With eight receiving scores in nine games, which tied for first in the Big Ten in 2020, Dotson has established himself as one of the best offensive weapons in the FBS. He went over 100 yards receiving in five different matchups and averaged 98.2 yards per game through the air, which ranked third in the league.
Not to mention he earned third-team, All Big Ten honors. Still, Dotson isn't complacent and he plans on taking his game to another level this fall, including return duties.
"I know what I'm capable of doing, I know what I can do every single time I step on the field and every time I touch the ball," Dotson said. "So I see that as confidence."
Opposing defensive secondaries will have their hands full trying to contain Dotson, which in return will provide more opportunities for his teammate Parker Washington. The dynamic duo are the Batman and Robin of the league and combined for 88 receptions, 1,373 receiving yards and 14 touchdown catches last season.
Washington's debut was promising, with six receiving scores as a true freshman. Both players caught a touchdown in the opener against Indiana. Against Maryland, the two combined for 17 receptions, 193 receiving yards, plus three touchdown catches. They also put together another breathtaking performance in the win over Michigan State. The two combined for 12 receptions, 203 receiving yards and two touchdown catches against the Spartans.
Dotson, who's a former four-star prospect, caught eight or more balls in four of Penn State's games. The 5-foot-11, 182-pounder had a three-touchdown performance against Ohio State. He also hauled in two touchdown passes in the season-finale win over Illinois.
Now Dotson strongly believes he's the best receiver in the county. He also feels him and Washington form the best wideout tandem in league.
"To have so much great talent in one room, we get to learn from each other and that's the great thing about it," he said. "He (Washington) has some of the best moves I've ever seen, he does Odell Beckham like things on the regular."
Having a great quarterback tossing him the ball will go a long way and Dotson believes the Nittany Lions have that in Clifford. He threw for 1,070 yards, 11 touchdowns and eight interceptions through Penn State's five games, which were all losses. However, a light bulb came on over Penn State's final four contests, and Clifford generated 966 total yards and scored seven touchdowns, which were all victories.
Dotson understands a receiver is only as good as the signal-caller throwing him the pigskin, which is why he's standing firm behind Clifford's experience, production and leadership.
"He (Clifford) comes to work every single day hungry, and that's the one word I've been using to describe him," Dotson said. "He's one of the hardest working individuals on this team, he prepares like a professional and that's what I admire about him."
Now the offense has momentum heading into fall camp. Dotson is excited about the return of running back Noah Cain and believes the unit will put up a lot of points this upcoming season. Regardless of the matter, Dotson is planning on making the most out of his reps in practice.
Off the field he's going to continue to listen to his rhythm and blues songs, wear his favorite color navy blue and hopes to one day have his own Mercedes Benz.