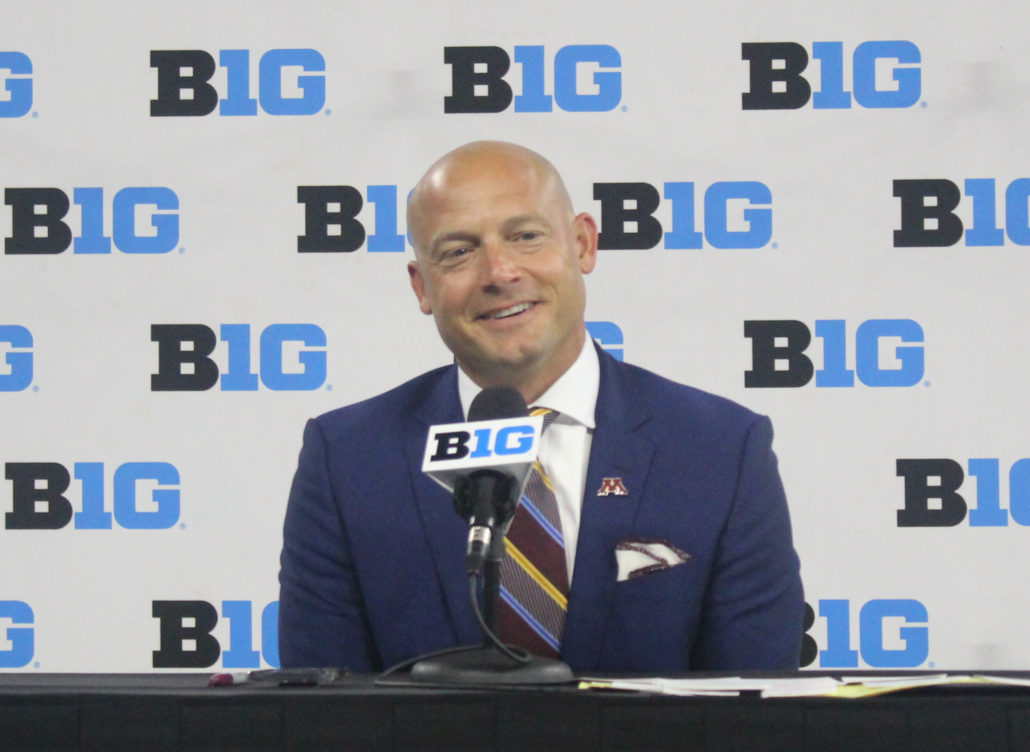 INDIANAPOLIS — With double-digit starters returning on both sides of the ball this fall, Minnesota will be fielding one of the most experienced teams in the Big Ten.
Coach P.J. Fleck believes last season's losing campaign wasn't a reflection on the direction of his program. Instead the 40-year old has a lot of confidence in this year's version of the Golden Gophers, particularly on offense.
After all, the talent in Fleck's backfield is arguably the best in the Big Ten West. Quarterback Tanner Morgan is a three-year starter, with 6,028 yards through the air and 46 touchdown passes during that span. Not to mention Mohamed Ibrahim is the reigning Big Ten Running Back of the Year, and the only Power Five rusher with two 1,000-yard rushing seasons under his belt.
However, Fleck is mostly excited about Minnesota's offensive line. When he first took the job back in 2017 there were only four on the roster. Now the Golden Gophers will boast one of the best units up front in the league this fall. It's mind-boggling that Minnesota hasn't had an offensive linemen drafted since 2006, but Fleck believes he has more than enough talent in place to change all of that come next April.
Morgan had a solid performance in the spring game, which was a good sign, considering he struggled a lot in 2020. Still, Fleck wouldn't trade his signal-caller for any quarterback in the conference.
"Tanner Morgan is the heartbeat of our football team," Fleck said. "He's 18-8 as a starter, but that's not what's important, this guy is the ultimate leader, he has competitive greatness, he's one of the most competitive people I've ever met."
Having a rusher like Ibrahim to hand the ball off to helps Morgan's cause, especially since defenses has to account for him. There's no denying Ibrahim is College Football's No. 1 workhorse, who gets stronger with every carry and that's a key element for Minnesota in the clutch of the fourth quarter.
"He's kind of like a bowling ball going downhill with razor blades on it," Fleck said. "He's not the biggest guy, he's not the strongest or fastest guy, but he's one of the most toughest guys in the country."
As quiet as it's kept, Ibrahim paid his dues and was the Golden Gophers' scout team player of the year. Fleck can't help but to admire his rusher's journey and remembers how he took every rep in practice because Fleck didn't have enough bodies to go around back in 2017.
As Minnesota approaches fall camp in a couple of weeks, Fleck is preaching the T.G.I.F. motto to his players, which is being together, being grateful, having an identity and focusing on each other. The team is rallying behind Morgan, who lost his father to cancer last week. However, Fleck, his staff and players are all using the tragedy as motivation and inspiration for the upcoming season.
Overall, Fleck just wants his players to have fun in practice and during games, because he enjoys leading them and loves coaching everyone up to their potential. The entire team is dialed in and connected on all types of levels. Minnesota will need to be ready with Ohio State first on the team's slate.
Fleck understands College Football has become a what have you done for me lately type of ordeal and that the Golden Gophers' 11-win campaign in 2019 is a distant memory now. And that's why he's anticipating Minnesota will rebound. In the meantime, the Illinois native will be giving his all to his players on the gridiron and his kids off the field, who thinks he's a baseball coach and never played football.