College Football's best offensive weapons of 2021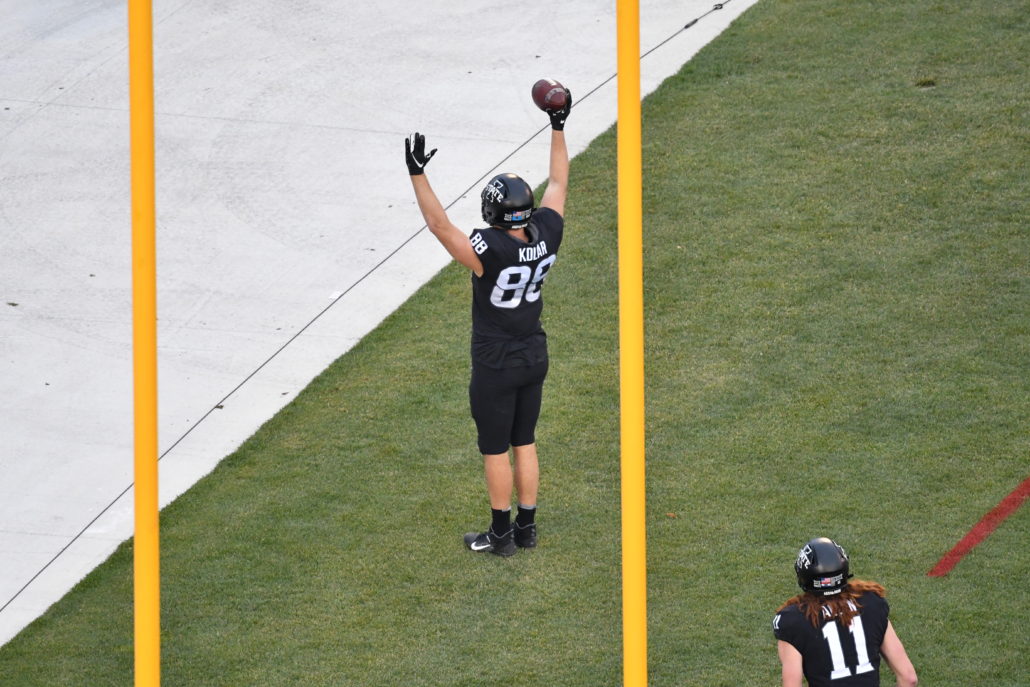 They're the X-factors, who can change the momentum of the game on any given play.
These star-studded players deserve all of their accolades after the hard work they put in, but some are just cracking the surface of their potential. Having a killer instinct and a nose for the end zone gives these individuals the edge and separates them from the rest on the gridiron.
The College football world will once again see the offensive prowess these student athletes bring to their respective teams, and how they dominate on autumn Saturdays.
Deuce Vaughn, RB, Kansas State: He's a threat anytime he touches the ball. Vaughn can hurt defenses with his hands and legs out of the backfield. Although he's short in stature and lacks ideal size, Vaughn makes the most out of his touches. Last season as a true freshman, the Texas native went over the century mark in rushing in three games, plus he had 129 receiving yards in the upset win over Oklahoma. Vaughn also averaged over five yards per carry. Having the quickness to maneuver around linebackers and the speed to outrun defensive backs, makes Vaughn one of the most lethal weapons in the Big 12 this fall. Now that he got his feet wet in Courtney Messingham's offense, expect some wrinkles designed for Vaughn to keep defenders guessing in year two.
Jaylen Hall, WR, Western Michigan: The former two-star prospect is one of the most underrated receivers in all of College football. Hall has 39 catches and 11 receiving touchdowns over the past three seasons, including seven in 2020. He caught at least one touchdown in every game he played in last year. Playing in-state foes seems to bring out the best in the Michigan native. He went over 100 yards receiving and caught two touchdowns apiece against Central and Eastern Michigan. The six-foot-four, 185-pound Hall is a mismatch out on the edge and has the range to snag the ball at its' highest point, where other defensive backs can't get to. Hall will likely be quarterback Kaleb Eleby's No. 1 target this fall, and the duo's chemistry has been promising thus far.
Kevin Harris, RB, South Carolina: This fall will be Shane Beamer's first rodeo in the almighty SEC as a head coach, and he inherits the best rusher in the league. Harris proved he was the real deal last year when he finished the regular season as the league's rushing champion. He went over 100 yards rushing in three conference games, but he also eclipsed the 200-yard mark in two other clashes. Harris scored five touchdowns at Ole Miss, which was arguably the best performance by any running back in 2020. The Georgia native also caught four passes apiece in three other conference tilts. Beamer will likely rely on a heavy dose of Harris early on as the Gamecocks navigate through one of the nation's most difficult schedules. Harris has a chance to be South Carolina's first back-to-back 1,000-yard rusher since George Rogers.
Charlie Kolar, TE, Iowa State: He's one of two John Mackey Award finalists returning this fall. Kolar is a two-time, first team, All-Big 12 tight end, who plays like a man among boys. For a player that stands six-foot-six and weighs 260 pounds, Kolar uses his frame with so much fluidity that he makes everything look effortless. Kolar may hog all the attention, but teammate Chase Allen is just as solid, giving Iowa State's offense a two-headed monster at tight end. Over the past three seasons Kolar has been arguably the most productive tight end in the game, with 106 receptions, 1,425 receiving yards and 17 touchdown catches during that span. His presence gives the Cyclones the credibility they deserve as a top-10 team approaching this fall. College football fanatics need to mark their calendars for October 3, when Kolar returns home to Norman to face Oklahoma.
Kyren Williams, RB, Notre Dame: Although the Fighting Irish will be breaking in a new quarterback this fall, Williams still brings credibility to the offense. In his first season as a full-time starter, Williams finished ninth in the FBS in rushing yards, earned second team All-ACC and led the league in carries. He also surpassed the century mark in rushing in six different conference clashes and scored 13 touchdowns on the ground, which was 10th-best in the country. Not only does Williams have workhorse capabilities, but he's also a threat in the passing game, with 35 catches out of the backfield last season. The Fighting Irish will likely need to rely on his versatility early on this fall as the offense get accustomed to the new signal-caller and inexperienced offensive line.
Bijan Robinson, RB, Texas: The former five-star prospect showed flashes of brilliance as a true freshman last season. Robinson averaged an eye-popping, 8.2 yards per carry and eclipsed the century mark in rushing in three of Texas' final four games in 2020. He's a versatile back, who's poised to set the Big 12 on fire this fall. First-year coach Steve Sarkisian expanded his offensive mind at Alabama, and now Longhorn fans are hoping he'll take the unit to the next level. Robinson will play a key role in Sarkisian's scheme, regardless of who becomes Texas' starting quarterback. The six-foot, 222-pound Robinson has the size to wreak havoc on defenses, but has yet to carry the ball over 16 times in one game. Sarkisian used Najee Harris out of the backfield effectively, so expect Robinson's receiving skills to be utilized.
Cade Otton, TE, Washington: Last season he had double the receptions and receiving scores of any other pass catcher on the Huskies' roster. Otton is arguably the best tight end in the Pac-12, if not the entire FBS. Over the past three seasons he has combined for 63 receptions, 776 receiving yards and eight touchdown catches. Not to mention most of Otton's production came during his time as a backup and last year's shortened season. Earning first-team, All-Pac-12 was just the start for the Washington native. The six-foot-five, 250-pound Otton is due for a monster campaign in 2021, and could very well lead the Huskies in every major receiving category for a second-straight year. As long as Coach Jimmy Lake makes sure the right quarterback is throwing Otton the ball, Washington's offense should flourish.
Mohamed Ibrahim, RB, Minnesota: He's the Power Five's No. 1 workhorse. Ibrahim can put the Gophers on his back and carry them to the finish line. The Maryland native had his coming out party three seasons ago in the Quick Lane Bowl, when he rumbled for 224 yards on the ground. Now he's approaching this fall as the only running back in the Power Five with two 1,000 yard seasons under his belt. The 5-foot-10, 210-pound Ibrahim is as durable as they come, with three games of 30-plus carries last season, including 41 against Maryland. Nothing is more valuable to an offense in the fourth quarter than a running back that gets stronger with every carry. The constant pounding softens defenses, closes out games and that's the unique quality Ibrahim brings to table for Minnesota.
David Bell, WR, Purdue: He's the most productive receiver in the Big Ten, but still flies under the radar. Bell is the only returning wideout in the league with a 1,000-yard season under his belt. The Indianapolis native has caught 139 passes for 1,660 yards and 15 touchdown receptions over the past two seasons. During that span Bell has a jaw-dropping, 11 games with over 100 yards receiving for the Boilermakers. Bell also led the conference in receiving yards and receptions per game in 2020. The six-foot-two, 205-pound Bell will be Purdue's go-to receiver this fall, with Rondale Moore off to the NFL. That means Bell is poised for his second 1,000-yard season over the past three years. If Jeff Brohm can finally settle in on one quarterback, the Boilermakers will have a chance at a winning season for the first time since 2017.
De'Montre Tuggle, RB, Ohio: Frank Solich just retired, but that doesn't mean the Bobcats don't how to pound the football. Ohio finished 18th in the FBS in rush yards per game in 2020. Tuggle is a former junior college transfer, who finished second in the nation in points per game and led the Bobcats in rushing last season. He scored in every game, including Ohio's last two, when he combined for 324 yards on the ground and five rushing touchdowns. Tuggle is also a special teams demon, and returned a 93-yard kickoff for a score against Central Michigan. The 5-foot-10, 198-pound Tuggle has steamrolled for 1,047 yards and 17 rushing touchdowns over the past two years. With a full slate of games back on the Bobcats' schedule, expect Tuggle's production to increase and he might be the Group of Five's leading rusher come December.