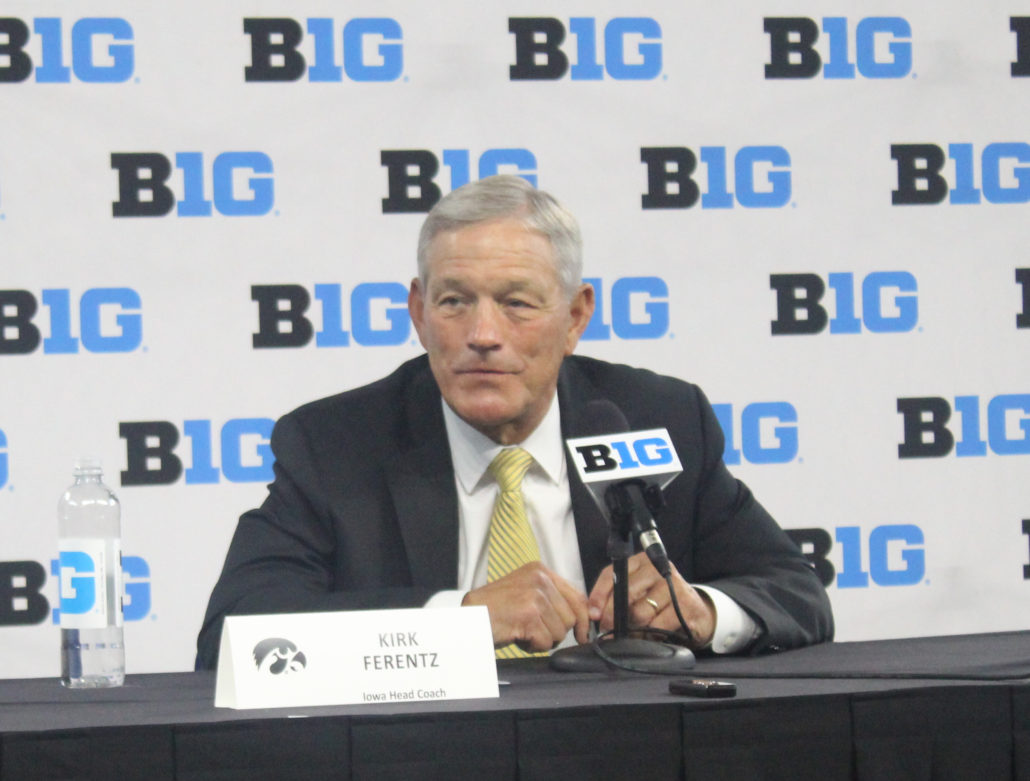 INDIANAPOLIS — He's paid the cost to be the boss and has outlasted many others in his profession.
Kirk Ferentz is the longest-tenured coach in the FBS and been patrolling the sidelines at Iowa since 1999. Although the 65-year old has 168 victories with the program, he still has a lot of tread left on his tires and hasn't showed any signs of slowing down.
Ferentz doesn't recruit at a high level, but he finds the right players to fit his system. The Michigan native knows how to find the diamond in the rough, plus his success with developing players and getting them to the NFL is second to none. It's the reason why many label him the king of doing more with less.
Ferentz emphasized how he has had a lot of good fortune over the years and lucky to be where he's at. He walked into a good situation decades ago when the late Hayden Fry was the only coach to recruit and hire him.
"Starting at an early age I've been around a lot of really good people who've impacted me," Ferentz said. "They were smart enough to listen more than talk."
After all, Ferentz is approaching his 23rd season with the Hawkeyes and he's a firm believer that going through adversity is just a part of the process that comes with the territory. Sports in general is very competitive to Ferentz and achieving long-term success is extremely difficult.
High schoolers who attend his camps quickly find out that understanding failure is key to their lives on and off the field. However, it's all about how individuals respond to it is what makes them stronger mentally and emotionally.
"Part of the success is learning how to deal with failure," he said. "Not that you should accept it, but you learn to live with it and realize it's a part of life."
Ferentz' journey hasn't been easy by any means and he has overcome adversity plenty of times throughout his tenure. Coming from the Fry coaching tree has taught him life lessons and how to relate to young men. Iowa hasn't suffered a losing campaign since 2012 and that's because Ferentz has become a natural at adapting.
The game is constantly changing with rules, recruiting and the new NIL ordeal that's taking over the sport. Over the years Ferentz learned to embrace change and it's what has kept him feeling young. Having stability with his staff is also key. Most of Ferentz' assistants have been with the program for quite some time and a couple have even played for Iowa, making it like a family affair.
Iowa is a blue collar program that's somewhat conservative. In return those qualities are what have made the team sustain success. It's hard to argue against that when Ferentz is undefeated against rivals Iowa State, Minnesota and Nebraska since 2015.
"I work at a place where we've had three Athletic Directors since 1970 and two head coaches since 1979," he said. "So that tells you a lot about the environment that I get to work in everyday and I'm smart enough to know I'm very fortunate."