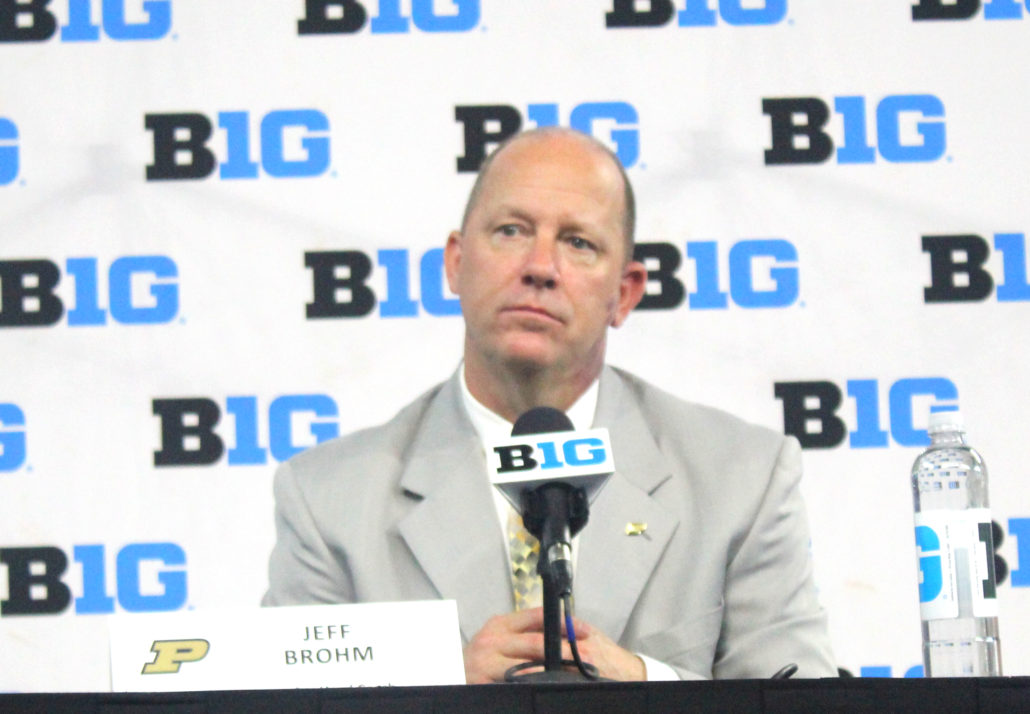 INDIANAPOLIS — He's one of the highest paid coaches in the Big Ten, but his team has suffered through three-straight losing seasons.
Although Jeff Brohm is no stranger to adversity, he's approaching year five with one winning campaign thus far. However, The Big Ten West is full of parity in 2021 and the time for Purdue to strike is now.
Brohm no longer has to play musical chairs with his quarterbacks and stud edge rusher George Karlaftis is back fully healthy. The Boilermakers have been the cellar dwellers of the division and Brohm has finally had enough of the mediocrity. Compiling victories is now the 50-year old coach's No. 1 goal.
"There's always pressure to win and we need to get better," Brohm said. "We need to find a way to win our rivalry games, go to bowls and compete for championships."
Purdue finished with a winning record in conference play in 2018, but suffered an embarrassing blowout bowl loss, and since then Brohm's team has gone 5-10 against Big Ten opponents. Now it seems like the West is as wide open as ever and the Boilermakers need to do whatever it takes to get back relevant again.
"I think when you lose it has to hurt, it has to disappoint you, make you angry, make you want to work harder and makes you want to fix it," he said. "So we want to put as much pressure on me and all of us to go out there and prove ourselves."
The Boilermaker were projected to finish sixth in the West by the Big Ten media members. Now Brohm just wants to bring credibility back to the program. Similar to what he accomplished during his first two seasons, when Purdue won a combined 13 games.
Now that early success seems like centuries ago. Purdue even rewarded Brohm a hefty contract extension in April of 2019. It was for seven additional years, that included a $1.7 million signing bonus. Not to mention the total value of Brohm's new deal was $36.8 million.
When a coach is making that type of money the fans expect better results in the win column. Which is why Brohm believes this upcoming season will be full of opportunity for him to deliver the goods.
"Hopefully we've put in enough off season work up to this point to be in a good spot, but we got to continue to make progress," Brohm said. "That's what it's all about, every week is going to be a pressure situation and it's up to us to deliver."
Purdue opens up the season against Oregon State, a Pac-12 program dealing with similar failure. Brohm will need to have his squad ready though, considering the Boilermakers have lost three of their last four season openers under his leadership.