Brandon Joseph shines light on recipe to success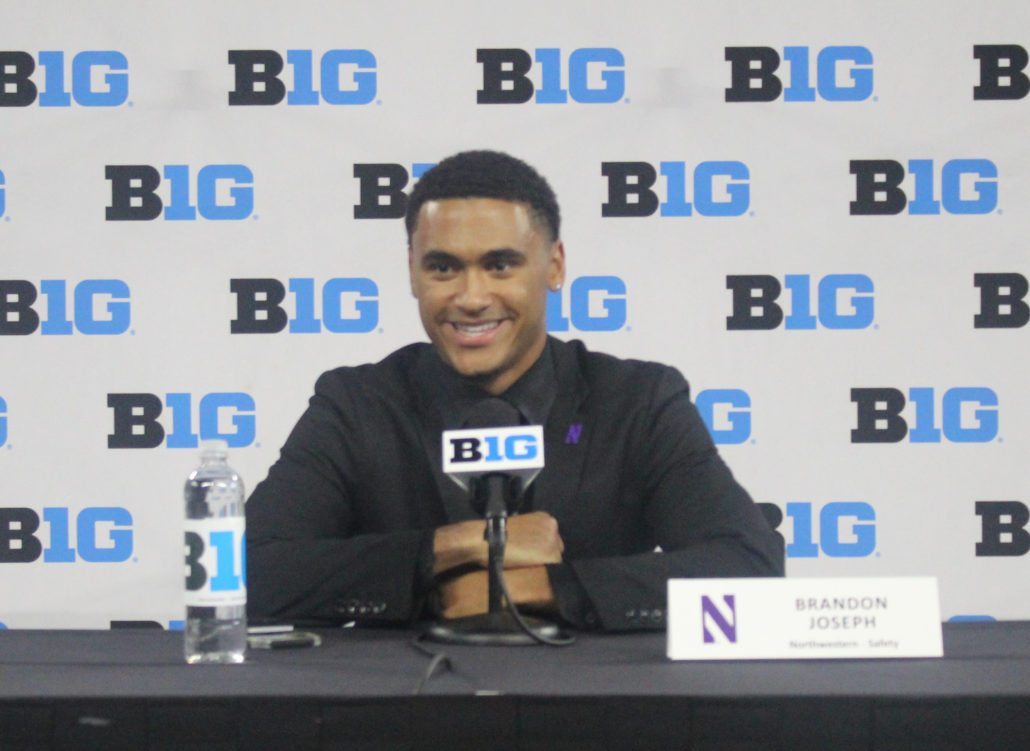 INDIANAPOLIS — When you're an All-American led the Power Five in interceptions, it's hard to fly under the radar.
Brandon Joseph was an unknown commodity going into last season, but by the end of the year he made a name for himself in the Big Ten. Although he believes he's the total package for a safety, he doesn't let the success and accolades go to his head.
Joseph still plays with a chip on his shoulder and feels like he has a lot to prove. With JR Pace no longer on the roster, Joseph has been filling the void of his leadership. After all, Pace taught him how to have confidence. Taking the reigns of the secondary is just the start for the Texas native, who feels he's as versatile as they come.
He constantly challenged himself during the off season. Joseph is a strong believer in recovery because it helps a player stay healthy and focused, which leads to development. The former three-star prospect is out to prove that last season's success was no fluke.
There's a lot that goes into becoming a ballhawk for Joseph. It's more than physicality, speed and having great instincts.
"It comes from film study, that anticipation, me being in the right spot at the right time, it's not luck," Joseph said. "I'm reading that quarterback, I'm moving to where he has to throw the ball and that's how you get into those windows."
Despite the loss of Pace and Greg Newsome, Northwestern will boast one of the best secondaries in the country. Joseph, A.J. Hampton, Cameron Mitchell and CoCo Azema combined for nine of the Wildcats' 14 interceptions in 2020. The unit is full of experience and talent, plus they plan on blanketing opposing Big Ten receivers this fall.
Northwestern lost a legendary coach when Mike Hankwitz retiring. However, Joseph has been enjoying the addition of new Defensive Coordinator Jim O'Neil. It helps that he's a former NFL defensive back coach. He also brings passion and intensity to practice.
That has Joseph and other members of the secondary soaking up O'Neil's knowledge like a sponge.
"He (O'Neil) has already taught us a tremendous amount of things," Joseph said. "The knowledge and techniques that he has and the perspective that he brings is great for us."
Joseph isn't feeling salty about not winning the Jim Thorpe Award after he tied for first in the FBS in interceptions. Instead he's using it all as a motivational tool approaching fall camp. When all of the dust settles, Joseph only cares about the Wildcats making a second-straight trip to Lucas Oil Stadium and finally winning a Big Ten Title.
"Thorpe is a goal, but I'm trying to make it back here," he said. "If I win the Thorpe and we don't make it back to this stadium, then I let my teammates down."
Fall camp opens up in a couple of weeks for Northwestern and everyone will be dialed in for the first game against Michigan State. Now it's a new day in College football. Joseph is trying to juggle, football, academics, a social life and NIL.
He hasn't signed any big endorsement deals, but has a couple of small ones on deck. Joseph lets his mother manage all of his new funding because he trusts her more than anyone and she's a attorney at Texas A&M. Now it's all work and no play over the next month for Joseph. Once the season starts, the six-foot-one, 192-pound Joseph can't wait for the first ball to get thrown his direction.