Jeremy Ruckert confident he'll deliver in the clutch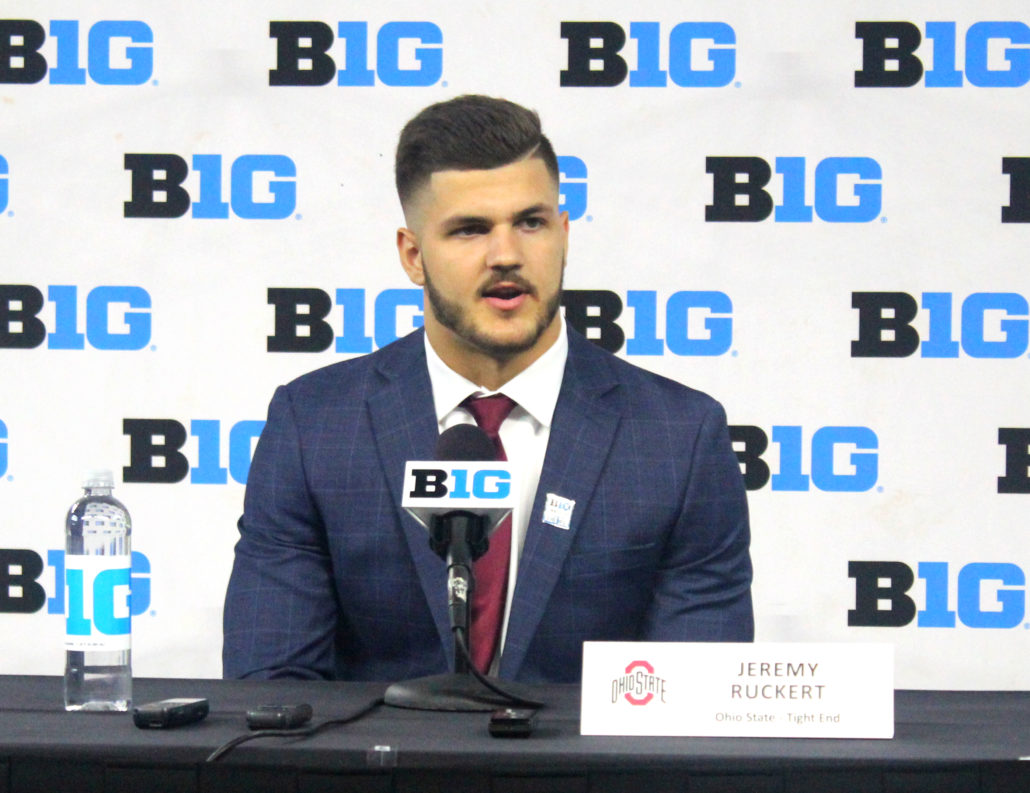 INDIANAPOLIS — Ohio State's stud tight end only caught 13 balls last season and five of those went for touchdowns.
Jeremy Ruckert is one of the most dangerous weapons in all of College football, but Coach Ryan Day rarely dials up his number in the clutch. It's one of the main reasons why he's out to prove himself as the Buckeyes' ultimate safety blanket this fall.
The six-foot-five, 253-pound Ruckert has the size and range to outjump most defensive backs. He's a natural at locating the ball at its' highest point and snagging it out of the air where no other defender can get to.
"I don't have that many catches, but when I do, something good usually happens and I take pride in that," Ruckert said. "That's what I work for every single day and that's why we do what we do."
As Ohio State approaches fall camp Ruckert just wants to develop chemistry and build trust with the new arsenal of quarterbacks. The former four-star prospect hauled in two touchdown catches apiece in wins over Penn State and Clemson last season. Not to mention he had also had a receiving score against Rutgers. Nearly all of his receptions went for a first down or six points.
Ruckert's soft hands has made him a matchup nightmare for opposing Big Ten defenders. And he loves battling out on the gridiron.
"I think a part of it was the mindset that I don't really get many opportunities as the other guys," he said. "So if the ball is in the air, I want to go get that and I'm not going to let anybody take that from me."
Most of the New York native's success has come while being Luke Farrell's backup. However, Farrell is no longer on the roster, so Ruckert is expecting his production to increase for the reigning Big Ten champs. The Buckeyes already have a pair of star pass catchers in Chris Olave and Garrett Wilson. Still, Ruckert believes there'll will be enough receptions to go around in 2021.
Regardless of the matter, Ruckert just wants the ball in his hands when his team needs a game-changing play. Which is why he feels he's a possession tight end.
"I believe in myself and I know that if something is on the line I'm going to come through," he said. "Any single thing you do can affect your whole season, so I play every play like it's going to be my last."
He prides himself on blocking just as much as catching and understands that comes with the culture playing for Ohio State. Bottom line, if Day utilizes Ruckert's talents efficiently, the tight end could have a season similar to Florida's Kyle Pitts in 2020.