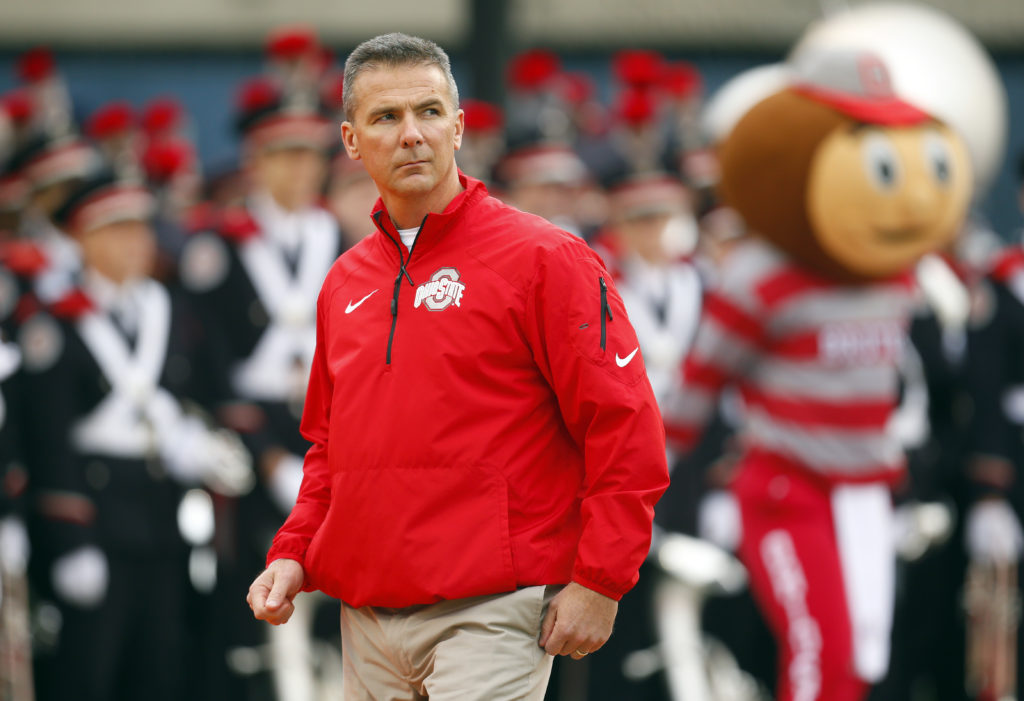 It all dates back to the 1996 season.
These coaches have accomplished some amazing feats, built dynasties and cemented their legacies. Some are Hall of Famers and their coaching journeys have ended. While others are still going strong. A couple even have statues enshrined at their respective programs.
Longevity is all about adapting. However, it all comes down to turning teenage boys into grown men, on the field and in the classroom. Victories, respect, accountability and a lot of guts separates these coaches from the rest when it comes to College Football lore.
20. Joe Paterno: It's unfortunate that his legacy will be marred by a heinous scandal, but there's no denying what he brought to the sport and accomplished on the field. Paterno won 131 games from 1996 through 2011. Penn State went 76-49 against Big Ten opponents, played in two BCS bowls and had seven AP top-20 finishes during that span. He fielded some of the best linebackers to ever play in the conference, including LaVar Arrington, Sean Lee and Paul Posluszny. Paterno had a shocking moment on the sidelines when he chased down an official after a call didn't go his team's way. He also displayed toughness when his leg got injured on a play that extended out of bounds against Wisconsin. Fans have mixed emotions on how his tenure ended, but Paterno's teams bought unforgettable memories.
19. David Shaw: He's a coach that flies under the radar, but has had a ton of success with Stanford. Shaw compiled a 86-34 record during the 2010's, making him one of the winningest coaches over the past decade. Not to mention he won three Pac-12 Titles and two Rose Bowls during a four-year span. Stanford is a school known for having high academic standards, but Shaw continues to lure in the smart athletes, who are highly-touted prospects. The Cardinal has been one of the best recruiting programs in the Pac-12 under Shaw's watch. Stanford ended 2019 on a four-game losing streak, which was Shaw's first non-winning season. However, Stanford bounced back in 2020 and won four-straight on the road to close out the year. Now Shaw has his team back on track and primed for another run at a Pac-12 Title this fall.
18. Chris Petersen: In 2006 he navigated an undefeated season in his first rodeo, which included a memorable BCS Bowl win over Oklahoma and a top-five finish in the final AP rankings. Petersen gained notoriety for dialing up successful trick plays. Not to mention he later led Boise State to a second unblemished campaign in 2009, which also included a BCS Bowl victory and a top-five finish. Kellen Moore became the game's all-time winningest quarterback. Boise State beat Power Five programs such as Oregon, Virginia Tech, Georgia, Arizona State and Washington during his tenure. Petersen proved that his success with Boise State was no fluke when he accepted the Washington gig. He led the Huskies to two Pac-12 Titles and a Playoff berth in 2016, which was the league's last appearance.
17. Bill Snyder: His name is synonymous with Kansas State football for a reason. Snyder built the program from the ground up and he's the only individual on this list to come out of retirement to coach the same team for multiple seasons. During his first stint from 1996 through 2005 the Wildcats won 90 games, including a Big 12 Title. Kansas State compiled six double-digit win campaigns during that span, appeared in three Big 12 Championship Games and had seven AP top-20 finishes. After the program went through a three-year failed tenure with Ron Price, Snyder returned in 2009 for a second stint. He coached the Wildcats for 10 additional seasons and won 79 games, including a share of the Big 12 Title and they had three AP top-20 finishes during that span.
16. Barry Alvarez: He literally built Wisconsin from the ground up. By the time the late 90's rolled around, the Badgers had emerged as a Big Ten heavyweight. Alvarez gave the team an identity and they gained notoriety for their physical rushing attack and mammoth-sized offensive linemen. He led Wisconsin to a share of the Big Ten Title in 1998 and 1999. During that span the team compiled a 21-3 record, Ron Dayne won the Heisman, the Badgers were back-to-back Rose Bowl Champions and Alvarez was named the Big Ten Coach of the Year. Alvarez won 85 games from 1996 until he retired after 2005. He later became Wisconsin's Athletic Director and added more credibility to his legacy. When Bret Bielema and Gary Anderson left the program, it was Alvarez who filled in and coached the team in their bowl games.
15. Frank Beamer: Virginia Tech came to prominence in the mid 90's under his watch, and he introduced the College football world to Beamer Ball. His success came from a physical running game, hard-nosed defense and aggressive special teams. Beamer won 187 games and never suffered a losing campaign from 1996 through 2015. The Hokies were conference champions six times during that span and played in six BCS Bowls, including the Sugar for the Natty in 1999. He also groomed quarterback Michael Vick into the game's most electrifying player. Beamer's longtime Defensive Coordinator Bud Foster helped his longevity, and he fielded some of the best units of this century. Beamer is a Hall of Famer and Thursday night games at Lane Stadium was must-see television for College fans during his tenure.
14. Phillip Fulmer: Tennessee became the No. 1 power in the SEC in the late 90's with star players like Peyton Manning, Jamaal Lewis and Tee Martin. After they left Fulmer was able to keep the program relevant several years later with effective recruiting. Fulmer won 119 games from 1996 through 2008, including two SEC Titles and a National Championship. The Volunteers played in five SEC Championship Games during that span and went a jaw-dropping, 75-28 against conference opponents in the regular season. Fulmer and longtime Offensive Coordinator David Cutcliffe were a great tag team in the SEC. What hurt Fulmer's legacy was suffering two losing seasons during the last four years of his tenure with Tennessee. Regardless, he still finished with winning records against rivals Alabama and Kentucky.
13. Lloyd Carr: If there's any coach on this list that was underappreciated, it's Carr. From 1996 through 2007 Michigan racked up 113 victories, won or shared five Big Ten Titles and a National Championship. The Wolverines also played in five BCS Bowls during that span, including four Grandaddy's and had four  AP top-10 finishes. Not to mention cornerback Charles Woodson became the first-ever defensive player to win the Heisman in 1997. The Wolverines gained notoriety for annually fielding elite quarterbacks, wide receivers and offensive linemen under Carr's watch. Carr went 76-20 against the Big Ten over his last 12 seasons with Michigan. However, Carr's success was overshadowed by his 5-7 record against Ohio State. Still, he beat Urban Meyer and Tim Tebow in his final game.
12. Steve Spurrier: He's the only individual on this list who has been inducted into the Hall of Fame as a player and a coach, plus he's a Heisman winner. The Ol' Ball Coach made the vizor his trademark, especially when he threw it to the ground in frustration. Spurrier was an innovator with his 'Fun N Gun' offense. He led Florida to an SEC and National Title in 1996. The Swamp was the SEC's most intimidating venue in the late 90's. From 1996 through 2001 Spurrier went 61-14 with Florida. During that span quarterback Danny Wuerffel snagged the Heisman, the Gators won four of their six bowl games and had four top-five finishes. After an unsuccessful NFL stint, Spurrier returned to the SEC and made South Carolina respectable. He won 86 games over 11 seasons, including a berth in the 2010 SEC Title Game.
11. Brian Kelly: He's a coach that has had success at three different FBS programs. Kelly led Central Michigan to nine wins in 2006. In three seasons with Cincinnati, Kelly compiled a 33-6 record, including two Big East Titles. Not to mention he led the Bearcats to an undefeated regular season and BCS Bowl berth in 2009. However, Kelly's legacy was just beginning when he took the Notre Dame job. In just his third year with the Fighting Irish, Kelly led the team to an undefeated regular season and a National Championship Game appearance. The 59-year old has also been a great recruiter and put several of his players in the NFL. Kelly has stockpiled 102 wins in 11 seasons with the Fighting Irish and they've made the Playoffs twice. At this rate Kelly continues to be one of the most consistent coaches in the FBS.
10. Bobby Bowden: He's an icon in the sport and considered one of the greatest coaches of all time. Bowden never suffered a losing campaign over his final 14 seasons in Tallahassee. During that span Florida State won 130 games, five ACC Titles, and a National Championship. Not to mention the Seminoles played for all the marbles in 1996 and 2000, when quarterback Chris Weinke won the Heisman. There's no denying that 25 years ago Florida State was what Alabama has become in today's game. Bowden knew how to lure in the best talent the country had to offer and had 78 of his players drafted from 1996 through 2009. The Seminoles established notoriety with the rate they annually produced All-ACC caliber players, plus Bowden made the sunshine state a national recruiting hotbed.
9. Mack Brown: He's a coach that handles himself like a politician and has a remarkable resume over the past 25 years. Brown became a hot commodity during his first stint with North Carolina. Over his final two seasons with the Tar Heels, he led the team to two double-digit win campaigns and two AP top-10 finishes. Brown became a household name at Texas. In his first year with the program he snapped Nebraska's 47-game home winning streak, coached a Heisman Trophy winner and the Longhorns finished in the top-15. However, the 2000's were Brown's decade. Texas won 121 games, including two Big 12 Titles and a National Championship. The Longhorns also had four BCS bowl appearances and seven AP top-10 finishes during that span. Brown's back with the Tar Heels and they finished in the top-20 in 2020.
8. Tom Osborne: Although Dr. Tom only coached two years over the past 25 seasons, he led Nebraska to back-to-back double-digit win campaigns, which included two Orange Bowl victories. Osborne molded former walk-ons into studs and Academic All-Americans. He concluded a perfect season in 1997, with a Big 12 Title and a National Championship. Nebraska shared the crystal ball with Michigan, but several fanatics believed Osborne had the better team. Despite the option offense trending down in the sport during the final year of his tenure, the Huskers still averaged 46.7 points per game, which ranked first in the FBS. Osborne went out on top when he retired after 25 years, and he made the Huskers the team of the 90's. The Sea of Red was a house of nails for visitors, but Osborne always handled himself with class.
7. Jimbo Fisher: He's arguably Nick Saban's best protege. Fisher took over a Florida State program that needed a boost after the last few years of Bobby Bowden's tenure. In year one he led the Seminoles to 10 wins and an ACC Championship Game appearance. In year three his team won 12 games and were champions of the league. Fisher completed a perfect season in 2013, with an ACC and National Championship. Not to mention quarterback Jameis Winston won the Heisman. Fisher followed up that season with a third consecutive ACC Title, plus the Seminoles crashed the Playoffs. The 55-year old won 83 games in eight seasons in Tallahassee, including a 48-16 record in ACC play. Now Fisher has Texas A&M trending up the same way he did at Florida State, which solidifies he's an elite coach.
6. Jim Tressel: Ohio State had an amazing run during his era. Tressel took the Buckeyes to a bowl game every year of his tenure, including eight BCS clashes. Ohio State won 106 games from 2001 through 2010, including the National Championship in 2002. Not to mention the Buckeyes played in three National Championship games under his watch and won or shared a Big Ten Title on six occasions. Quarterback Troy Smith won the Heisman Trophy and Ohio State had eight AP top-10 finishes during that span. Tressel ruled the Big Ten with an iron fist and went a jaw-dropping, 66-14 against conference opponents. He was also a great recruiter and lured in super prospect Terrelle Pryor. The Buckeyes were the No. 1 team approaching the 2011 season, but a tattoo scandal ruined Tressel's tenure and any momentum.
5. Bob Stoops: He's one of three individuals on this list who's from the Hayden Fry coaching tree. At Oklahoma Stoops ruled the Big 12 with an iron fist for nearly two decades. In his second year with the Sooners, Stoops won a Big 12 Title, a National Championship and completed a perfect season. It was all just the beginning for an amazing run with the program. From 2001 through 2016 Oklahoma won a jaw-dropping, 170 games, including nine additional conference titles. Stoops coached two Heisman Trophy winning quarterbacks, made three more National Championship Game appearances and finished in the AP top-10 eight times during that span. In 18 seasons with Oklahoma Stoops compiled an impressive record of 127-29 against Big 12 opponents. Stoops will be inducted into the Hall of Fame this December.
4. Dabo Swinney: After he kissed Howard's Rock for the first time as Clemson's interim coach, fans knew he was the real deal. Swinney is a rock star coach in today's game, with a personality young men can relate to. When it comes to recruiting he knows how to spot, lure in, and develop talent. It's why Swinney has been consistent at being successful. The Alabama native has won 136 games over the past 12 seasons, including seven ACC Championships and two National Titles. It's mind-boggling the Tigers have been in the Playoffs for six-straight years. Swinney owns the ACC, with a 83-15 record in conference play since 2009. He also has the best assistant coach in the game in Defensive Coordinator Brent Venables. The cherry on top is the 69 players the Tigers have had drafted in the Swinney era.
3. Pete Carroll: He's one of the few NFL coaches with major success at the Collegiate level. USC was in bad shape when he started in 2001. However, it only took Carroll less than two years to bring the blue-blood program back to life. He basically made the Trojans the team of the decade. His squad won back-to-back National Championships in 2003 and 2004. Not to mention USC was riding a 34-game winning streak until Texas snapped it for the 2005 National Title. Carroll also coached three Heisman Trophy winners during that span. He was dominant in the postseason and won seven of his eight bowl games. Carroll has four Rose Bowl victories under his belt and USC finished in the top-five in seven of the nine seasons he coached. His 2004 squad was one of the best teams assembled this century.
2. Urban Meyer: All he does is win. Meyer is a master of the spread offense, a quarterback guru and has a coaching journey that's second to none. He showed his worth when he stockpiled 17 victories in two seasons at Bowling Green. Meyer then took his services to the Mountain West and led Utah to a perfect season during his second year with the program. He eventually landed at Florida and took the SEC by storm. In his second season with the Gators Meyer led the team to an SEC Title and a National Championship. A year later his quarterback Tim Tebow won the Heisman. Meyer followed that up with a second SEC and National Title in 2008. Meyer accepted the Ohio State job in 2012 and led the team to perfect season in year one. By season three he won a Big Ten Title and his third Natty.
1. Nick Saban: He's the most influential individual in the sport. Saban owns the almighty SEC and several of his proteges are head coaches around the league. His seven total National Championships are more than any other coach in the AP era. Saban has also won a National Title with two different programs. Over the last 25 years Saban has a combined record of 246-58 at Michigan State, LSU and Alabama. The man recruits like a monster and has put a plethora of his players in the NFL. The West Virginia native has coached a Heisman winner in Derrick Henry. The SEC has become the baby NFL because of his presence. He even take coaches who want to rejuvenate their careers under his wing. Saban has made the Crimson Tide the No. 1 power in College Football, and that's a scary thought considering he's not slowing down anytime soon.
Honorable Mention
Larry Coker: He won a National Title in his first season with Miami and played for another the following year.
Gary Patterson: He's the second-longest tenured coach in the FBS with 178 wins at TCU, including a Rose Bowl.
Lincoln Riley: The 37-year old has led Oklahoma to four-straight Big 12 Titles and coached two Heisman winners.
Mark Richt: He won 145 games in 15 seasons with Georgia. Richt also led Miami to 26 victories in three seasons.
Kirk Ferentz: He's the longest-tenured coach in the FBS, with 168 wins at Iowa, which should account for something.
Tommy Tuberville: The politician led Auburn to an undefeated season in 2004 and went 7-3 against Alabama.
Chip Kelly: He won three-straight Pac-10 Titles and led Oregon to the National Championship Game in 2010.