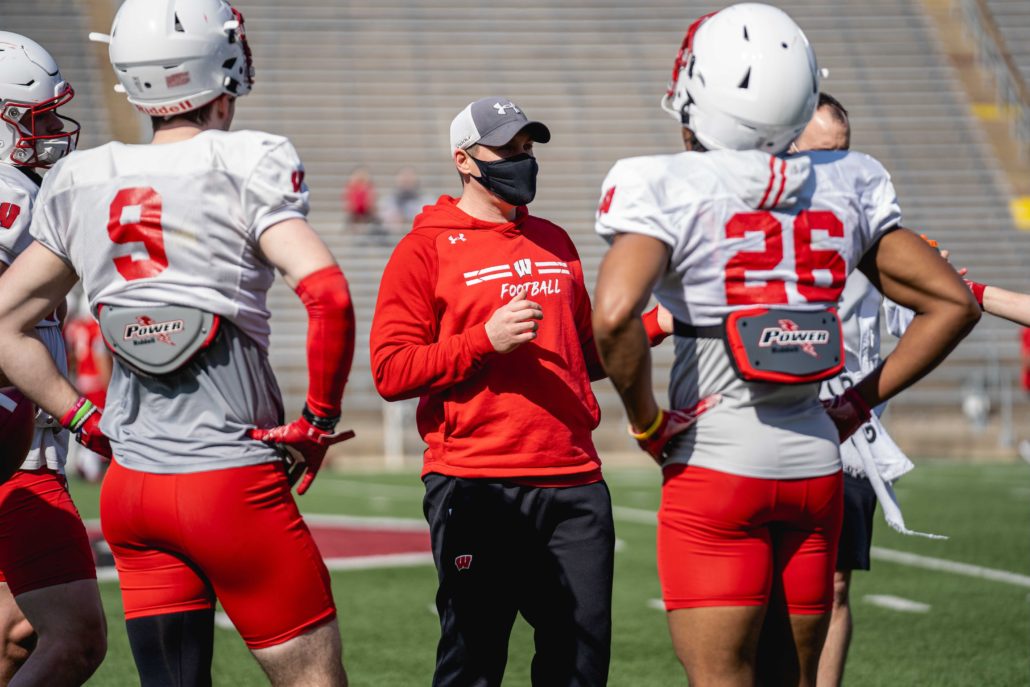 It's only a matter of time before they become head coaches.
These 10 assistants have emerged from the shadows and made a name for themselves over the past couple of years.
Everyone is beginning to see the results and all of their units have been successful stat wise. They've molded their players into accolade winning, NFL Draft selections, and in hindsight they're just getting started.
10. Brian Ferentz, OC, Iowa: He's an Iowa City native and the head coach's son, who joined the staff in 2012. Ferentz been the Hawkeyes' Offensive Coordinator since 2017, and it's obvious he's being groomed to lead the program once his father retires. Iowa has had six offensive players drafted under his watch, including wide receiver Ihmir-Smith Marsette last Saturday, who was a former three-star prospect. The program is also dubbed 'Tight End U' for a reason. It just goes to show that Ferentz' system works and he knows how to develop talent. Recruits are starting to see the program as a pipeline to get them to the next level. Not to mention the Hawkeyes lured in a top-25 recruiting class this year.
9. Tommy Rees, OC, Notre Dame: Although the Fighting Irish are an Independent program, they played as an ACC member in 2020. Rees has been on Brian Kelly's staff since 2017 and last season was his first as an Offensive Coordinator. Notre Dame finished second in the league and 26th in the FBS in total offense. The unit averaged 211 rushing yards per game, to go along with 33 touchdowns on the ground, which also ranked second in the ACC. Rees groomed quarterback Ian Book, who broke school records and was a fourth round Draft pick last week. Now the 28-year old will be operating with a new signal-caller this fall, but still has star running back Kyren Williams at his disposal.
8. Billy Gonzales, co-OC, Florida: For the past two seasons he orchestrated the Gators' passing attack and coached the wide receivers. Florida led the FBS in passing yards per game and touchdowns through the air. Quarterback Kyle Trask was a former walk-on, who went on to be a Heisman finalist and NFL Draft pick under Gonzales' watch. Wide receiver Kadarius Toney earned first-team All-SEC in 2020 and was a first round selection in this year's draft class. However, Trask, Toney, Kyle Pitts and Trevon Grimes are no longer on Florida's roster. And that's nearly all of the Gators' passing and receiving production from last season's elite unit. If Gonzales can keep the wheels rolling in 2021, he's the real deal.
7. Mike Elko, DC Texas A&M: The 43-year old has made a name for himself in the almighty SEC. Elko has orchestrated Jimbo Fisher's defense for the past three seasons in College Station. Every year under Elko's watch the Wrecking Crew has improved. The unit finished 32nd nationally in total defense in 2018, to 29th in 2019 and ninth in 2020. So it's no surprise Elko had the SEC's No. 1 defense last season. Not to mention six Aggie defenders have been drafted under Elko's watch, including Bobby Brown and Buddy Johnson in this year's class. Having a tenacious defense is what will eventually lead the Aggies to the promised land and Elko will be fielding a talented bunch again this fall.
6. Graham Harrell, OC, USC: For the past two years the Trojans have finished sixth and 11th nationally in passing offense. Harrell's 'Air Raid' attack is in full motion and he's been calling the plays for USC since 2019. Quarterback Kedon Slovis ranked sixth in the FBS in passing yards per game last season. Now he'll be a Heisman contender in 2021. The 35-year old Harrell is a former quarterback himself and a Mike Leach protege. Harrell has played five years in the NFL, plus his coaching background includes stints in the Pac-12 and Big 12. USC has had two wide receivers selected in the NFL Draft under his watch, and there's more studs on the roster. Harrell has his unit poised for a monster season.
5. Tom Manning, OC, Iowa State: When he took over play-calling duties in 2019, the Cyclones were coming off a season when they finished 96th nationally in total offense. Under Mannings watch, Iowa State made drastic improvements and finished 27th and 34th in the FBS in total offense for the past two years. Quarterback Brock Purdy led the Big 12 in pass completions and running back Breece Hall led the FBS in rushing yards in 2020. Purdy, Hall, tight end Charlie Kolar, wide receiver Xavier Hutchinson and center Colin Newell are arguably the best players in the league at their respective positions. Manning will be fielding his best unit yet this upcoming season. Now Cyclones must deliver.
4. Alex Grinch, DC, Oklahoma: The Big 12 as a whole is getting defensive again, and he's leading the Sooners in the right direction. For the past two seasons with Grinch on the sidelines, Oklahoma has finished second and third in the conference in total defense. That's light years ahead of where the unit was at under Grinch's predecessor Mike Stoops. Not to mention Oklahoma's defense recorded a shutout last season for the first time since 2015. Grinch has also done excellent work with the secondary. The Sooners' defense tied for third in the FBS, with 16 interceptions in 2020. Besides the Big 12, the 41-year old has experience as a defensive coach in the SEC, Big Ten and Pac-12, which speaks volumes.
3. Phil Longo, OC, North Carolina: Mack Brown made the right decision when he hired him to lead the offense. Longo hasn't disappointed for the past two seasons and the Tar Heels finished 12th and fifth in the FBS in total offense. North Carolina had the ACC's No. 1 unit in 2020. Quarterback Sam Howell tied for first in the league, with 31 touchdown tosses. Longo had two 1,000-yard rushers in Michael Carter and Javonte Williams. Not to mention receivers Dynami Brown and Dazz Newsome combined for 109 receptions, 1,783 receiving yards and 14 touchdown catches. However, they all got drafted over the weekend and only Howell returns. He's enough for Longo to do damage in the ACC again.
2. Tony Elliott, OC, Clemson: The 41-year old turned down Tennessee and passed up on NFL opportunities during the off season to remain with the Tigers. Elliott has orchestrated Clemson's offense since 2015, but last year was his first time leading the unit by himself. The California native helped his alma mater finish second in the ACC and 10th in the FBS in total offense. All five of Clemson's players drafted last week were from the offensive side of the ball. It solidifies that Elliott knows how to recruit and develop his players past their potential. And a reason why Clemson don't rebuild, it reloads. Elliott has several players ready to create their own legacy this fall, including quarterback D.J. Uiagalelei.
1. Jim Leonhard, DC, Wisconsin: This past February he turned down an offer to become the Green Bay Packers' Defensive Coordinator. Leonhard is loyal to his alma mater and the Badgers have been a dominant bunch on defense under his watch. The 38-year old is one of the fastest rising assistant coaches in the FBS and he knows the Big Ten like the back of his hand. Wisconsin has finished No. 4 and 5 in the FBS in total defense for the past two seasons. Not to mention Leonhard has had nine Badger defenders drafted under his watch. Leonhard is in a similar situation as Iowa's Ferentz, with being the likely successor to the program's current coach. Regardless of the matter, several teams around the Big Ten and the Power Five would love to have Leonhard's services in the near future.