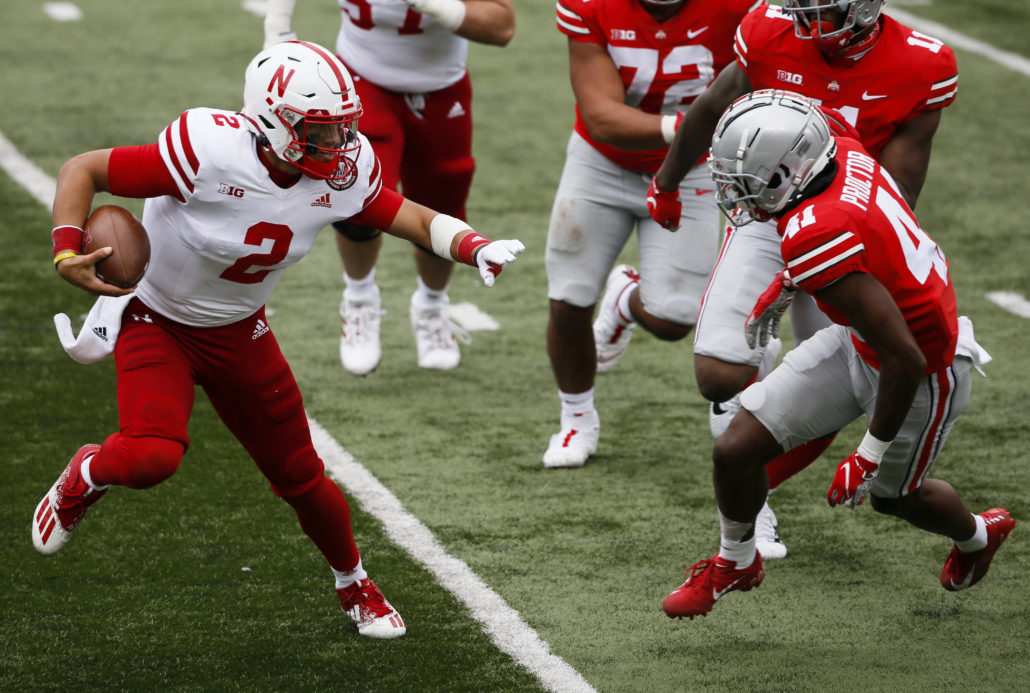 He's approaching his fourth year as Nebraska's starting quarterback, but has yet to lead the program to a winning season.
Other signal-callers like Tristan Gebbia, Noah Vedral and Luke McCaffrey have left the program, but Adrian Martinez persevered. Now he's 24 hours away from playing in his third spring game and has the quarterback position on lock.
Coach Scott Frost has invested a lot of trust in Martinez and believes he's going to get the Huskers over the hump. Unfortunately, Nebraska's 12-20 record over the past three seasons hasn't helped the quarterback's cause. Throughout his collegiate career, Martinez has started multiple games, but he also has been benched and sidelined with injuries.
The California native's strength is his mobility, but it remains to be seen if he has reached his ceiling as a passer. Consistency has been a big issue for the six-foot-two, 220-pound Marinez. At one point in time, Martinez had stud receivers J.D. Spielman and Wan'Dale Robinson to throw the ball to. However, both wideouts have transferred and there's no pass catcher on the Huskers' roster that scares anyone.
Which is why this spring game will be the biggest one for Martinez. Husker Nation already knows he can scramble and extend plays. What fans have been waiting to see is if Martinez can become a true leader, who delivers in the clutch and closes out games.
Frost been trying to place better weapons around Martinez, but everything has to start with the big boys up front. Nebraska's offensive line play has been abysmal through Frost's entire tenure. From false starts, to high snaps and several holding penalties, the Huskers can't seem to get it together.
It doesn't even matter how talented a quarterback could potentially be. If he doesn't have the proper protection to execute the plays, the results are usually sacks and turnovers. Martinez hardly ever has time to relax in the pocket and go through his progressions. That's because he's either falling on a fumbled snap, jumping to grab a high one or on the run for his life.
Having dependable running backs to keep the pressure off helps, but Nebraska hasn't had those type of rushers since Ameer Abdullah and Devine Ozigbo. Until the Huskers can establish some grit in their backfield, along the offensive line and break in some play-making receivers, defenses will continue to key in on Martinez.
He has a track record for being injury prone, so it wouldn't be a good idea to give Martinez a bunch of carries at this point in his career. Converting third and longs will continue to be an issue if there's no threat on the outside. Nebraska has had too many slot receivers and not enough deep threats to stretch the field.
Veteran tight end Austin Allen has blossomed into a consistent pass catcher. Martinez is going to need a go-to receiver in order to take that big leap forward. Spring training should've been a big emphasis on Martinez building chemistry with his receivers. Regardless of the matter, there's no turning back for Martinez now.
After all, the former four-star prospect chose Frost and Nebraska over Jeremy Pruitt and Tennessee. Frost returned the favor and stood behind Martinez when he could've brought future Heisman winner Joe Burrow to the program. It's obvious the two are loyal to each other, but in hindsight that's been detrimental to the overall state of the program.
Saturday afternoon Husker fans want to see how much Martinez has developed as a passer and how he commands the huddle. No more sporadic plays from the wide-eyed underclassmen of the past. Instead they expect a quarterback with poise, who operates like a seasoned veteran. Anything to start some positive momentum towards navigating through a daunting schedule this fall.
It's like starting over from scratch for Martinez and nothing will come easy. At this point in his career he understands that he'll take the shoulder of the blame for the team's shortcomings, and the highest of praise for the success. Still, it's all or nothing in Frost's crucial fourth year on the sidelines in Lincoln.
Time is of the essence and Martinez needs to establish a winning legacy. Anything to avoid being remembered as Nebraska's four-year starter at quarterback, who never secured a winning campaign. So of course, the pressure is at an all-time high.