Ranking the Big 12's best quarterbacks of 2021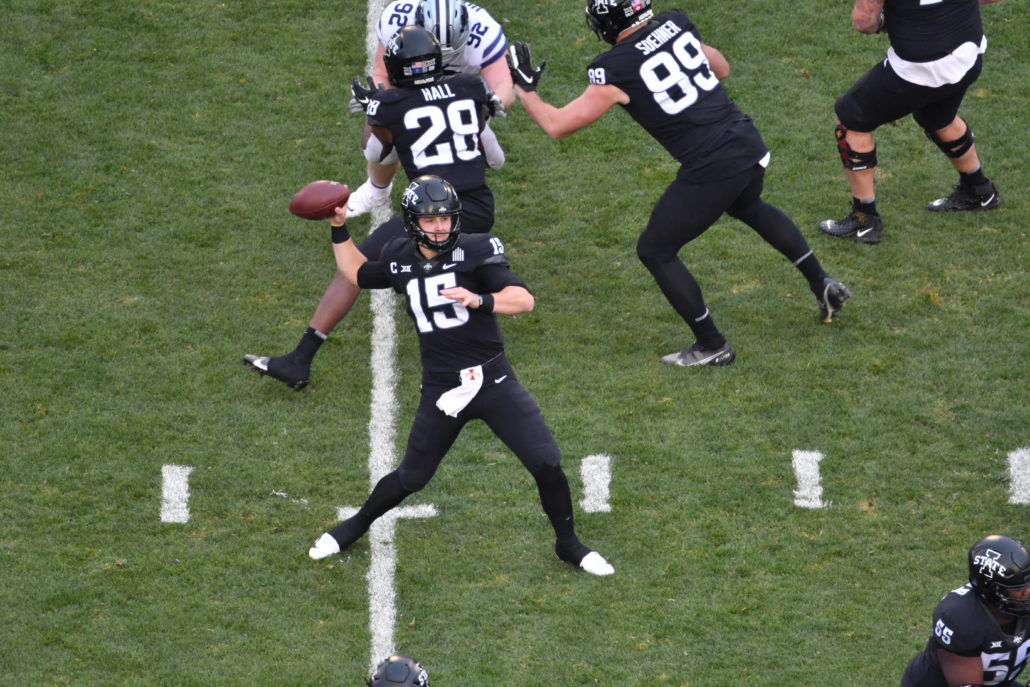 Now that every team in the conference has finished spring ball, it's time to see where all of their signal-callers measure up for the fall.
The lack of selected players from the Big 12 in this year's NFL Draft means there's a ton of talent returning to the league. From top to bottom the conference will boast some of the best quarterbacks the country will see in 2021.
Expectations will be high for the Big 12 after its' teams dominated last season's bowl games. And it all starts with the players lined up behind center.
10. Miles Kendrick, Kansas: The former three-star prospect played in seven games and threw six touchdowns last season. Although 2020 was a winless campaign for the Jayhawks, Kendrick was able to gain some valuable Big 12 experience. He didn't play in the loss to Baylor and rival Kansas State. However, Kendrick threw two touchdowns apiece against Coastal Carolina and TCU. The California native was intercepted twice against West Virginia and Oklahoma. Kendrick has seen two head coaches fired from the program in David Beaty and Les Miles. Now he'll be operating  under Lance Leipold's scheme, who was hired Monday, won 106 games, plus six National Championships at Wisconsin-Whitewater.
9. Gerry Bohanon, Baylor: He only attempted one pass last season, but learned three years worth of leadership skills under veteran signal-caller Charlie Brewer. Now that Brewer has transferred to Utah, Bohanon is trying to secure the Bears' starting quarterback job. The former four-star prospect was a bit sluggish through the first couple of spring practices. However, Bohanon improved on his throws as spring training progressed. The Arkansas native looked better than Jacob Zeno and Blake Shapen in Baylor's spring game, plus he displayed breathtaking mobility. New Offensive Coordinator Jeff Grimes' unit put up video game numbers at BYU last season and he's trying to establish that in Waco.
8. Casey Thompson, Texas: He's in a deep battle with Hudson Card to replace record-setting quarterback Sam Ehlinger. Thompson has the edge in experience and production, with two touchdown passes against UTEP and four in the bowl win over Colorado last season. The Oklahoma City native threw for 242 yards in the Longhorns' spring game, but was picked off twice. Card had 191 yards through the air, a touchdown pass and no interceptions. First-year coach Steve Sarkisian hasn't named a starter approaching summer workouts and the competition may continue throughout fall camp. Still, whoever emerges as the starter will have some weapons at his disposal, with Bijan Robinson and Joshua Moore.
7. Tyler Shough, Texas Tech: The former four-star prospect threw 13 touchdowns and six interceptions through seven games for Oregon last season. Shough also led the Ducks to a Pac-12 Title. The six-foot-five, 221-pound Shough threw four touchdown passes in the win over Washington State. He also had a season-high, 334 yards through the air and three touchdown tosses in the victory over UCLA. As soon as Shough arrived at Texas Tech, last year's starter Alan Bowman decided to transfer to Michigan. Matt Wells is still searching for his first winning season as the Red Raiders approach year three. With Shough's experience, leadership and production, Texas Tech may get over the hump.
6. Jarret Doege, West Virginia: The Texas native has thrown for 3,395 yards, 21 touchdowns and seven interceptions over the past two seasons. Doege had a solid campaign last year and led the Mountaineers to their first bowl win since 2015. The former three-star prospect originally committed to Bowling Green. Doege had four 300-yard passing performances last season and he only threw one interception over West Virginia's final six games. The six-foot-two, 210-pound Doege also completed 10 of his 14 pass attempts in the Mountaineers' spring game. He appears to have a firm hold on the starting position and West Virginia is projected to be one of the Big 12's most improved teams this fall.
5. Skylar Thompson, Kansas State: He's the most experienced quarterback in the Big 12, but is coming off of shoulder surgery. Thompson started back throwing during the spring, but was limited in practice. The former four-star prospect is the only signal-caller in the conference to beat Oklahoma for the past two seasons. Thompson bring instant credibility back to the Wildcats' offense, that struggled in 2020 under true freshman Will Howard. Both quarterbacks want the starting position, but will do whatever it takes to get their team over the hump. Thompson is a clutch player and been with the program since 2016, so it's hard to imagine he'd return for another year just to end his career as a backup.
4. Spencer Sanders, Oklahoma State: The former four-star prospect has thrown for 4,072 yards and 30 touchdowns over the last two seasons. However, Sanders has been picked off 19 times during that span. It's a trend that must change for the Cowboys' offense to take that next step. He had a season-high, 400 yards through the air and four touchdowns against Texas. Sanders also had four touchdown tosses in the bowl win over Miami. The Big 12 is full of experienced signal-callers for 2021 and Sanders is one of them. Mike Gundy's system is very quarterback-friendly, and with Sanders' experience, he should be able to put up some impressive numbers in conference play this fall.
3. Max Duggan, TCU: Over the past two seasons he has scored 36 total touchdowns. Duggan is arguably the most underrated signal-caller in the Big 12. He's also one of the best playmakers in the league when healthy. The former four-star prospect can hurt defenses with his arm and legs, plus he put both on display last year. Duggan had three touchdown passes apiece against Iowa State and Kansas. The Council Bluffs native surpassed the century mark in rushing against Oklahoma State and Texas Tech. Duggan looked solid in TCU's spring game two weeks ago and appears to be the face of the program. This fall will be his third season at the helms  of the offense and likely his best yet.
2. Brock Purdy, Iowa State: He's arguably one of the best fourth quarter quarterbacks in the country. Purdy has three years worth of starting experience and during that span the Cyclones have won 24 games, including the Fiesta Bowl. The Arizona native was one bad throw from winning the program's first-ever Big 12 Title. Still, he finished 13th in the FBS with 2,750 passing yards and first in the Big 12 in pass completions. Now Purdy is riding that wave of momentum into the 2021 season. The Cyclones will likely be projected as a top-10 team heading into the fall and expectations will be at an all-time high in Ames. Purdy has the best running back in the nation in Breece Hall to take some of the pressure off. Not to mention tight end Charlie Kolar will be a Mackey Award favorite, so It's pretty much a Big 12 Title or bust for Iowa State.
1. Spencer Rattler, Oklahoma: In just his first season as a starter he led the Sooners to a Big 12 Title. It didn't start off good for Rattler though, and Oklahoma started off 0-2 in conference play for the first time since 1999. Rattler and the Sooners bounced back though and ended 2020 on an eight-game win streak. He's arguably the best player in the country, a Heisman contender and the reason why the Sooners will enter the fall as a top-three team. The former five-star prospect led the league in passing yards and passing touchdowns. Rattler is in perfect position to continue on the great quarterback legacy Oklahoma has established under Lincoln Riley. Expectations will be high in Norman again, especially after the 35-point beatdown over Florida. Anything less than a Big 12 Championship and a Playoff berth will be considered a failure.