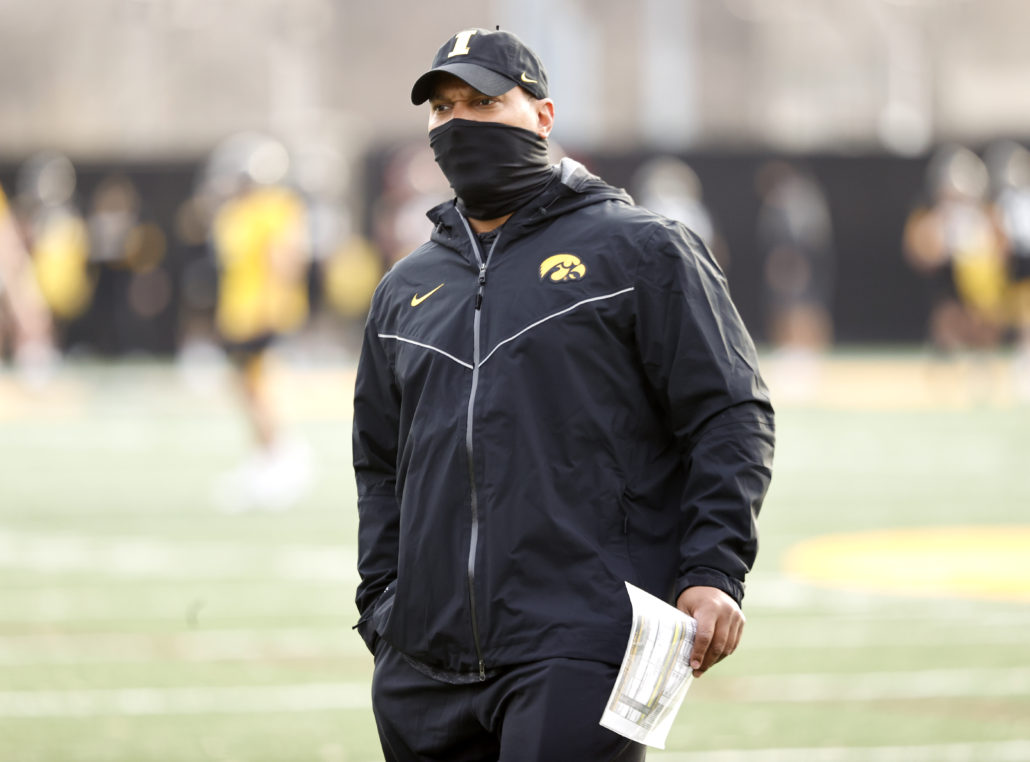 IOWA CITY, Ia. — He was Iowa's starting running back during Kirk Ferentz' first season as head coach and has a ton of memories with the program.
Being back on campus nearly 20 years later is like déjà vu for Ladell Betts. The 41-year old has spent the past eight years coaching in the high school ranks down in Florida. So making the jump to Power Five football is huge, plus relocating has been just as challenging.
Although Betts is in Iowa City, his family is still down in Florida and won't reunite with him until the kids have finished their semester in school. Betts is able to do his job stress free, knowing he has his wife's support. After all, he believes fate has brought him back to his alma mater.
He loves coaching and feels like he has a lot of knowledge and experience to offer the players. Betts played running back from the time he was 11 until 31, and that's the position he's been coaching for nearly nine years. Now he's leading the Hawkeyes' running backs and will be operating with some talented  rushers.
Tyler Goodson is one of the best returning running backs in the conference. He earned first-team All-Big Ten honors in 2020 and had four 100-yard games. Ivory Kelly-Martin is the veteran of the bunch, but haven't been participating in spring drills. Despite Betts having those two rushers, the rest of the unit is green and inexperienced at best.
Still, Betts likes what he sees in the Hawkeyes' backfield and enjoys the intensity the group brings to every spring practice.
"I've been able to inherit a great group of guys, a talented group from top to bottom," Betts said. "High character individuals and that's a testament to the type of kids that this University recruits."
Betts is encouraged by Goodson's work ethic, plus Kelly-Martin's leadership in team meetings and practice. Nolan Donald is a converted wide receiver and a late addition to the unit to add depth. Betts want the rest of the running backs to take advantage of every carry throughout spring ball.
The Kansas City native is all about alignment, assignment and effort when it comes to teaching ball carriers. Not to mention it all helped Betts become Iowa's No. 2 all-time leader in rushing yards. Iowa hasn't had a 1,000-yard rusher since Akrum Wadley accomplished that feat in 2017.
"Those guys have been doing everything that I've asked, they've accepted the challenge and that challenge is to operate at a championship level attitude," he said. "That means weight room, meeting room, and on the practice field, so far they're filling the end of their obligation."
The Hawkeyes finished 10th in the Big Ten and 97th in the FBS in rush offense in 2019. However, Iowa improved to fifth in the Big Ten and 58th in the FBS at running the ball last season. Betts wants the unit to keep improving and believes it all starts with recruiting, which he feels is going to be his biggest learning curve.
Regardless of the matter, Betts feels the game comes natural to him and he knows what it takes to be successful on the gridiron. Obviously the speed of the game in the Power Five is going to be light years faster than high school. Betts isn't concerned about adjusting and actually embraces the opportunity.
"At the end of the day it's football and it doesn't change," Betts said. "It's hitting, tackling, running, catching, and passing the football, but just a little more detailed at this level."