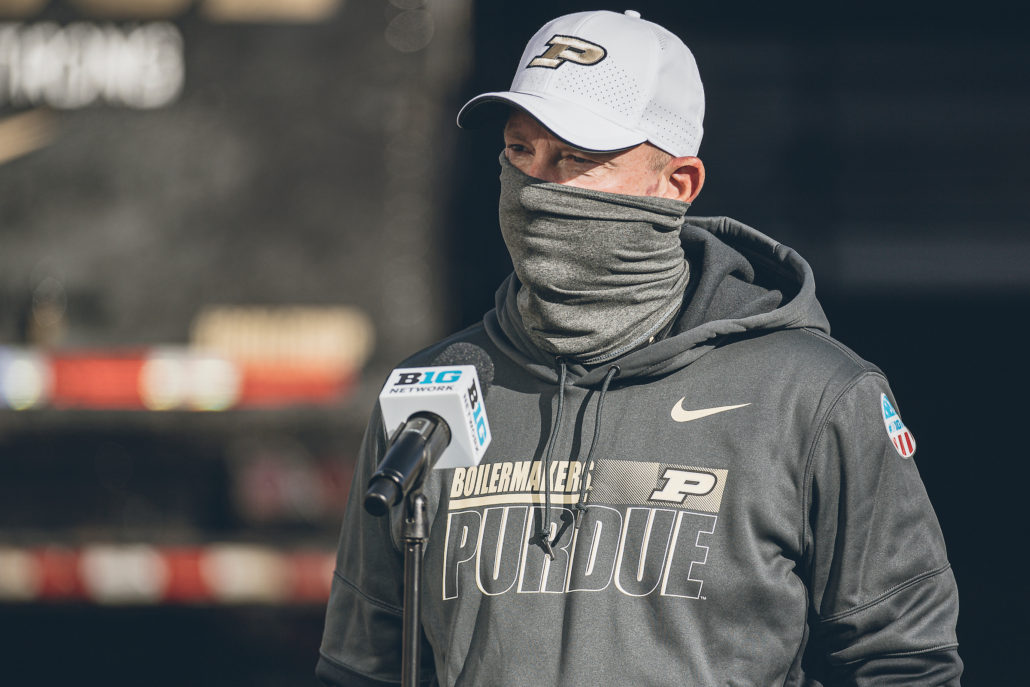 There has been a ton of grumbling about them being overpaid and not living up to expectations.
These coaches are getting richer while their respective programs continue to slump. At the end of the day something has to give. Fans and alumni want victories instead of losing seasons.
It remains to be seen if these coaches have their programs going in the right direction or suffering a downward spiral. Either way, this fall will tell all.
Geoff Collins, Georgia Tech: The Yellow Jackets signed him to a seven-year contract in 2019 and he earns $3.3 million annually. Collins is trying to rebuild the program, but the past two seasons have been flat-out awful. After all, Collins is trying to transition Georgia Tech's offense from the triple option to a passing scheme, but there's been major growing pains. Collins is coming off back-to-back three-win campaigns, including a 5-12 record in ACC play during that span. That's not a good trend for the Yellow Jackets, while other teams around the Coastal are constantly improving. Georgia Tech's schedule is brutal this fall, having to travel to Clemson, Miami and Notre Dame. Regardless, the Yellow Jackets' passing attack must improve, after the offense threw 13 interceptions, which tied for 118th in the FBS.
Scott Frost, Nebraska: His highly-anticipated return has turned out to be a disastrous tenure thus far. Frost lost his first six games, which was the worst start in program history. The Huskers dropped five of their final six games in his second season. Not to mention Nebraska lost four of its' first five games in 2020. A 12-20 record approaching year four is not what Husker Nation had in mind when Frost took the job. The quarterbacks and offensive line have struggled, several players have transferred and the Huskers have gone 9-17 in Big Ten play. Frost makes $5 million a year, plus Athletic Director Bill Moos signed him to a two-year extension this past December, which keeps him through 2026. However, another three-win campaign in conference play won't cut it this fall. And Nebraska's schedule is flat-out brutal in 2021.
Dino Babers, Syracuse: He originally signed a six-year deal when he was hired after the 2015 season and makes $3.2 million annually. That's bottom of the pile earnings for Babers compared to other Power Five coaches. However, after Syracuse's 10-win campaign and top-15 finish in 2018, Athletic Director John Wildhack signed Babers to an extension. Now he's with the program through the 2024 season. In hindsight Baber's early success has turned out to be fools gold. The Orange have lost 17 of their last 23 games, including a 3-15 record in ACC play. Besides hosting a loaded Liberty team and the reigning ACC Champs this fall, the schedule is manageable enough for Babers to carve out a winning season. Although he's one of two minority coaches in the league, there's very little room for margin of error in 2020.
James Franklin, Penn State: He's one of the highest-paid coaches in the FBS and makes $6.7 million annually. So it was a head-scratcher that Penn State put together a losing season in Franklin's seventh year on the job. After all, the Nittany Lions started out last season as a top-10 team, but lost their first five games and never resurfaced in the polls. Injuries and pandemic complications played a huge role in the Nittany Lions underachieving in 2020. Offensive Coordinator Kirk Ciarrocca turned out to be a bust and Franklin parted ways with him. There was light at the end of the tunnel though, and Penn State won its' final four games. Talent isn't the issue because the Nittany Lions are annually putting several of their players in the NFL. Which is why fans are expecting Franklin to have a huge turnaround in 2021.
Justin Fuente, Virginia Tech: He's approaching his sixth season with the Hokies and is the second-highest paid coach in the ACC. Fuente makes $4.3 million a year and has a record of 38-26. He's also 25-17 in ACC play. However, the Hokies have lost seven of their last 12 conference games overall. Inconsistency has been a issue for Fuente's teams. Virginia Tech no longer has an identity, which used to be its' tenacious defense. The unit has downspiraled over the past three seasons. The Hokies finished 98th in the FBS in total defense in 2018, 42nd in 2019 and 103rd in 2020. Those numbers must improve if Virginia Tech wants to become a power in the ACC again. Quarterback play has been shaky and there hasn't been a dominant running back to take the pressure off the pass rush. This fall will be vital for Fuente.
Jim Harbaugh, Michigan: He's arguably the most scrutinized coach in the FBS because he's highly compensated. Harbaugh had one year left on his initial contract at Michigan that paid the coach slightly over $8 million in 2020. However, Athletic Director Warde Manuel signed him to an extension this past January. Harbaugh's new contract will keep him with the program through 2025 and he has a base salary of $4 million in 2021. It's a big decrease in pay, but the paperwork part is finally done, which puts the pressure back on Harbaugh to improve on the field. The Wolverines have lost six of their last eight games overall. Harbaugh is still winless against Ohio State and lost his last four bowl games, including three-straight to SEC foes. Regardless, Michigan can't afford a second-straight losing season.
Jeff Brohm, Purdue: He showed promise with some early success during his first two seasons and won 13 games. Louisville wanted Brohm's services after parting ways with Bobby Petrino, which is why Purdue rewarded him a hefty contract extension in April of 2019. It was for seven additional years, that included a $1.7 million signing bonus. Not to mention the total value of Brohm's new deal is $36.8 million. However, since that extension the Boilermakers have compiled a 6-12 record, including a 5-10 mark in Big Ten play. Brohm played musical chairs at quarterback, and Purdue finished 70th in the FBS in total offense last season. The 50-year old is one of the highest-paid coaches in the country, but the Boilermakers have to emerge from the Big Ten West cellar, in order for Brohm's pay to have any merit.
Dana Holgorsen, Houston: He makes $3.8 million a year, which is the highest of any coach from the Group of Five. Holgorsen took the Houston job because it's less pressure than he had at West Virginia. Major Applewhite led the Cougars to two-straight winning seasons, but Holgorsen hasn't put up similar results. He wasn't able to keep quarterback D'Eriq King with the program. Not to mention Houston is coming back-to-back losing seasons for the first time since 2001-02. Holgorsen is 7-13 with the Cougars, including 5-9 in AAC play. The 49-year old coach was once considered one of the best offensive minds in the game. However, Houston has struggled to move the ball under Holgorsen's watch and finished 78th in total offense in 2019 and 55th in 2020. Now it's put up or shut up time this fall.
Chip Kelly, UCLA: His tenure has been a trainwreck thus far, but he's been nicely compensated along the way. Kelly is the fourth-highest paid coach in the Pac-12 and makes $4.3 million annually. However, he's approaching his fourth season with the Bruins and is still looking for his first winning campaign. A 10-21 record, including 15 Pac-12 losses, is not what UCLA fans had in mind when Kelly was hired. After all, Kelly ruled the league when he coached at Oregon, but it remains to be seen if his time in the NFL caused him to lose touch with the collegiate ranks. He could potentially be fielding his best team this fall, which means the pressure will be on Kelly to deliver a winning season. Imagine the humility if Kelly suffers four-straight losing seasons with the program and makes $17.2 million during the process.
Mel Tucker, Michigan State: It's hard to figure him out, considering he only coached one year at Colorado before moving to the Big Ten. Still, Tucker is one of the highest paid coach in the league, with a salary of $5.5 million. However, his season with the Buffaloes and the Spartans both ended in losing affairs. Tucker's first rodeo in the Big Ten was dreadful, and the only highlights were upsetting Michigan and Northwestern. Michigan State suffered a 42-point blowout loss at Iowa and got shutout by rival Indiana the following week. The Spartans dropped four of their final five games, which presented a red flag. It remains to be seen if the players are buying in, so there's no denying Tucker has a lot to prove in year two. Michigan State fans are hoping for major improvements to reflect Tucker's hefty salary.