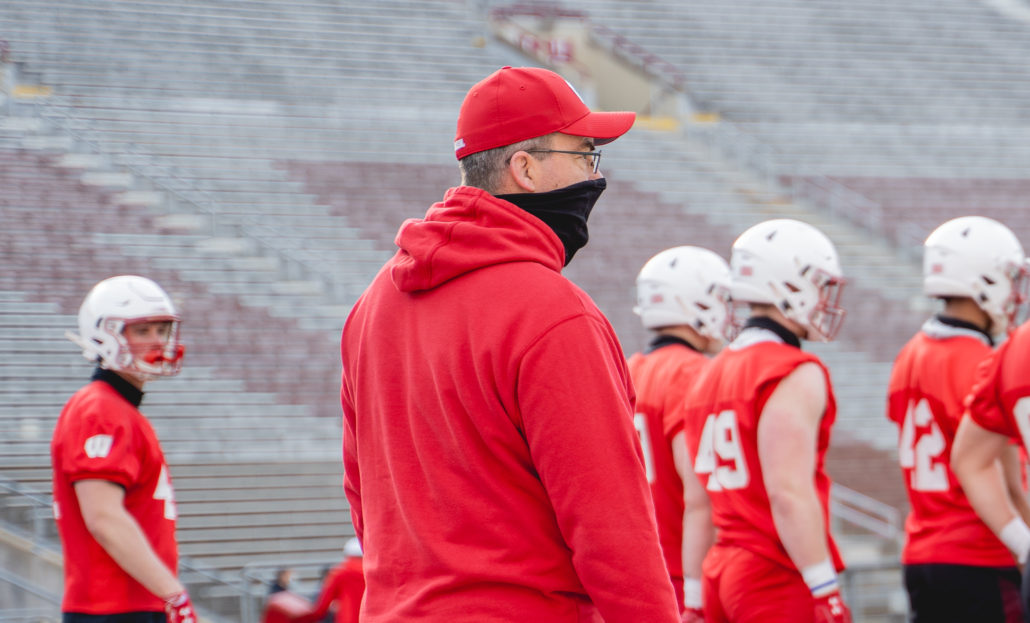 Sometimes it's not all about the impressive recruiting rankings.
Having longevity among the staff, a system set in place and a foundation built on winning, can mold any student athlete into a stud player. New arrivals find out fast that stars behind their names don't mean nothing when it comes to strength and conditioning.
However, that's vital to player development and will ease their maturation process. These 10 coaches have established a track record of turning underrated recruits into all-conference performers and NFL Draft prospects. And their success hasn't gone unnoticed, which is why potential recruits are ready to join the party.
10. Dave Clawson, Wake Forest: Besides 2016, the Demon Deacons have had at least one player selected each year in the NFL Draft under his watch. Clawson is a natural at developing his players past their potential. He molded former three-star prospects Carlos Basham and Jaquarii Roberson into All-ACC performers in 2020. Although he's 17-22 in ACC play over the past five seasons, Clawson has led Wake Forest to five-straight bowl games. What's mind-boggling about Clawson's success, is none of the Demon Deacons' recruiting classes during that span ranked in the top 50. Wake Forest is an academic school, in a basketball conference, but Clawson continues to defy the odds by stockpiling wins.
9. Tom Allen, Indiana: His first full recruiting cycle was in 2017 and ranked 65th nationally. Tight end Peyton Hendershot and receiver Ty Fryfogle were two-star prospects from that class, and both earned All-Big Ten honors last season. Fryfogle was also named the Big Ten's Receiver of the Year. Quarterback Michael Penix Jr., running back Stevie Scott, safety Jamar Johnson and linebacker Micah McFadden were from the Hoosiers' 2018 class that ranked 45th nationally. They all earned All-Big Ten honors in 2020, and helped Indiana finish in the top-15 of the final AP Poll for the first time since 1967. Several pieces return this fall, and Allen could potentially be fielding his best team yet.
8. Mark Stoops, Kentucky: His track record for developing talent has gone under radar. Well that was until Kentucky had seven players drafted over the past two years, including five in 2019. Former three-star prospect Josh Allen was one of those players, who became the seventh overall pick. Not to mention Benny Snell, Lonnie Johnson and George Asafo-Adjei were all former three-star prospects who got drafted that year. Stoops has also led the Wildcats to four winning seasons over the past five years, including a top-15 finish in 2018. That's very impressive, considering Kentucky is a basketball school and Stoops doesn't recruit at a high level. The system he has established constantly develops talent.
7. Mike Gundy, Oklahoma State: The mullet man knows how to find diamonds in the rough. Usually Gundy's roster consists of players from the Lonestar state, who Texas and Oklahoma pass up. However, Gundy is a natural at turning his recruits into All-Big 12 caliber players. Although the Cowboys haven't finished in the top-30 in recruiting since 2014, it's been seven years since then and they've won 60 games. Gundy has had 11 of his players drafted during that span, including four in 2018. Teven Jenkins, Amen Ogbongbemiga, Malcolm Rodriguez and Rodarius Williams were former three-star prospects, who earned All-Big 12 in 2020. Development is why he's the longest-tenured coach in the league.
6. Matt Campbell, Iowa State: He has built a solid foundation in Ames. Campbell's recruits aren't flashy, yet he lands the players who are a right fit for his program. David Montgomery was a three-star prospect from the 2016 class, which was Campbell's first recruiting cycle. The running back eventually went on to become a third round pick and he's currently the Chicago Bears' starting rusher. Quarterback Brock Purdy, tight end Charlie Kolar and center Colin Newell were former three-star prospects, who Campbell molded into first-team All-Big 12 performers in 2020. Campbell has never had a recruiting class that ranked in the top-40, so it's amazing that Iowa State has won 32 games over the past four years.
5. Paul Chryst, Wisconsin: Barry Alvarez established a system that has been successful for the past three Badger head coaches. Out of those three, Chryst has been on the job the longest and he knows how to identify the types of players to fit his alma mater. The Badgers continue to be one of the most physical teams in the Big Ten that gets it done the blue collar way. Since 2015, the Badgers have had 20 players drafted, including 13 over the last three seasons. Former players Zach Baun, Tyler Biadaz and Quintez Cephus were all three-star prospects, who were drafted in 2020. Current tight end Jake Ferguson is a former three-star recruit, who earned first-team All-Big Ten last season. Wisconsin usually finishes in the middle of the pack in recruiting, yet Chryst develops his players and racks up the winning seasons.
4. Pat Fitzgerald, Northwestern: He's the second-longest tenured coach in the Big Ten. Fitzgerald is one of the nation's best at molding under the radar recruits into All-Big Ten caliber players. He has had eight of his players drafted since 2015, including two quarterbacks. In just his second year with the program, safety Brandon Joseph went from being a former three-star recruit, to a first-team AP All-American. Former Wildcats Paddy Fisher and Greg Newsome were also three-star prospects, but earned first-team All-Big Ten honors last season. Fisher was named the Big Ten's Linebacker of the Year. Newsome along with Rashawn Slater are projected as first round picks in this year's NFL Draft. Fitzgerald has also won the West two of the past three seasons. With the way Fitzgerald recruits, his success speaks volumes.
3. Gary Patterson. TCU: His body of work is phenomenal in terms of success, longevity and the number of players he has put in the NFL. Patterson is the second-longest tenured coach in the FBS. With 178 victories under his belt, he's the program's all-time winningest coach. Not to mention Patterson has had 47 Horned Frogs drafted under his watch, including 11 over the past three years. That's astounding, considering the 61-year old coach hasn't had a recruiting class ranked in the top 20 over the past four seasons. Khari Coleman was a three-star recruit in 2020, but was later named the Big 12's co-Defensive Freshman of the Year. Garret Wallow, Trevon Moehrig and Trevius Hodges-Tomlinson were also former three-star prospects, but they earned first-team All-Big 12 honors last season.
2. Kirk Ferentz, Iowa: The longest-tenured coach in the FBS knows how to develop talent. Ferentz has had a player drafted every year of his tenure. The Hawkeyes have had a player drafted every year since 1978. Most of the time Iowa finishes in the bottom half of the Big Ten in recruiting, but Ferentz still find ways to produce winning seasons. So much so that he earned his 100th Big Ten victory in 2020. The recipe to his molding success, is longevity among staff, the Hawkeyes' strength and conditioning program and the system. Ferentz has orchestrated eight-straight winning seasons. However, only one of his recruiting classes during that span ranked inside the top-40, which was last year's cycle. That's because recruits are taking notice of how Ferentz been putting his players in the NFL, and they want to climb aboard.
1. Kyle Whittingham, Utah: He's one of the longest-tenured coaches in the FBS and arguably the best at developing players. Whittingham has single-handedly built Utah's program into a hotbed for the NFL. The Utes have had a jaw-dropping, 21 players drafted over the past four years. Not to mention Whittingham has led Utah to seven-straight winning seasons, and during that span he only lured in one top-25 recruiting class. His body of work is phenomenal, with the way several Utes annually earn All-Pac-12 honors, carve out winning seasons and land players in the NFL. That's because Whittingham knows the Pac-12, which is vital when it comes to molding his players and they usually exceed expectations. Recruits know the 61-year old coach has a system established that'll get them to the next level.
*Recruiting rankings based on rivals.com