Ranking the SEC's best quarterbacks of 2021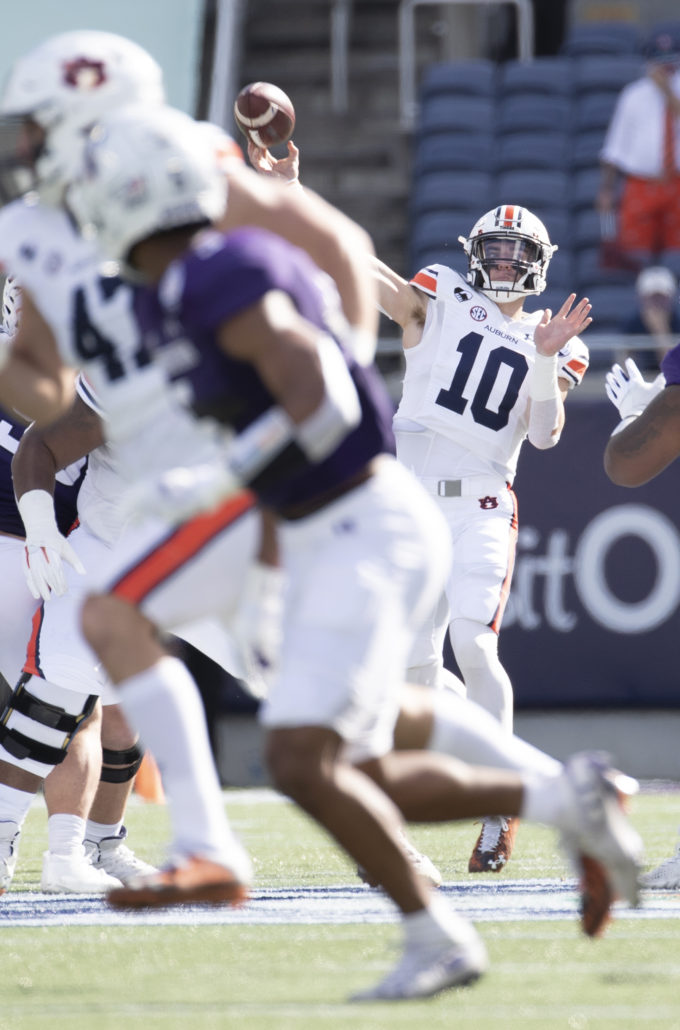 Now that all 14 teams have concluded spring ball, it's time to measure where every potential starting quarterback stands heading into the summer.
Several programs have yet to name a starter, but in return that has created more anticipation from fans. There's a lot of new faces around the league with signal-callers, assistants and coaches. However, the almighty SEC is still stacked with the best talent College football has to offer and these quarterbacks are trying to create their own legacy.
Here's a projection of how the dominoes will fall for the individuals lined up behind center.
14. Beau Allen, Kentucky: The hometown kid only attempted seven pass attempts as a true freshman last season. Now the six-foot-two, 207-pound Allen appears to be neck to neck with Joey Gatewood for the Wildcats' starting job. Both signal-callers looked solid over the spring, and Penn State transfer Will Levis will arrive in the summer. Allen was supposed to separate himself from Gatewood over the past month. Instead the competition got tighter and there could be changes from now through fall camp. Kentucky had an identity of ground and pound on offense. Now new Offensive Coordinator Liam Cohen is amplifying everything, and implementing a system the quarterbacks can thrive in.
13. Luke Doty, South Carolina: New Gamecock Coach Shane Beamer named him the team's starter after spring ball. Doty has experience on his side and got to see a lot of action as a true freshman over South Carolina's final three games of 2020. He got to see what life was life in SEC East action and there were some growing pains, with a couple of blowout losses during that span. However, Doty did have a touchdown pass against Georgia and Kentucky. Doty threw for 54 yards and led the first-team offense to two scoring drives in the spring game. The former four-star prospect will have the best running back in the SEC to the hand the ball off to and keep opposing defenses honest.
12. K.J. Jefferson, Arkansas: The former four-star prospect showed his potential against Missouri last season. Jefferson threw for 274 yards and three touchdowns on the road. He continued that momentum throughout spring ball and is the Razorbacks' clear cut starter heading into fall camp. Jefferson will have the best wide receiver in the SEC at his disposal in Treylon Burks. With Jefferson and Burks, plus two studs at linebacker, the Razorbacks could potentially be one the most improved teams this fall. Jefferson has learned from two different coaches in Chad Morris and Sam Pittman. Not to mention he sat behind Feleipe Franks last year. Jefferson is primed for a breakout season.
11. Zach Calzada, Texas A&M: The battle to replace four-year starter Kellen Mond will go well into fall camp. Although Calzada is trying to secure the job, Haynes King and Eli Stowers are definitely in the mix to be week one's starter. Despite not appearing in any games last year, Calzada is the most experienced quarterback on the roster, with two passing touchdowns from the 2019 season. King's four pass attempts last year ended in two incompletions, one touchdown and an interception. Stowers is an early enrollee, who just competed in spring drills, which is a statement. Jimbo Fisher's work with Jameis Winston and Mond solidified he's a quarterback guru and will make the right choice.
10. Jack Abraham, Mississippi State: Mike Leach is in his second season in Starkville and has seven quarterbacks on the roster. Abraham is a graduate transfer and his collegiate career dates back to 2016. Last year's starter Will Rogers threw 11 touchdowns through nine games, and he's trying to keep a firm hold on the job. However, after spring ball Rogers grip has loosened. Abraham outperformed him in the Maroon and White Game, with more touchdown passes, better completion percentage and less turnovers. Leach is a quarterback guru and will roll with the signal caller who can operate his 'Air Raid' system the best. The six-foot, 205-pound Abraham has the experience to be the Bulldogs' starter.
9. Harrison Bailey, Tennessee: The former five-star prospect showed a lot of promise for the Volunteers last season. Bailey went through some growing pains, with two interceptions in the loss at Arkansas. However, towards the end of 2020 he started to deliver on the hype. Bailey blossomed over Tennessee's final three games against Florida, Vanderbilt and Texas A&M, with 403 passing yards, four touchdowns and no interceptions. The six-foot-five, 225-pound Bailey looked the best out of the three competing quarterbacks in the Volunteers' spring game. Bailey completed 15 of his 20 passes for 260 yards and two touchdowns. The Georgia native should flourish in Josh Heupel's system.
8. Ken Seals, Vanderbilt: He started all nine games for the Commodores last season and threw 12 touchdown passes. Seals looked solid in Vanderbilt's spring game, with a 173 yards through the air, to go along with a score. However, Coach Clark Lea is approaching his first year on the job, and he has two capable starting signal callers on his roster. Mike Wright pushed Seals throughout spring ball and looked impressive in the spring game. It's hard to overlook experience, production and leadership, but sometimes talent can seal the deal. Vanderbilt's quarterback battle will continue into fall camp, but if Seals has found a way to cut down on his 10 interceptions from 2020, his job is safe.
7. Connor Bazelak, Missouri: Last season he was named the SEC's Freshman of the Year. Bazelak is riding that wave of momentum into the summer. Although he looked average and didn't throw a touchdown in Missouri's spring game, he appears to have the Tigers' quarterback position on lock. The Ohio native threw four of his seven touchdown passes in the win over LSU in 2020. The only other game Bazelak threw more than one touchdown was the loss at Mississippi State, and he was picked off three times in that clash. Despite Bazelak's promising completion percentage, it remains to be seen how high his ceiling is with the program. Which is why his second year with the Tigers will be the most critical.
6. Emory Jones, Florida: The Georgia native will be Kyle Trask's successor and has dangerous mobility. Gator fans were able to see bits and pieces of Jones' passing ability last season in mop up duty.  He threw a touchdown pass against Arkansas and Vanderbilt, plus Jones completed all four of his pass attempts against Kentucky. The former four-star prospect wants to work on his timing and build chemistry with the receivers over the summer. Dan Mullen has one of the game's best offensive minds and his system is very quarterback-friendly. So Jones should be able to put up great numbers this fall. Jones doesn't have the passing prowess of Trask, but his legs will keep the chains moving.
5. Max Johnson, LSU: The former four-star prospect played in six games as a true freshman last season and threw eight touchdowns. Johnson held his own in SEC play, but he blossomed over LSU's final two games against Florida and Ole Miss, which were both victories. The Georgia native combined for 674 passing yards, six touchdowns and one interception during that span. Johnson carried that momentum through spring ball and threw for 180 yards and two scores in the Purple and White Game. If the defense isn't vastly improved, the Bayou Bengals will only go as far as Johnson can take them. He must first fully grasp the scheme and perform like a seasoned veteran on the field.
4. Bo Nix, Auburn: The former five-star prospect has scored 42 total touchdowns over the past two seasons, but will be operating under a new scheme this fall. Nix is battle-tested in the SEC, so adjusting shouldn't be an issue. Several Tiger fans thought Nix suffered a sophomore slump because he threw less touchdowns and more interceptions last year. However, he did increase his completion percentage had more yards on the ground. Bryan Harsin is an offensive-minded coach, which should make Nix's transition smoother. He looked solid in the A-Day Game, with 112 yards through the air and a touchdown pass. With all the turnover on Auburn's offense, Nix still brings credibility to the unit.
3. Bryce Young, Alabama: The time has come for the former five-star prospect to live up to the hype. Young sat behind Mac Jones last season and watched him carve up SEC defenses every week. There's no denying the California native has some huge shoes to fill. Young threw for 333 yards and a touchdown in Alabama's spring game, but his completion percentage was well below the standards fans have grown accustomed to. New Offensive Coordinator Bill O'Brien will try to be successful with the X's and O's like his predecessors Lane Kiffin and Steve Sarkisian. When you're working with four and five-star talent, the transition should be swift. Young also has a ton of upside and should flourish with O'Brien.
2. Matt Corral, Ole Miss: Kiffin jumped on the scene in Oxford last season and magnified the quarterback's skill set. Corral attempted 148 more passes, had 1,975 more yards through the air and 23 more touchdown tosses. Not to mention Corral became more of an effective runner, and rumbled for 506 yards on the ground, to go along with four scores. He showed 2020's success was no fluke and threw for 208 yards, plus two touchdowns last Saturday in the Grove Bowl. It's going to hurt Corral's production with Elijah Moore and Kenny Yeboah off to the NFL. However, Kiffin has a brilliant offensive mind and will find the Rebels' go-to receiver for Corral to stockpile touchdowns with this fall.
1. JT Daniels, Georgia: He started the final four games for the Bulldogs last season and led the team to a 4-0 record during that span. Now Georgia will be riding that win streak into fall camp. Daniels threw for four touchdowns against Mississippi State and three on the road at Missouri. The California native had 392 yards through the air in the New Year's Six Bowl win over Cincinnati. If that wasn't enough to gain him notoriety in the SEC, than his performance in Georgia's G-Day game proved he's the real deal. Daniels threw for 324 yards and his four touchdown passes were all to different receivers. Now he's the reason SEC fanatics are expecting the Bulldogs to take back over the East division.