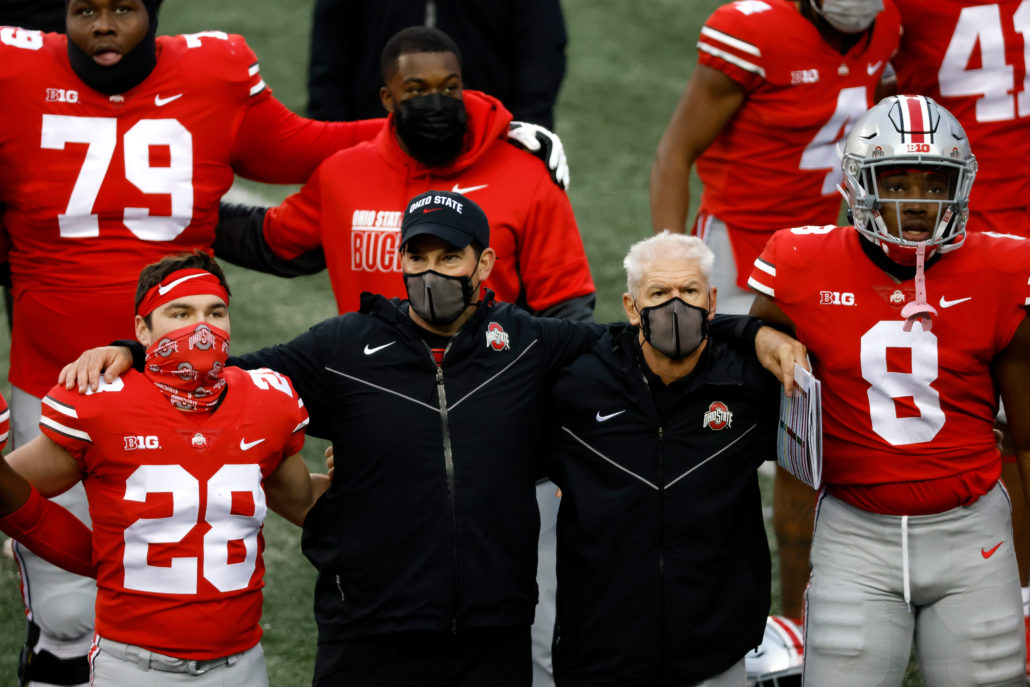 With great power comes great responsibility.
They are the leaders who turn young boys into men on and off the field. Head coaches have to lead by example and not be influenced by fans. They're the ones who make the key hires and vital dismissals. Knowing the right time to start or bench a player is key.
In order to run a successful program, they have to be aggressive recruiters, developers of talent and great gameday motivators. These 20 individuals have showed all these traits during their time with their respective teams and that's why they're considered the best of the best with a headset.
20. Billy Napier, Louisiana: He's one of the fastest rising young head coaches in the game. The 41-year old Napier has worked under Nick Saban and Dabo Swinney, so his successful track record shouldn't come as a surprise. Napier led Louisiana to three-straight bowl games. Not to mention the Ragin' Cajuns are coming off back-to-back double-digit win campaigns. Louisiana would've appeared in three-straight Sun Belt Championship Games if last year's didn't get cancelled. Finishing No. 15 in the final AP Poll last season was just the tip of the iceberg for the program. The cherry on top for Napier is the return of star quarterback Levi Lewis. He makes the Ragin Cajuns a legit top-10 team this fall.
19. Kirk Ferentz, Iowa: There's a reason he's the longest-tenured coach in the Big Ten. No coach does more with less, and a Hawkeye has been drafted by the NFL every year of his tenure. Ferentz' son Brian calls the plays and Defensive Coordinator Phil Parker has been with the program since 1999. The familiarity and longevity among the coaching staff is what has led the Hawkeyes to three consecutive AP top-25 finishes. Iowa hasn't lost to rivals Iowa State, Minnesota and Nebraska since 2014. The 62-year old coach also earned his 100th Big Ten victory in 2020. With everything Ferentz has accomplished over the years with the program, there's no denying he'll be a Hall of Famer once he decides to retire.
18. Jim Harbaugh, Michigan: Mr. Khaki Pants hasn't received his due because he's 0-5 against Ohio State. However, Harbaugh is a jaw-dropping, 34-11 against the rest of the Big 10. His name still ring bells and adds more credibility to the league as a whole. Harbaugh is a 'Michigan Man' and a great recruiter. Take away last year's COVID-plagued season and Harbaugh is still a top-10 coach. The Wolverines annually lure in great talent, play physical and put several of their players in the NFL. The issue that has held Michigan back from the promised land under Harbaugh is the quarterback position. Still, Harbaugh has yet to reach his ceiling with his alma mater, so expect a big time rebound in 2021.
17. Mike Gundy, Oklahoma State: The mullet man is loyal to his alma mater and over the years has passed up on other Power Five gigs. The one knock on Gundy is his 2-14 record against Oklahoma. However, if you take away Bedlam, Gundy is 81-41 against the rest of the Big 12. There's no denying he has one of the best offensive minds in today's game. Gundy gets the Lone Star State recruits that Texas and Oklahoma don't want and turns them into All-Big 12 caliber players. He's also a quarterback guru. The Cowboys haven't had a losing season since 2005, which was Gundy's first year as head coach. Once he decides to retire from coaching, he'll likely become Oklahoma State's Athletic Director.
16. Hugh Freeze, Liberty: He's the epitome of an American comeback story. Freeze gained notoriety at Ole Miss when he beat Nick Saban two years in a row. Although his tenure with the Rebels ended messy, he was able to rejuvenate his coaching career with the Flames. In just two years with the program, Freeze has compiled a 18-6 record and two bowl wins. Liberty started off 8-0, only loss was by one point on the road and finished No. 17 in the final AP Poll last season. The program is clearly on the rise under Freeze's direction and this fall could potentially be special again. With the return of star quarterback Malik Willis, the Flames' offense should be able to light up the scoreboard on anyone in 2021.
15. Pat Fitzgerald, Northwestern: He's an Illinois native and utterly loyal to his alma mater. Fitzgerald is the second-longest tenured coach in the Big Ten, who's approaching his 16th season with the Wildcats. His record of 106-81, at a school known for academics, is flat-out remarkable. Fitzgerald is also the program's all-time winningest coach. His teams are always scrappy, physical and disciplined. The Wildcats have an identity under Fitzgerald, especially on defense, and their play on the field is a reflection of their coach. Northwestern is riding a wave of momentum and has won nine of its' last 12 games overall. Not to mention the Wildcats have won their last four bowl games. Enough said.
14. Kyle Whittingham, Utah: The 61-year old is the longest-tenured coach in the Pac-12. Whittingham has compiled a record of 134-66 with Utah. He went 35-13 in Mountain West play over the Utes' final six seasons in the conference. The California native is currently 45-41 in Pac-12 play, and 17 of those wins have come over the past three seasons. Whittingham's teams are well-coached and play with physicality. He's also a guru with the special teams, which is always a strength for Utah. Whittingham has put several of his players in the NFL, including 21 drafted over the past three years. The Utes don't recruit at a high level, so that speaks volumes of how Whittingham develops his players.
13. Tom Allen, Indiana: He led the Hoosiers to new heights in 2020 and was named the Big Ten's Coach of the Year. Indiana also finished in the top-15 of the final AP Poll for the first time since 1967. Allen has a connection with his players that's second to none and he's one of the best gameday motivators. He makes his players believe, so it's no surprise they'll run through a brick wall for him. Allen went 5-7 in 2018, 8-5 in 2019 and 6-2 in 2020. Every year Indiana gets better under his watch. It's mind-boggling that the Hoosiers were the second-best team in Big Ten East last season. 2021 could potentially be Allen's best season yet, especially if quarterback Michael Penix Jr. can stay healthy.
12. Mack Brown, North Carolina: He's one of five coaches on this list with a National Championship under his belt. Brown is one of the most respected coaches in today's game. He's a great recruiter, who tells it like it is and doesn't sugarcoat anything. The Tar Heels were coming off two-straight nine-loss seasons when Brown took over. Since then, he has led the program to two-straight winning seasons, which solidified he hasn't lost his coaching touch. Brown will also have one of the best quarterbacks in the country in Sam Howell this fall. And with back-to-back top-15 recruiting classes, North Carolina's roster is full of young talent. Brown is such a liked individual that he could be a politician.
11. Matt Campbell, Iowa State: What he has accomplished in Ames has made everyone take notice. Campbell is one of the most genuine coaches out there, who's as loyal as they come. He has built Iowa State from the laughing stock of the Big 12, to one of the heavyweights in the conference before our very own eyes. Not to mention the Cyclones finished No. 9 in the final AP Poll last season. This could potentially be the program's best four-year run ever with the caliber of players returning to the team this fall. Brock Purdy, Breece Hall, Charlie Kolar, Mike Rose and Greg Eisworth are some of the best players in the FBS at their respective positions. Campbell even turned down the NFL to be with this team again.
10. Dan Mullen, Florida: The Gators have improved every season under his watch. Mullen has the personality that 18 and 19-year olds can relate to. It's tough to argue against that when he was dressed as Darth Vader for a Halloween press conference. Mullen is also a quarterback guru, and molded former walk-on Kyle Trask to arguably the best signal-caller in the country last season. Florida finally snapped that losing streak to rival Georgia and made it to the SEC Championship Game. Several Gators from that offense will be hearing their names called in the first round of this year's NFL Draft. Now it remains to be seen if Mullen has the Gators back to being the beasts of the SEC East.
9. Ed Orgeron, LSU: After losing so many players and both Coordinators from that 2019 National Championship team, it's no surprise the Bayou Bengals took a huge step back last season. However, Orgeron continues to recruit like a monster and the roster is full of four and five-star talent. Orgeron isn't afraid to get rid of assistants who don't make an immediate impact either, like he did with Bo Pelini. LSU is dubbed 'Defensive Back U' and finished dead last in the FBS in pass defense in 2020. The Bayou Bengals need the right quarterback and everything will fall into place. Orgeron is the most mocked coach in the country, but he knows the SEC and will right the ship in due time. The SEC West is brutal.
8. Mario Cristobal, Oregon: The Miami native honed his coaching skills under Nick Saban and now he rules the Pac-12 with an iron fist. Cristobal has won two-straight Pac-12 Titles, a Rose Bowl and his tremendous recruiting efforts has left Oregon with the best talent in the league. He's building the Ducks back into a monster, but the lack of other great teams in the conference is what always has them on the outside looking in with the Playoffs. Still, all Cristobal does is win, with a 17-7 record in Pac-12 play. Having the right quarterback could potentially make the Ducks a serious Playoff contender. Cristobal's team been giving mouth-to-mouth to a conference that's been on life support.
7. Brian Kelly, Notre Dame: He's approaching his 12th year on the job and has stockpiled a record of 102-39 along the way. Kelly was the AP Coach of the Year in 2018 and has led the Fighting Irish to three-straight double-digit win campaigns. Notre Dame has also made the Playoffs two of the past three seasons. Not to mention Kelly's team had two top-five finishes during that span. The 59-year old's recruiting and longevity appears to be the recipe to his success. Notre Dame has won four of the last five meetings against rival USC, plus Kelly has had 25 of his players drafted over the past five years. All Kelly needs now is a National Title to solidify his highly successful legacy.
6. Kirby Smart, Georgia: He's one of the best recruiters in the game and built the Bulldogs back into a monster. After coming so close to winning it all in 2017, Georgia has become a National Title or bust type of program. Those high expectations shouldn't come as a surprise considering the Bulldogs have some of the best talent in the country. Smart has an SEC Title and a Rose Bowl victory under his belt. His SEC East reign is still intact, but Florida isn't going anywhere anytime soon. Over the past five seasons under Smart's watch, the Bulldogs have had 26 players drafted. Georgia appears to have all the pieces in place to make a serious run at the National Title this fall. Smart's hungry.
5. Lincoln Riley, Oklahoma: The 37-year old is arguably the best coach out there under 40. Riley has led the Sooners to four-straight Big 12 Titles, two Playoff appearances and coached two Heisman winning quarterbacks during that span. He also has one of the best offensive minds in today's game. Oklahoma's offense puts up video game numbers on foes. Riley is an elite recruiter, and his system is fun to watch because most of the time his units make everything look easy. He's another coach that has accomplished so much that the only thing missing from his resume is a National Title. Riley's name has been passed around with NFL jobs, but he remains committed to the Sooners.
4. Ryan Day, Ohio State: The Buckeyes haven't missed a beat since Urban Meyer left the building and it's because of his successor. Day has yet to lose a game during the regular season and he's unscathed in Big Ten action. The Buckeyes have captured two-straight conference titles under his watch and made it the National Championship Game. The Big Ten as a whole, is Ohio State and everyone else because of the huge talent gap. That won't be going away anytime soon with the way Day has recruited. The Buckeyes' roster is full of blue chippers, who could start for any team in the country. Every season under Day's watch, Ohio State takes a step closer to a National Championship. 2021 could be it.
3. Jimbo Fisher, Texas A&M: The Aggies signed him to a record contract when he took the job and he's been worth every penny. Every year the Aggies have improved under his watch and increased their win total. Kellen Mond was able to break several school records in Fisher's system. He also has a National Title under his belt and a Heisman Trophy winner during his time at Florida State. Texas A&M got snubbed out of its' first-ever Playoff berth last season, but that's how close Fisher has come to reaching that mountaintop with the program. Despite the SEC West being the toughest division in all of College football, Fisher has found a way to keep the Aggies in contention.
2. Dabo Swinney, Clemson: The Alabama native is a rock star coach, with two National Championships in the trophy case. Swinney's reign in the ACC is unmatched and the Tigers be looking like men among boys in conference play. He has led Clemson to seven ACC Titles and six Playoff appearances. Swinney is charismatic and molds young men into All-ACC caliber players and NFL Draft picks. His recruiting is phenomenal, plus he's fun with the media and it's like a family affair with Swinney's coaching staff. Parents want their kids to play for him because of his track record. As long as Swinney has Defensive Coordinator Brent Venables, Clemson will continue to be a dynasty for years to come.
1. Nick Saban, Alabama: He's arguably the greatest College football coach of all time. Saban has single-handedly changed the game and won National Championships with different programs. He has so much influence on the sport and rules the almighty SEC. Several of his proteges are head coaches around the Power Five, including Fisher at Texas A&M, Smart at Georgia, Mel Tucker at Michigan State, Lane Kiffin at Ole Miss and Steve Sarkisian at Texas. Saban is also the king of recruiting and the Crimson Tide has talent similar to some NFL teams. In order to measure Saban's work at Alabama, you'd have to rewind back to the state of the program before he arrived. Still, seven National Titles and nine SEC Championships later, Saban is still hungry for more.
Honorable Mention
David Shaw, Stanford: He's 90-36 over the past 10 years with the Cardinal. Shaw also has three Pac-12 Titles, two Rose Bowl victories and is an awesome recruiter.
James Franklin, Penn State: If you can be successful at Vanderbilt, you can be successful anywhere. Franklin is a monster recruiter and his personality is what his players love. He also knows how to win.
Gary Patterson, TCU: The 61-year old is the second-longest tenured coach in the FBS. Patterson is also the Horned Frogs all-time winningest coach, with 178 victories.
Jamey Chadwell, Coastal Carolina: He had a breakout season with the Chanticleers in 2020 and led them to an 11-1 record and a top-15 finish in the final AP Poll. Not to mention Chadwell was the National Coach of the Year.
Mike Leach, Mississippi State: The Air Raid wizards has changed today's game and his scheme is becoming a norm in the NFL. He builds programs from the ground up and in due time he'll have the Bulldogs contending for an SEC Title.
Paul Chryst, Wisconsin: He has been highly successful with his alma mater, but was average at best at Pittsburgh. With Barry Alvarez' retirement, it'll be interesting to see if Chryst can keep the wins coming.