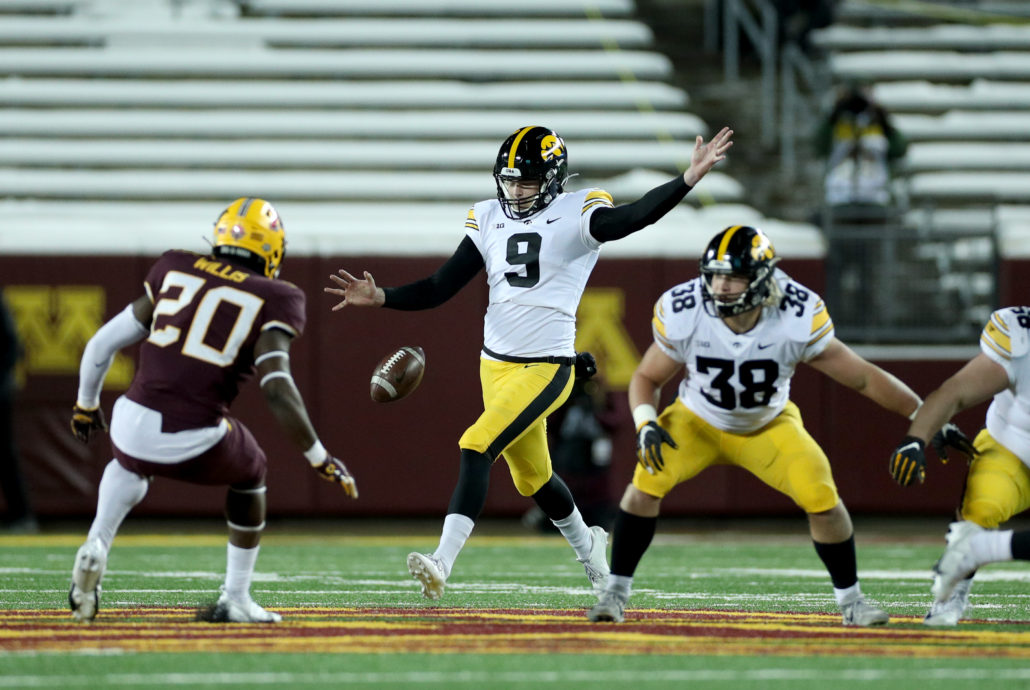 IOWA CITY, Ia. — The reigning Big Ten Punter of the Year is enjoying spring ball and looking to capitalize on last season's success.
Despite all of the buzz Tory Taylor is generating on the field, he's dealing with personal concerns off of it. Because of international travel restrictions, the Australian hasn't been back home to see his family for quite some time.
Although he gets homesick from time to time, Taylor tries to make the most out of his student-athlete experience. Last season was his first year with the program, and sort of a culture shock, but his teammates, plus the coaching staff embraced him and helped Taylor cope with it.
"There's days where it's really difficult being away from home," Taylor said. "I think the hardest thing is I never really know when I'm going to see my family next."
Taylor thought he had a chance to visit his loved ones last December after the Hawkeyes' bowl game. However, it got cancelled and international travel to Australia was still limited. He even planned on visiting once spring ball is over, but the Australian government still won't let anyone in during the pandemic.
The entire ordeal is frustrating for Taylor, because he's been fully vaccinated and it's not enough to help. Which is why he has to be mentally strong. Taylor also became more comfortable on campus once he realized he wasn't in the situation alone.
It felt like a big weight off his shoulders knowing his team is rallying behind him.
"Everyone here has really made me feel welcome, and this is almost like my home now," he said. "I'm used to it, although some days are hard, it's all worth it in the end, especially when it comes to gameday."
Now the six-foot-four, 225-pound Taylor is staying focused and putting all of his energy into improving his game this spring. He's actually still learning all of the rules of American football. Taylor already proved to himself that he could play and excel at the sport.
He received some accolades, but didn't reach his statistical goals. Taylor thought it was all unfortunate, so he's trying to take his game to the next level. He also been visiting other people to sharpen his skills and advance his career.
"There's a lot of aspects I've been improving in punting and it was obviously great to win a couple of individual accolades," Taylor said. "There's a lot of goals I kind of set for myself that I really didn't reach."
One of those goals is being consistent on punting traditional spirals. Taylor only booted one in 2020, so he's been working a lot this spring on executing a proper spiral punt. Special teams, plus field position is often the X factors in close games, and Taylor never wants to put his team in bad situations.
He's also excited for the fall and to actually punt in front of a live Big Ten atmosphere. After all, the league didn't allow any fans in the venues last season and those colossal stadiums were empty. Now Taylor is going to get what he asked for and more with Iowa visiting Iowa State, Wisconsin and Nebraska this fall.
Above all, Taylor just wants to improve his overall punting average. That's a huge goal to conquer, considering he averaged 44.12 yards per punt, which ranked 19th in the FBS. One aspect of Taylor's game he doesn't lack is confidence, so anything is possible in 2021.
In the meantime maybe, just maybe, Taylor will catch a break and get an opportunity to finally see his loved ones.