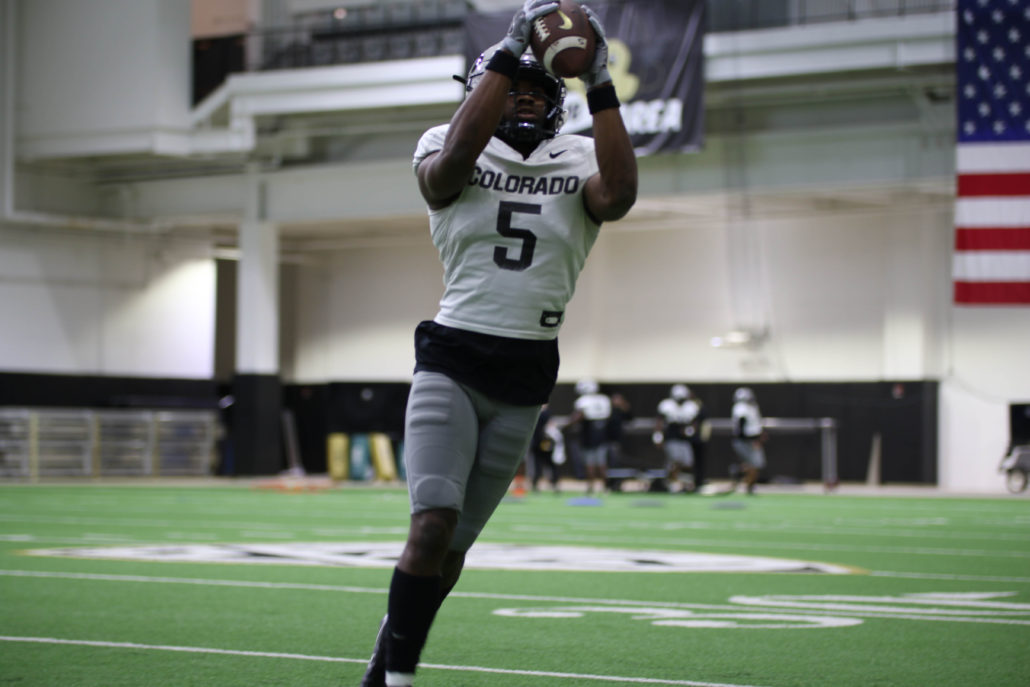 BOULDER, Co. — Colorado's sophomore safety has a lot on his plate this time of year.
Running track and field, hunting down ball carriers through spring football and maintaining his academics, is just a piece of the pie for Mark Perry. Balancing two sports is a stressful process for student athletes, but Perry makes it all look easy.
After all, the California native just wants to keep himself busy. He learned how to manage his time efficiently and multitasked his life through the pandemic last year. Perry also plans on being an entrepreneur after his playing career is over, with his own clothing brand.
Right now he has his own Youtube channel and collects shoes as hobbies. However, he had to put his future ambitions on the backburner to focus on track and football this spring.
Perry was a standout sprinter in high school, but just started back running again competitively about four weeks ago. Since then he has participated in two meets, including the 2021 Colorado Invitational, where he ran for 10.65 seconds in the 100-meter dash. For the minimum amount of time he's had to prepare, Perry feels he's making the most out of it.
Although he hasn't reached the time levels he desires in the sprints, the six-foot, 200-pound Perry is hoping his track speed transfers to the playing field. So far everything has looked promising to him.
"I seen it pay off a lot, especially when I'm coming downhill and when I'm covering the middle of the field," Perry said. "I just felt faster getting in and out of my breaks."
The former three-star prospect is striving to get better through spring training day by day. Perry is pushing himself to the limit in practice because he was disgusted with his performance last season. He had solid outings against UCLA, Stanford and Arizona, with three tackles apiece and all were Colorado victories.
Still, Perry is his own worst critic, and felt like it was his worst season of his playing career.
"I feel like I hold myself to a high standard, so last year really bothered me," he said. "I wasn't making a lot of plays and I was leaving a lot of plays on the field."
That constant reminder is why he's been practicing with a chip on his shoulder and feels like he has something to prove to himself, his teammates, coaching staff and the fans. Regardless of how he's remembered down the road as a Colorado Buffalo, what Perry doesn't want to be viewed as is a bust.
Perry has been with the program for two years and believes he's starting to blossom into the defensive back he supposed to be. After missing Colorado's bowl game, Perry is grateful just to be out practicing with his brothers. He's not taking anything for granted and is soaking up new Defensive Coordinator Chris Wilson's scheme like a sponge.
Perry had some trouble comprehending the terminology from the previous regime, but he's enjoying learning Wilson's.
"I wouldn't say it's less complicated, but it allows us to play a lot faster," Perry said. "As a safety, being able to just get lined up and go makes it a lot easier."
Last season's shortcomings are now in the rearview mirror for Perry. He's only focused on excelling in the two sports he plays and the classes he's enrolled in. At the moment everything seems cloudy for the defender, but once the smoke clears he expects to emerge as a stronger, faster and smarter student athlete.
"Right now having track and football at the moment kind of makes it feel like the regular season," he said. "Having to practice throughout the week and games, it's not too much of a hassle, but it's sure a grind."