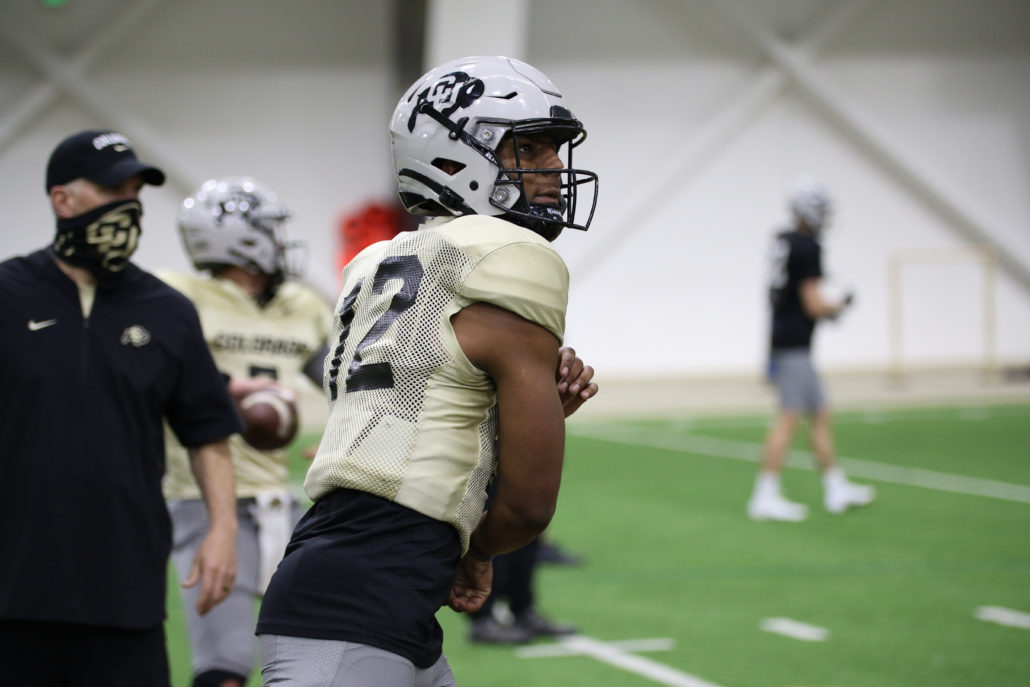 BOULDER, Co. — The quarterback showed promise as a true freshman last season and is currently capitalizing on all of his opportunities throughout spring training.
Brendon Lewis was an early enrollee around this time last year. Now the former three-star prospect is taking most of the reps with the No. 1 offense, and building confidence along the way. He was able to get his feet wet in last year's Alamo Bowl against Texas, which in return has benefited him up to this point.
Lewis feels positive about his maturation process. It's almost like Lewis went from being a wide-eyed freshman to a seasoned veteran overnight.
"I just had to get adjusted to the speed of the game and I think that whole half season that we had really helped me," Lewis said. "Now everything just comes fast and easy, it feels more and more like high school and I can just do my thing."
With incumbent starter Sam Noyer sidelined for spring ball while he recovers from shoulder surgery, all eyes have been on Lewis. Offensive Coordinator Danny Langsdorf feels Lewis is ahead of schedule in terms of knowledge of the playbook and game experience.
The quarterback room is competitive and everyone is feeding off each other. Lewis is enjoying going up against the Buffaloes' secondary in practice, because it's molding him into becoming a better quarterback. Not to mention the chemistry is growing with the six-foot-two, 225-pound signal-caller and his receivers.
It's a plus for Lewis to have Noyer on the sidelines too, giving him advice and helping him through the mistakes. After all, great quarterbacks makes others around them better. Lewis knows that he's getting stronger and sharper with every rep he takes.
"Getting these first team reps has really boosted my confidence and boosted my game," Lewis said. "So now I can just go out there comfortably, command the offense and move the ball down the field."
It's mind-boggling to imagine where Lewis' game would be if he had these reps last spring. Which is why he's not taking anything for granted and remaining humble. Lewis feels he's in this position for a reason. Not to mention he has persevered during his time in Boulder. The Texas native often gets homesick off the field, and has to remind himself why he's doing this in the first place.
Although everything is trending up for the second-year quarterback, he doesn't feel the chemistry with his receivers is perfect yet. That's why they're putting in work daily and studying film. Having a strong and accurate arm is just one part of Lewis' talents.
There's no denying he has dangerous mobility also, in which he displayed against the Longhorns, with 73 yards on the ground and a rushing score. Above all, Lewis just wants to make Colorado's offense better and more credible. With him lined up behind center, the Buffaloes can be very versatile on offense.
It's still a learning curve and will come down to how he handles the huddle. However, Lewis knows he's not lacking anything with leadership qualities.
"I definitely feel like they've skyrocketed from last season."