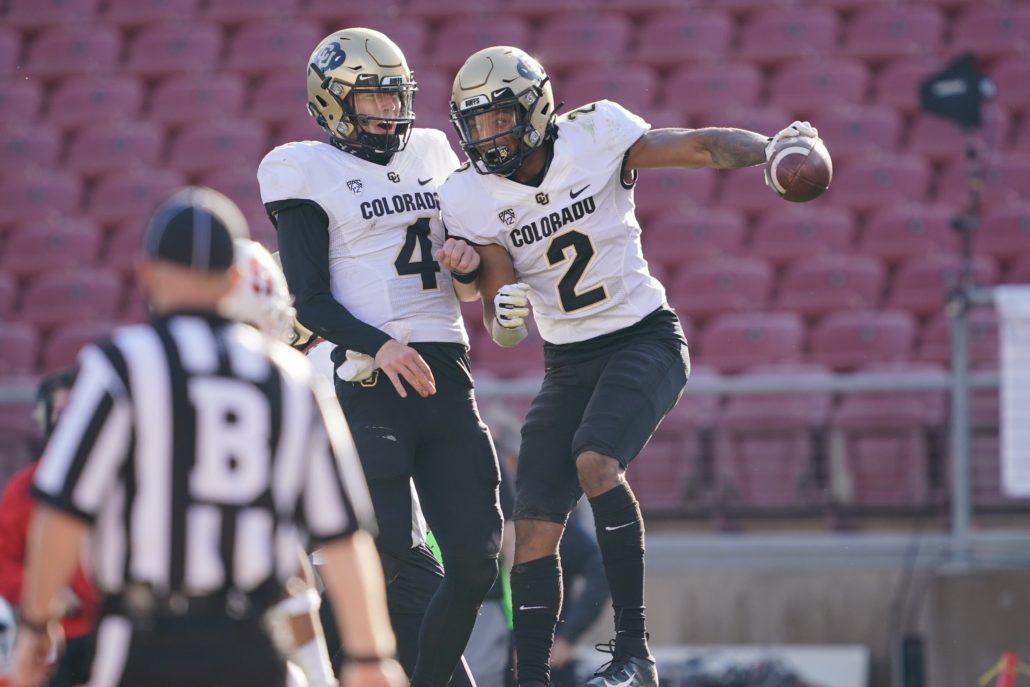 BOULDER, Co. — After catching a glimpse of his athletic prowess last season, Colorado fans been anticipating the receiver's return this spring.
Up to this point Brenden Rice has been sidelined with a dislocated finger that he suffered prior to spring training. He has missed valuable time with the offense and it's not sitting well with his coach. Catching Covid-19 hasn't helped Rice's cause either.
Karl Dorrell knows it's not a matter of if, but when his young wideout will be back on the gridiron.
"If he (Rice) doesn't start practicing this week he's going to miss three weeks of spring, so he's behind the way I look at it," Dorrell said. "I feel like he's a guy who can really help us, just like he did last year and we would love to see him practicing and getting more experience."
Although the Arizona native hasn't been able to physically practice with his teammates, Rice still watches them from the sidelines. The former four-star prospect has been recently cleared through the COVID protocol and will finally be able to start building chemistry with the quarterbacks.
Dorrell currently has 12 tight ends on the roster that he wants to trim down significantly. As for the wide receiver room, there's a lot of young talent looking to step up and make a statement. Still, every position is up for grabs and competition continues to be fierce for the Buffaloes.
Despite Rice's success in 2020, everyone is expecting him to blossom into an even better receiver this time around. So much so that the fans believe Rice has his position on lock for the fall. However, Dorrell emphasized that nothing will be handed out and that all of his players must earn their spot.
"He has missed some valuable time that he's going to have to make up on the back end," he said. "There's no determination in terms of who's going to be our starting x or z or anything like that right now."
Dorrell believes it'll all work itself out as his team navigates through spring ball to fall camp. Regardless, Rice appears to be one of the most talented players on the roster. Eventually he'll separate himself from the competition once he's fully healthy.
The six-foot-three, 205-pound Rice put his skills on display in the win over Stanford and hauled in 34-yard touchdown pass. If that wasn't enough, Rice's long receiving score and 81-yard punt return touchdown solidified he's the real deal.
Colorado fans are hoping those heroics was just the tip of the iceberg. Now they're wondering what Rice has in store for an encore. Dorrell thinks he'll likely practice over the last couple of weeks of spring. That'll provide Rice an opportunity to work on his hands, blocking and route-running.
Considering his father Jerry is arguably the greatest receiver of all time, getting caught up should be nothing for Rice. In return it'll provide a comfort level for Dorrell, but he needs his up and coming receiver out there on the field going full throttle.
"He needs to get back to practicing and playing, that's his biggest challenge right now."