Parker Washington manifesting vital role this spring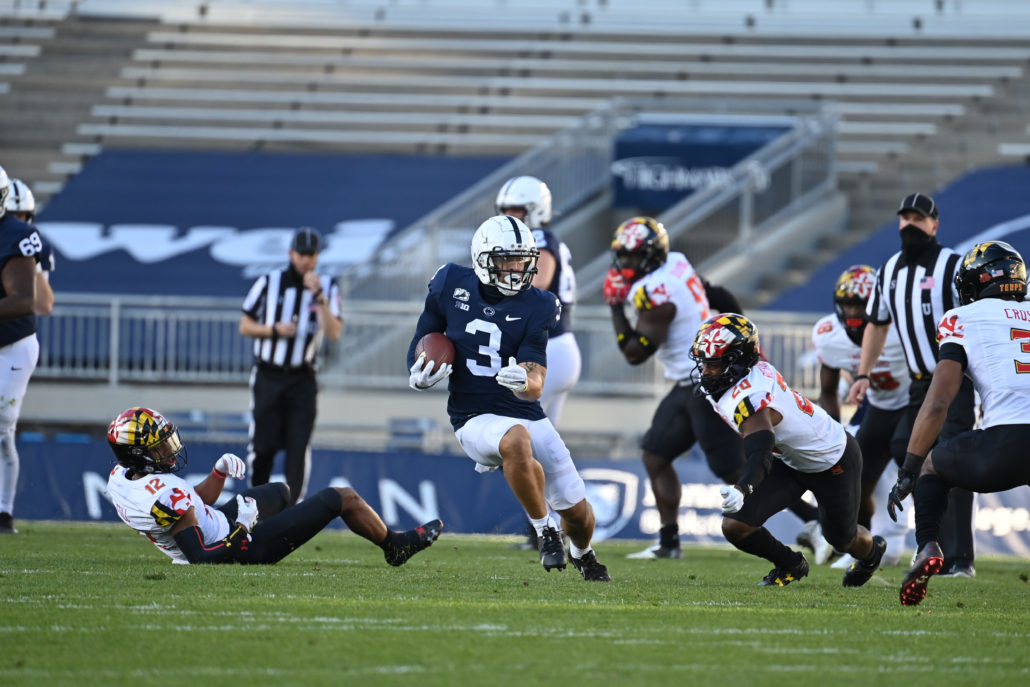 STATE COLLEGE — Although he hauled in six touchdown passes through nine games last year, Penn State's young receiver is striving to be more involved with the offense this spring.
After all, Parker Washington didn't get the traditional freshman experience when he arrived on campus. Which is why the former four-star prospect is all work and no play through spring training. Washington is not concerned about the fact that he's learning x's and o's from a new Offensive Coordinator for a second-straight season.
What normally would be considered a challenging transition for a second-year player, has gone smooth for the Texas native. That's because of Washington's great relationship with Wide Receiver Coach Taylor Stubberfield. The two have a bond and trust factor that provides consistency in live action.
The Nittany Lions' entire offense is soaking up Mike Yurcich's scheme. Successfully implementing it on the field is what Washington hopes to accomplish throughout spring training.
"The terminology changes a lot and you have to pick up on stuff like that," Washington said. "It takes more time studying and going over things with your teammates."
Regardless of the matter, Washington's non-stop preparation during the offseason is what has made his confidence level high. Penn State fans are wondering what he has in store for an encore after a promising true freshman campaign.
Fellow wideout Jahon Dotson is receiving a lot of recognition for last year's success. Washington feeds off his energy, loves Dotson's work ethic and admires his loyalty on returning to the program when he could've went pro. The two will form one of the best wide receiver duos in the Big Ten this fall. Not to mention they're both working on building chemistry with quarterback Sean Clifford.
Yurcich brings a ton of energy to the offense as a whole, which makes it fun to learn for Washington. Despite leading by example, Stubberfield is pushing Washington to become more vocal with his teammates in practice. In return, Washington hopes talking more and open communication will lead to success in the receiving room.
However, Washington's goal is to get more comfortable with identifying defensive coverages. Despite his success in 2020, the 5-foot-10, 205-pound Washington wants to become more of a polished wideout.
"I work a lot with trying to make the tough catches," he said. "So a lot of my preparation before practice and games is practicing on the jumps and making the tough catches."
Washington's athletic prowess makes his acrobatic snags look easy. He displayed that with two touchdown catches apiece against Maryland and Michigan State. Washington also had a receiving score in the opener at Indiana and the victory over Rutgers, plus he also served on kickoff return duties.
He's built like a running back and uses his frame to his advantage against defenders.
"I feel like my weight helps me to be able to block because playing slot you have to deal with the Big Ten linebackers each week," Washington said. "So I feel like that definitely plays a big role."
Washington feels the receivers are working hard in practice with getting off the press and gaining separation from defensive backs. Just as much as he's an ideal teammate on the field, Washington is the stand up student athlete off of it. He's a natural at playing the cello, but hasn't performed with the instrument since junior high. Washington also enjoys being a mentor to foster children.
"I just love to help people and I feel like it's always bigger than me," Washington said. "I love to impact others."
Helping others is what Washington plans on doing throughout his career, especially after his playing days are over. He has a great bond with his sister, who keeps him motivated and they talk on a daily basis. His family was able to attend the Illinois game last year and Washington wants to see his loved ones in Beaver stadium this fall.
As for now, Washington is riding a big wave of momentum. He can't think of any other place to be than Happy Valley, which has become a second home to the young receiver.
"I'm very excited and eager to get back on the field at Penn State because it's a dream."