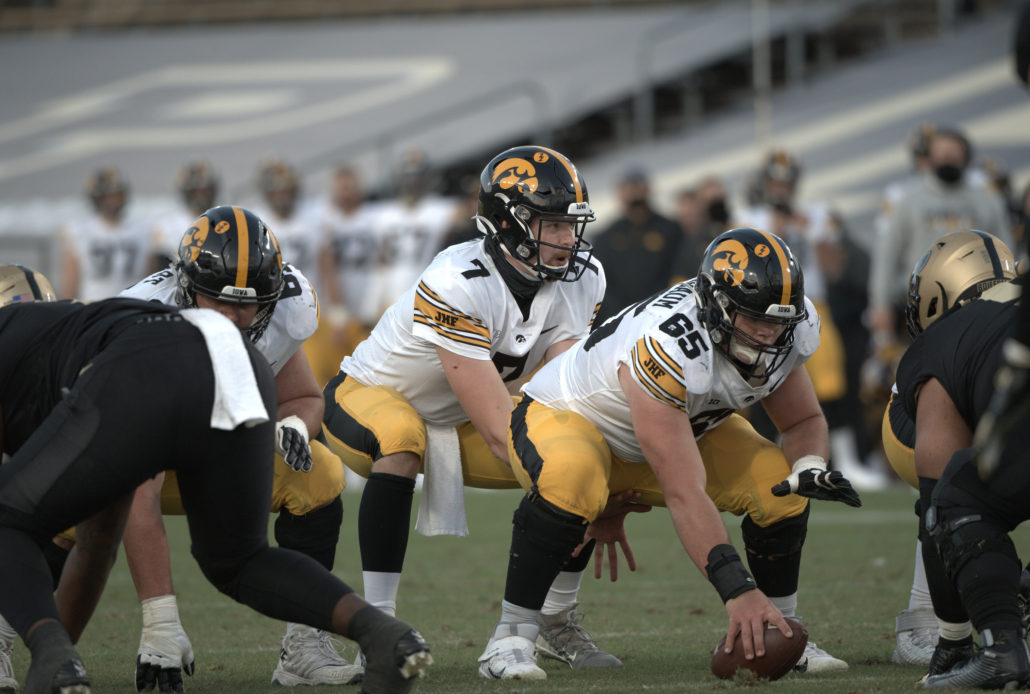 IOWA CITY, Ia. — Last season was a rollercoaster ride for the embattled quarterback.
The highs for Spencer Petras was leading Iowa to six-straight wins to close out the year and helping Coach Kirk Ferentz earn his 100th Big Ten victory. The lows was his subpar completion percentage and turnovers.
So much so that Hawkeye fans thought he was the team's achilles heel. Being viewed as a liability didn't sit well with the California native. After all, Petras arrived on campus as a four-star recruit with great upside. Although 2020 was his first rodeo as a full-time starter, Iowa fans wanted him to deliver on the hype.
There were some growing pains for Petras and the signal-caller came to terms that he fell short on expectations. Obviously better quarterback play compliments solid defense and special teams, which is something Iowa is never short on. That's why Petras is focused on improving all aspects of his game throughout spring training.
"Spring is great, it's an opportunity for us older guys to develop our chemistry and really work on our offense," Petras said. "It's 15 practices to improve and for young guys it's their first real opportunity to get some reps with our offense."
For Petras it's a fresh start and he went back to the drawing board. He studied film on former Alabama quarterback Mac Jones, who's projected as a top-10 pick in this year's NFL Draft. Petras wants to emulate Jones' game and loved how he was a winner.
"I think he (Jones) does a really good job of getting the ball out of his hands fast, he hits his guys in stride and lets his playmakers run to the ball," Petras said.
Petras believes he's capable of executing Iowa's offense in a similar fashion and he's focused on building chemistry with his receivers. Ihmir Smith-Marsette and Brandon Smith are off to the NFL and so is their experience, production and leadership. However, Petras is pleased with the potential in the wide receiver room.
There's no go-to guy and it's pretty much a receiver by committee ordeal. Still, Petras like his options with veteran guys like Tyrone Tracy, Nico Ragaini and Max Cooper. It also helps that Petras has a huge reliable target in tight end Sam LaPorta. He's enjoying the competition at tight end for that No. 2 spot behind LaPorta and wants to establish depth.
Above all, Petras just wants everyone to execute the system. He's working on getting the ball out of his hands quicker, which in turn will benefit the offense. Petras thinks Super Bowl Champ Tom Brady is the king of that and knows it builds confidence.
Hawkeye fans might be sitting with their arms crossed watching open practice on April 17. There's no denying all eyes will be on Petras and he plans on showing everyone how much he has improved. Enduring criticism and having haters is nothing new to the six-foot-five, 231-pounder because he watched his predecessor Nate Stanley go through it.
"Everyone has their own opinion and that's okay," Petras said. "No offense to the fans, but I can care less to what they have to say about my performance."
Petras understands It's something that comes with the territory, plus Iowa fans are passionate about their program and wants what's best. He has the same goals in mind. He has also received both of his COVID vaccinations and wants fans across the state of Iowa to follow suit.
Anything to get Kinnick Stadium back to normal and experience 'The Wave' makes it all worth it for Petras.