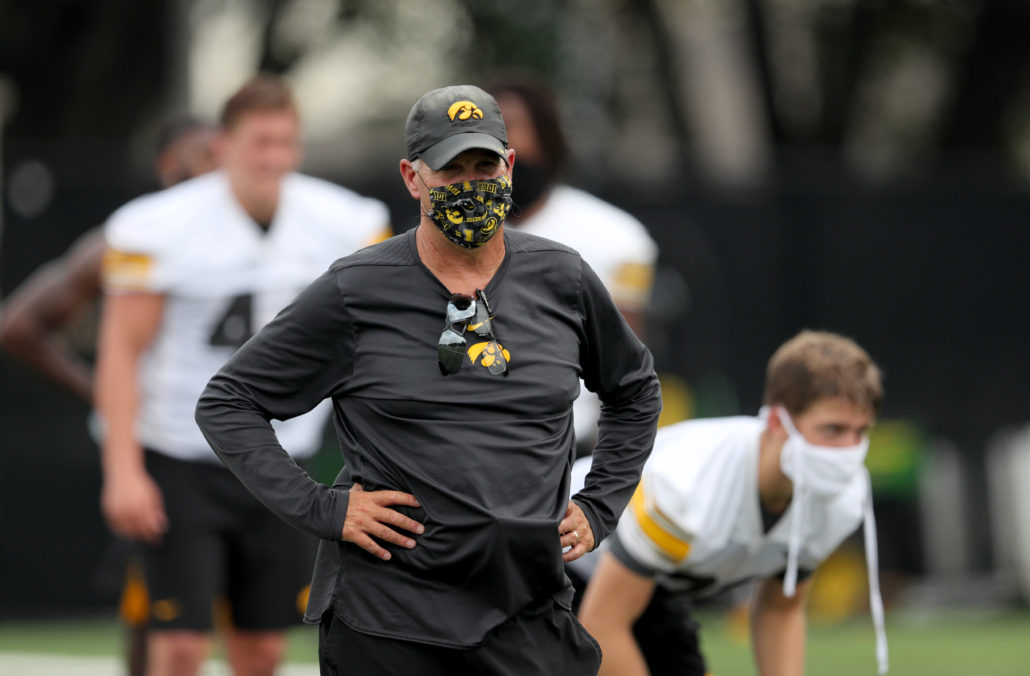 IOWA CITY, Ia. — One of the best Defensive Coordinators in College football is assembling yet another great unit this spring.
Phil Parker has been with Iowa since 1999, making him one of the longest-tenured assistants in the game. Over the years Parker witnessed several types of offenses, from the spread to the no-huddle, but he continues to be a natural of adjustment.
The 58-year old is not the highest-paid assistant by any means, but he remains loyal to the program. No price tag can be put on the way Parker develops talent and everyone has taken notice. Most of his players arrive on campus as two and three-star prospects. By the time their eligibility is used up, they're All-Big Ten caliber players and future NFL Draft picks.
It's mind-boggling how he fields elite units year after year, but there's a secret to his formula.
"The one thing that's consistent about it is it's been the same system for a long time," Parker said. "Everybody says we're a developmental program, even though these kids aren't actually starting or playing in a game, they're getting reps in practice to see some growth."
All of the Hawkeyes' defenders are focused on improving and striving to play as a championship level team. That's exactly how Parker wants the new defensive recruits to envision it when arriving on campus. Spring ball is a time to iron out the wrinkles and measure improvement.
The entire defense been playing to the whistle throughout the spring. The intensity has impressed Parker and he believes the unit is ahead of schedule. Having no spring ball last year only added fuel to the fire and why the Hawkeyes are all dialed in. Not to mention Iowa's last two games of 2020 got cancelled, so it's no surprise why the defense is on a mission.
"We didn't play our last two games, which was unfortunate because I thought we were playing our best ball at the end of the year," he said. "It would've gave us an opportunity to at least prepare all the way through the bowl game and get a chance to check out some of our other players."
Parker finally got to see what Iowa was working with through the first week of spring training. After all, he has to replace three starters from the defensive line, including two studs. Still, Parker is an architect at plugging holes and filling voids for Iowa's defense.
He's pleased with where the defense stands at this point, including a lot of flexibility with guys at multiple positions. Terry Roberts has provided depth at corner behind Matt Hankins and Riley Moss, plus there's growth at the CASH position. Regardless of which defender has emerged from the shadows, Parker knows it all comes down to communication, understanding and teammates rallying behind each other.
"You can say last year the pressure up front helped us in the back end, vice-versa or whatever," Parker said. "I think everything evolves when you're playing 11 on 11 guys."
One issue that bothered Parker last season was his defense giving up several explosive plays. Anytime the offense gains 25 or more yards, rather it's run or pass, he considers it explosive. Which is why the Ohio native is excited for fans to see the first scrimmage this Saturday at Kinnick Stadium.
Most importantly it's a chance for Hawkeye fanatics to get a glimpse at some of the new defenders and how the unit as a whole has improved. Parker believes the transition is going smooth because the foundation has already been imbedded.
"I think our guys have bought in on it, I think the more knowledge they get, the more times you get on the field, the better chances you have to win and be consistent," Parker said "We like to stay simple as we can, but basically our standards haven't changed with what we believe in."
It remains to be seen if Iowa's defense will be vanilla for the first scrimmage. The unit is still discovering the strengths and weaknesses, plus the staff don't want to reveal too much to the competition watching. Parker knows how to find the diamonds in the rough and insert those players in positions they'll thrive in.