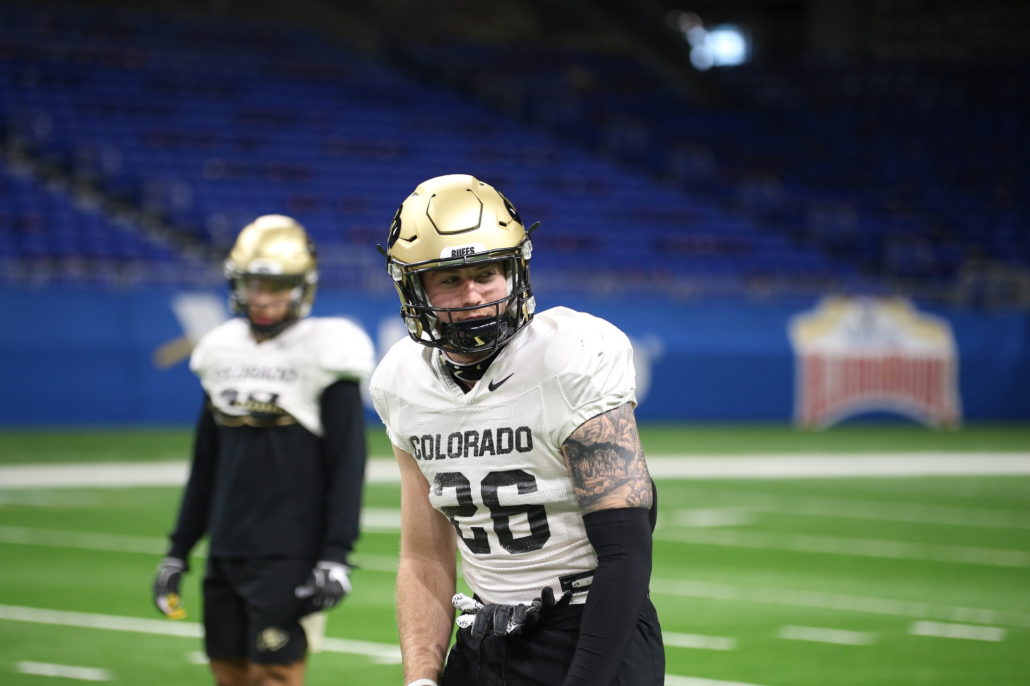 BOULDER, Co. — Colorado's star defender is ready to pick up where he left off after leading the FBS in tackles for loss last season.
Having no spring ball last year and a new Defensive Coordinator in place, has made practice intense for the linebackers. Pads are popping, guys are in each others' faces, all while learning new terminology. With Nate Landman recovering from a torn achilles, Carson Wells is the veteran of the unit and embraces the responsibility.
Leading and guiding the younger linebackers has Wells energized for every practice. He believes the group is getting better and healthier every day. Devin Grant has looked up to par so far, with a couple of sacks in practice last week. Not to mention Jamar Montgomery and Joshua Gustav have both impressed Wells.
Chris Wilson is laying down the foundation he wants to build for Colorado's defense, and the linebackers will be on the frontline. It all has been a seamless transition for Wells and his teammates are right behind him on the learning curve.
"It's pretty easy for me, you take a concept approach and you try to group things together," Wells said. "You have to break it down into similar topics, because there's only so many ways to play defense."
The six-foot-four, 250-pounder is confident he can excel in cover three, cover four and man to man. The linebackers are going to be able to pin their ears back instead of having to think too much, which in return should allow them to thrive.
"It definitely opens it up for us to make more plays, you have to have that dog mindset," he said. "This defense is really designed for us to make plays and we just got to go out there and execute."
Colorado came so close to playing for a Pac-12 Title in 2020. The Buffaloes' defense finished seventh in the FBS in tackles for loss. However, the players aren't satisfied with just a winning season and a bowl game. They refuse to be complacent, have been hungry throughout spring and eager to deliver by fall camp.
Despite all of Wells success through Colorado's 4-2 campaign, he only received Honorable Mention All-Pac-12 consideration. Now the former three-star prospect's goal is to get one percent better each day and he could care less about garnering any personal hardware this fall.
"Regardless of whatever accolades each person had, we didn't win the Pac-12," the former three-star prospect said. "That was our goal at the beginning of the season, that's our goal this year and that's what we're striving for."
What bothers Wells is the fact that he doesn't have his friend and roommate playing alongside him though spring training. Still, Landman's rehabilitation process is going ahead of schedule and Wells feels he's doing a lot better. Unfortunately he doesn't like seeing Landman cooped up in their place like a hermit crab, but understands it's a process.
"We'll go places, play basketball on good days and he'll want to come with us, but it's hard for him to sit at the house," Wells said. "He's that type of guy who wants to get out and do stuff regardless, whether it's fishing or whatever, he likes to be outside."
Wells is confident once Landman returns back to action fully healthy the two will wreak havoc on ball carriers. After all both are tackling machines and you won't catch Wells denying they form the best linebacker duo in the country.
"I'm a little biased, but yes."