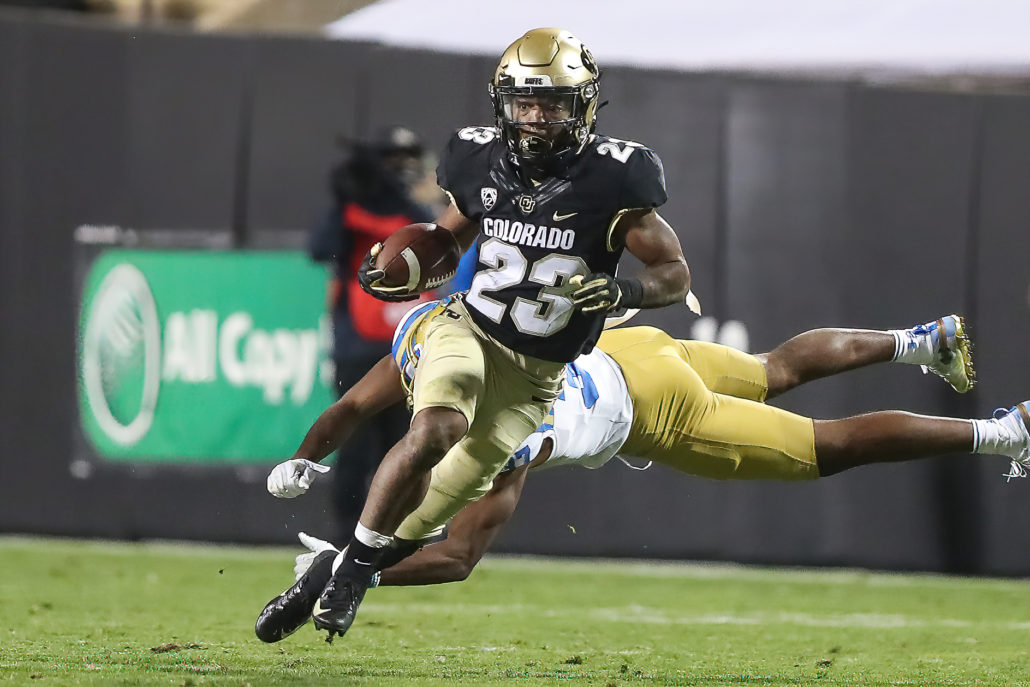 BOULDER, Co. — He took the Pac-12 by storm last season when he returned from ACL surgery.
Jarek Broussard persevered through two significant injuries to his left knee. The former three-star prospect emerged from the shadows as a determined runner in 2020 and was named the Pac-12's Offensive Player of the Year.
After all, Broussard finished third in the FBS in rushing yards per game. Now he's out to prove this spring that last season was no fluke. However, this time around there's no brace on his left knee, which was something he wore in all of last year's games.
"Personally looking at film from last year I've noticed that the brace kind of restricted me to a lot of things," Broussard said. "So this spring I'm going without the brace and honestly I'm feeling a lot better and a lot faster."
The Dallas native is working on everything this spring, from improving his hands out of the backfield, to strengthening his lower body in blocking. Removing the brace wasn't a part of building back the trust as far as the mental aspect. His confidence was always there, so he didn't have to remind himself that he can operate and make cuts without it.
"Going throughout this winter workout period I did it all without my brace on," he said. "My cuts are pretty good, I feel pretty faster, so my confidence I feel will only get better from here."
Broussard won't be sneaking up on anyone this fall. As a matter of fact opposing defenses are going to stack nine in the box to stop him like Texas did in the Alamo Bowl. The Longhorns forced the Buffaloes to play them through the air and they failed to do so effectively.
A successful all-purpose running back keeps pressure off the quarterback and makes a defense think twice about him touching the ball. The five-foot-nine, 185-pound rusher displayed workhorse capabilities through Colorado's six games. Broussard had 27 carries apiece in victories over UCLA and Stanford. Not to mention he had a season-high, 31 carries against the Longhorns.
That's potentially a lot of wear and tear on his frame navigating through a full slate of Pac-12 play this fall. Which is why Coach Karl Dorrell is trying to provide as much depth behind Broussard as possible this spring. Broussard is doing his part getting in the youngster's faces and pushing everyone to be better.
He's actually enjoying being a leader on the field and in the locker room, plus he feels his teammates feed off his energy. There's a tight bond among the group and they're a brotherhood, which helps with the chemistry.
"We just work on the little things everyday, seeing the holes and the basic footwork and pass protection," Broussard said. "You know just working on the little things to improve."
Broussard isn't worried about receiving any accolades this fall, and he's only focused on making the Buffaloes better. Spring ball just started this week, so he knows he has to make the most out of each practice by the end of April. Regardless, Broussard is up for the challenge and is diving in head-first.
"Personally I don't believe in the hype because at one point my name wasn't in position to be mentioned."