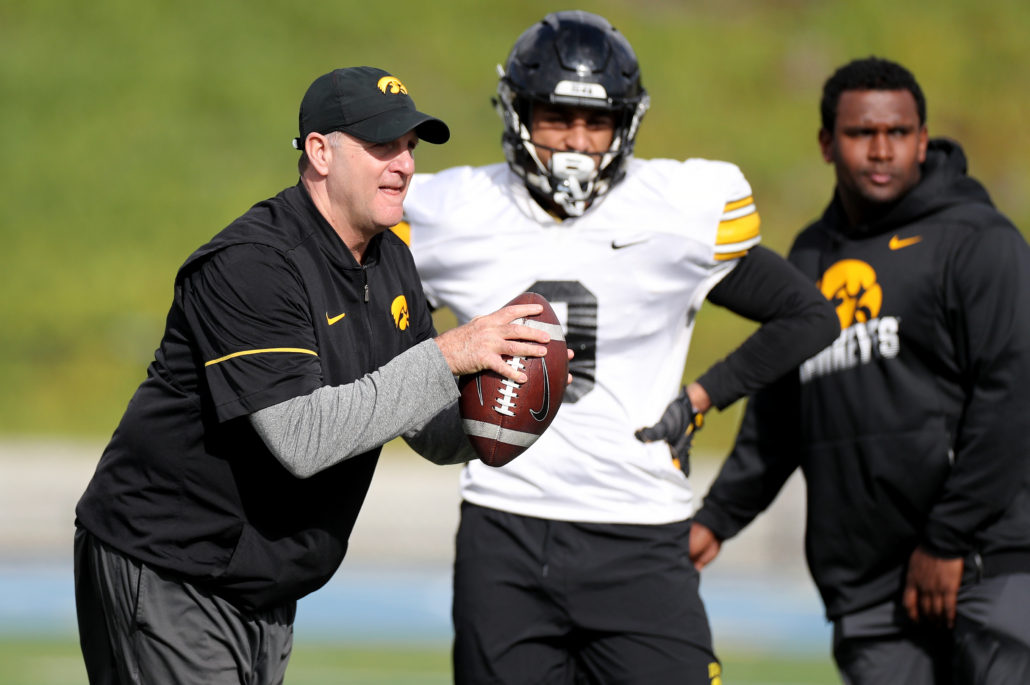 They are the backbone behind the success on both sides of the ball.
Head coaches hog all of the credit, while the assistants are the unsung heroes. It's probably why most individuals use their position as a stepping stone to a head coaching gig down the line.
However, there are a few assistants who remain loyal to their respective programs, regardless of the turnover ratio year after year in College football. Their presence on a team gives them instant credibility. Some can't be bought or lured away for greener pastures elsewhere, which is what makes them special in today's game.
Not only are these 10 coaches exceptional at x's and o's, but they also do a marvelous job of turning young men into standout players.
10. Jeff Grimes, OC, Baylor: He was BYU's Offensive Coordinator for the past three seasons. Every year under his watch the Cougars improved on offense. However, after 2020 Grimes made a name for himself. The Cougars finished in the top-10 in the FBS in scoring, passing and total offense. Grimes also groomed quarterback Zach Wilson, who's projected as a top-five pick in this year's NFL Draft. He also produced a 1,000-yard rusher and receiver in Tyler Allgier and Dax Milne. Now Grimes is trying to repair a Baylor unit that finished 118th in the FBS in total offense last season. He'll have his work cut out for him, especially since there's better competition in the Big 12 than what the Cougars faced in 2020.
9. Rhett Lashlee, OC, Miami: Rewind back to the shutout bowl loss to Louisiana Tech in 2019. The Hurricanes were abysmal that year, finished last in the ACC in rush yards per game and 12th in total offense. Lashlee proved he can air it out at SMU, so when he arrived on campus the following season and took over play-calling duties for Miami, the offensive numbers skyrocketed. Quarterback D'Eriq King turned out to be a perfect fit in Lashlee's scheme. The Hurricanes went from being 98th in the FBS in total offense in 2019, to 32nd in 2020 under Lashlee's watch. It was a magnificent turnaround by Lashlee nonetheless and was evident in Miami's win column.
8. Marcus Freeman, DC, Notre Dame: Look no further than Cincinnati's impressive defensive numbers for the past three seasons to know his caliber. The Bearcats finished first in the AAC in scoring defense every year during that span. Not to mention Cincinnati finished in the top-three in the conference in every major defensive category. It's why Freeman's name was a hot topic during the offseason. LSU fired Bo Pelini and wanted Freeman's services, but he turned down that job offer. Instead he decided to replace Clark Lea at Notre Dame after he took the Vanderbilt gig. The Fighting Irish have more talent than the Bearcats, so imagine what Freeman can do with the studs they already have on defense.
7. Graham Harrell, OC, USC: Being a former Mike Leach protege, there's no denying the impact he's had on the Trojans' passing attack. USC finished 48th nationally in passing yards per game in 2018. Harrell arrived in Los Angeles the following year, took over play calling duties and the Trojans finished sixth and 11th nationally in passing offense for the past two seasons. Kedon Slovis has benefited the most from Harrell's direction. After all, he went from being JT Daniels' backup, to one of the top signal-callers in the country. USC is expected to have the best passing attack in the Pac-12 again this fall, which speaks volumes of the job Harrell is doing with the program. He'll be a head coach very soon.
6. Alex Grinch, DC, Oklahoma: He's one of the fastest rising assistants out there. In order to measure the turnaround Grinch has done during his two seasons on the job, you'd have to relive Mike Stoops last year as Defensive Coordinator in 2018. Oklahoma finished last in the Big 12 in scoring, passing and total defense that season. Grinch arrived in Norman the following year and made an immediate impact. The Sooners finished second in the Big 12 in total defense in 2019. Not to mention Oklahoma finished 29th nationally and third in the Big 12 in scoring and total defense in 2020. Grinch's unit also dominated against the run and finished second in the Big 12 and ninth in the FBS in rush defense.
5. Jim Leonhard, DC, Wisconsin: Last month he turned down the Green Bay Packers' offer to become their Defensive Coordinator. Leonhard decided to stay with his alma mater because he's a loyal individual. The Badgers have been a dominant bunch on defense under his watch. Wisconsin's defense is physical and plays with a tenacity very few offenses can match at the point of attack. Not to mention the Badgers are constantly putting their defenders in the NFL. Right now the 38-year old is comfortable where he's at. Leonhard earned the right to be patient and let the right gig fall in his lap. However, turning down the NFL likely means Leonhard is being groomed to be Paul Chryst's successor.
4. Tom Manning, OC, Iowa State: You have to rewind back to the Cyclones' 2018 season, when Matt Campbell called the plays to appreciate his worth. Iowa State finished 96th nationally in total offense, including last in the Big 12 at running the ball that year. Manning came back to Ames in 2019 and made changes. Iowa State improved drastically and finished 27th and 34th in the FBS in total offense for the past two seasons. Quarterback Brock Purdy led the Big 12 in pass attempts during that span. Not to mention Breece Hall led the FBS in rushing in 2020. Every year the Cyclones' offense gets better under Manning's watch, which is a scary thought, considering how star-studded they'll be this fall.
3. Brent Venables, DC, Clemson: He has arguably been one of the top assistants in the country for quite some time. Dabo Swinney is Batman and Venables is Robin. The two are College Football's dynamic duo and seem inseparable. After all, Venables has turned down several Power Five head coaching jobs and remains loyal to Swinney. Both of their sons play for the Tigers and it's like a family affair. Not to mention Clemson annually puts several defenders in the NFL, which shows the system works regardless of who's playing. The Tigers reload instead of rebuild, thanks to recruiting. He's the real deal and there's a reason why Venables is College football's highest-paid assistant at $2.1 million a year.
2. Phil Parker, DC, Iowa: The Hawkeyes' longtime assistant is as loyal as they come. Every year Parker's name gets thrown around in some coaching carousel because of the defense he fields. For the past three seasons Iowa has finished in the top-15 nationally in total defense. Iowa's roster isn't full of four and five-star talent, so it goes to show what he means to the program. There's something about the Hawkeyes that keeps the 58-year old at bay. It's mind-boggling, considering he's only paid $801,000 a year, which is middle of the pack for assistants in the Power Five. Regardless, with Parker on the sidelines, Iowa will continue to dominate defensively and put several defenders in the NFL.
1. Jeff Lebby, OC, Ole Miss: Lane Kiffin has one of the brightest offensive minds in today's game. So it's a no-brainer that he'll have a top-notch Offensive Coordinator. In just one season Lebby took the Rebels' offense to new heights and they scored 39.2 points per game. Ole Miss led the Power Five in total offense and averaged 555.5 yards per contest. Quarterback Matt Corral's game blossomed like never before. The signal-caller finished fifth in the FBS in passing yards per game. Not to mention wideout Elijah Moore finished second in the FBS in receiving yards. Lebby has the offense a year ahead of schedule. Now defenses from around the SEC are sitting back and wondering what Lebby and the Rebels' offense has in store for an encore this fall.