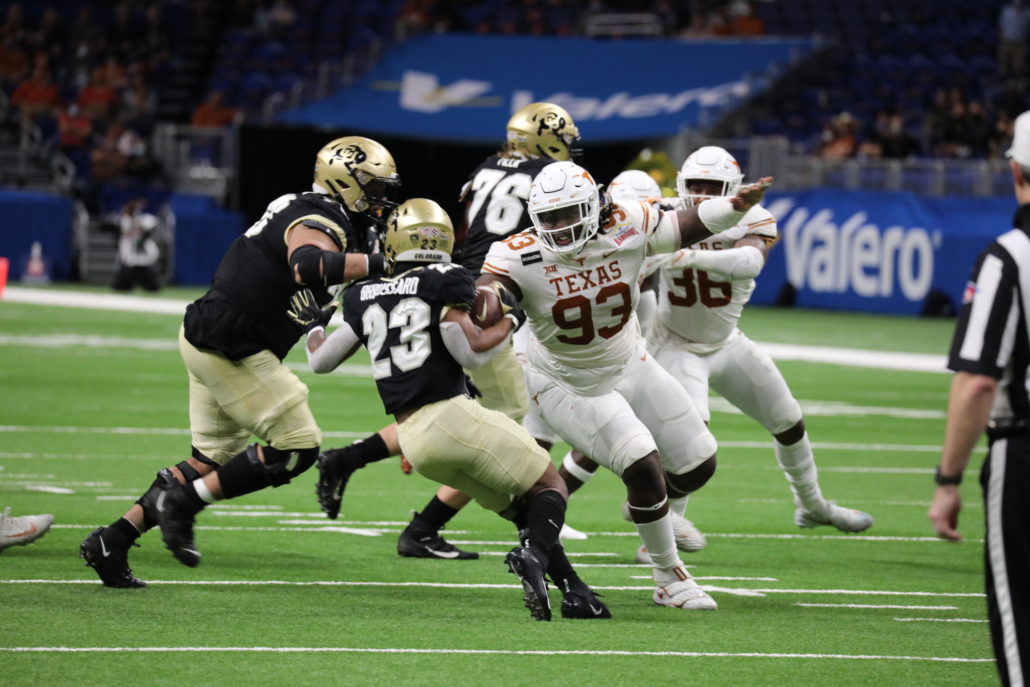 SAN ANTONIO — The Buffaloes entered the post season with a ton of momentum and rightfully so.
After all, Colorado posted its' first winning campaign since 2016. Not to mention several players received All-Pac-12 honors and Karl Dorrell was named the league's Coach of the Year. However, going up against a squad full of blue chippers, in a bowl the Buffaloes haven't fared well in, proved to be too much to overcome Tuesday night.
The 55-23 beating Texas laid on Colorado was a painful reminder to Dorell that the program still has a long way to go. It was also the most points the Buffaloes have ever surrendered in a bowl game. Plus it was the Buffaloes third loss in the Alamo Bowl and they've been outscored a combined 124-59 in those matchups.
It didn't help that Colorado was short on scholarship players against Texas. The Buffaloes were also without their All-Pac-12 senior linebacker Nate Landman. Dorrell never intended to use that as an excuse. Instead he thought the clash was going to be a great measuring stick for his team. The results were embarrassing and the Buffaloes allowed a season-high, 638 total yards.
"I was expecting us to play better than that, I was expecting us to be more competitive and I was expecting a lot of it to be better than what it looked like," Dorrell said. "It just shows me that I got a tremendous amount of work to do."
Quarterback Sam Noyer had his worst game of the season, with two interceptions and overthrew two potential touchdown passes. He was eventually benched for backup Brendon Lewis, who looked promising and led the Buffaloes on a couple of scoring drives.
Jarek Broussard finished with two rushing touchdowns, but he couldn't do anything when Texas stacked the box. Colorado couldn't stop the bleeding in the second half and allowed 38 points. It didn't even matter that Texas quarterback Sam Ehlinger left the game early in the third quarter with a shoulder injury. The Longhorns' offense had already dominated the game and they played four different quarterbacks.
The Longhorns backup signal-caller Casey Thompson filled in nicely for Ehlinger and finished with four touchdown passes. Running back Bijan Robinson had a game-high, 181 yards on the ground, and scored three total touchdowns. Receiver Joshua Moore was lethal out in coverage for Colorado's defense and hauled in two touchdown passes. The flood gates opened up midway through the third quarter and the Longhorns smelled blood in the water.
Dorrell appeared to be frustrated several times with calls that didn't go his teams' way and their inconsistency. The Buffaloes took the conservative route against a team that was out for the kill and it backfired. Broussard also injured his arm and appeared to be in pain after a hit in the fourth quarter.
"Unfortunately both sides of the ball wasn't working well with each other," Dorrell said. "We didn't have enough continuity in taking some drives and scoring some points offensively."
Colorado (4-2) hasn't won a bowl game since 2004 and will end 2020 on a two-game losing streak. Regardless, it's still a winning season in Dorrell's first year with the program. Now the 57-year old coach is looking forward to spring ball. He also emphasized how all positions will be open for competition, regardless of last year's starters.
Still, Dorrell feels the Buffaloes are scratching the surface and with a couple more solid recruiting classes they'll be able to compete with the nation's elite.