Northwestern concludes season with statement win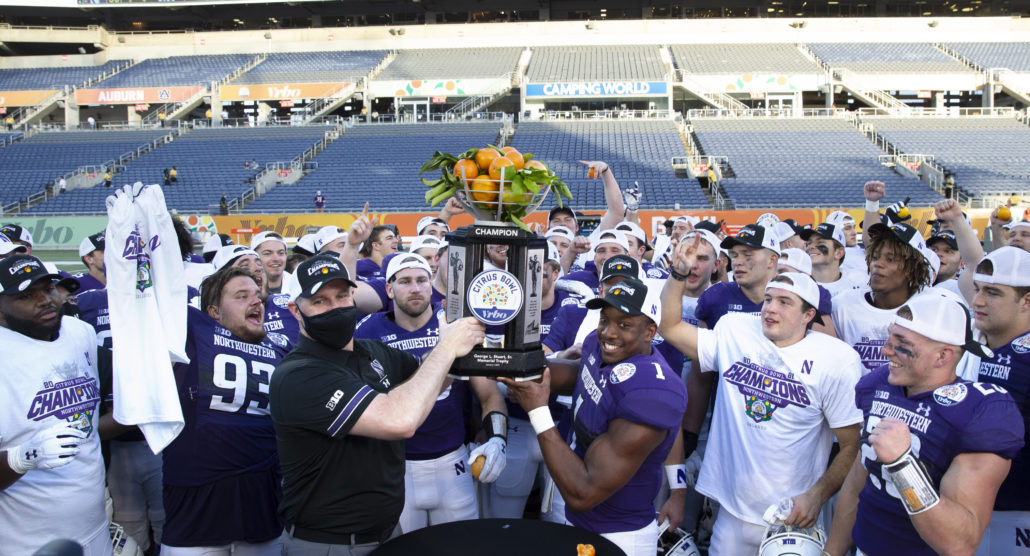 ORLANDO — The Wildcats dominated an SEC team with far more talent and earned their fourth-straight bowl win Friday afternoon.
Northwestern's 35-19 victory over Auburn in the Citrus Bowl is proof that the program is trending up again and it was another notch in the belt for the Big Ten this postseason. Coach Pat Fitzgerald proved why he's one of the best gameday motivators after his team's performance and he thought they played a near flawless game.
The Wildcats controlled the line of scrimmage and they also clinched win No. 400 for longtime Defensive Coordinator Mike Hankins. It meant a lot to the players to send him off on a high note into retirement because he meant so much to the program over the years.
"Our guys just went and headed to the tank," Fitzgerald said. "I think they did it for our seniors, they did it for each other, they did for Hank and I'm just so proud of them."
Not only was it the last game for Hankins, but also for Northwestern Athletic Director Jim Phillips with the program, who has become the ACC's new commissioner. It basically looked like a family affair on the Wildcats' sideline, with nothing but hugs and on the gridiron the team handled business.
The No. 15 Wildcats outgained the Tigers by nearly 100 yards, plus they led them in total plays, first downs and time of possession. Quarterback Peyton Ramsey threw for a season-high, 291 yards and scored four total touchdowns. Not to mention running back Cam Porter showed his workhorse capabilities, with a career-high, 33 carries to go along with a rushing score.
The 21 second half points were the most by Fitzgerald's team all season and most importantly they didn't turn the ball over. It's why the 46-year old coach is proud of his quarterback and his poise in the clutch.
"We wouldn't be where we're at today without Peyton Ramsey," he said. "Great leader, great teammate, you can tell that he's from a coaching family and he's like having a coach out there on the field."
Big Ten Linebacker of the Year Paddy Fisher had a game-high, 12 total tackles and the Wildcats' physicality took over in the second half. The Power Five's active leading career tackler capped off his journey in ideal fashion. He understood what it meant to get Hankins that last victory and won't trade his career at Northwestern for anything.
"The one thing I'll never forget is the brotherhood we have here, especially for me," Fisher said. "I've been highly fortunate to have great friends, great family members to be there by my side through thick and thin, highs and lows."
Interim Auburn Coach Kevin Steele knew his team had an uphill battle, and although the Tigers were held scoreless in the first quarter, he was impressed with their intensity early on.
His true sophomore signal-caller Bo Nix got banged up and Auburn (6-5) limped the rest of the way to the finish line. Northwestern's defense held receiver Seth Williams in check for the most part and never let Auburn find any consistency.
"I think we lost our edge after we went for it on fourth down and missed it by a couple of inches," Steele said. "We didn't go back out with the same edge we played with all day."
The Tigers struggled to run the ball because of the Wildcats' disruptive front seven and Nix finished the game as the team's leading rusher. Northwestern (7-2) obviously wanted the win more and made everyone take notice. Fitzgerald knew the heat would be a significant factor and he's glad his team got down to Orlando earlier in the week to practice in the weather.
"I think man we're really physical and I think it showed up today," Fitzgerald said. "I thought we played a real physical brand of football and frankly that's Big Ten football."