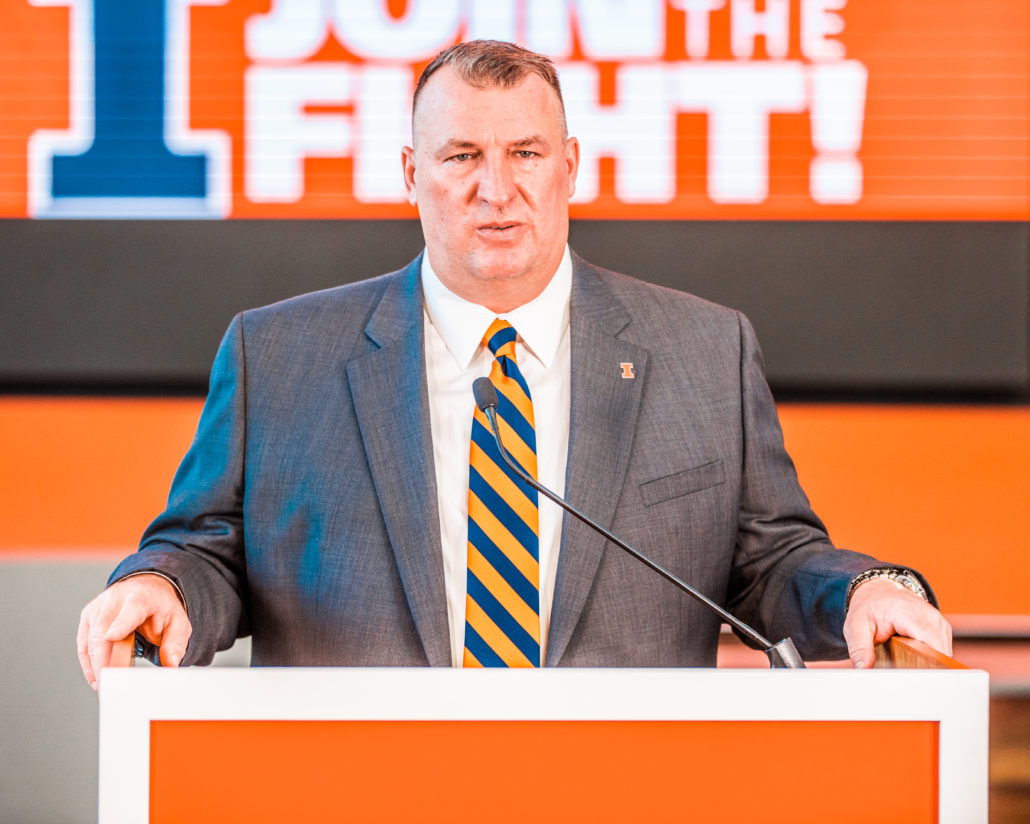 CHAMPAIGN, Ill. — He was one of the most successful Big Ten coaches of the past decade, but will be taking over a program that hasn't had a winning season since 2011.
Illinois really has nowhere to go but up after compiling a 17-39 record during Lovie Smith's tenure. Several fans believed the Fighting Illini lacked talent and weren't pleased with Smith's recruiting efforts. Which is why hiring Bret Bielema to replace Smith was a match made in heaven for all parties involved.
First off, Bielema is an Illinois native that knows the state like the back of his hand. It's a sentimental homecoming for him because his parents still reside in Illinois.
Bielema is all about getting it done on the field the blue collar way and won three Big Ten Championships with that style of play. Not to mention he plans on scouring Illinois border by border for talent. The 50-year old coach understands that his philosophy and style of football isn't for everyone, but believes if orchestrated properly, it'll benefit the team on and off the field.
"Any place that I've ever been successful has always been built on the people that are around it," Bielema said. "So the people of Illinois, that are from Illinois or has ties to Illinois, just know that we're going to represent everyone in the right way and we're going to build this thing for success that's sustained for a long time."
Bielema met with the team Sunday, with no press or staff in the room and he wanted it that way. He plans on talking with each player individually and weighing out what options they'd like to pursue. Several will return to the team, while others may transfer and a few may take their chances in the NFL.
However, for the ones who decides to stay and play, Bielema plans on instilling in them the significance of building a foundation.
"The root of good football is very simple, we'll build a roster of smart, tough, dependable players," he said. "They're players that don't have anything to do with their 40-time, bench press or the way they catch and throw a ball, but they'll understand exactly what that means."
So far it has been an emotional return to his home state. Bielema was almost in tears as he spoke at his introductory press conference on Monday. His journey back to the Big Ten has been a rollercoaster.
He rubbed some Wisconsin fans the wrong way with his departure from the program. Bielema eventually had three winning seasons during his five-year SEC stint at Arkansas. He also gained valuable experience from legendary NFL Coach Bill Belichick.
Those trials and tribulations Bielema experienced has made him into the coach he is today. It's a constant reminder to himself on why he remains humble and doesn't take anything for granted. After all, he has experienced the highest of highs and the lowest of lows.
"The things that really motivate me are the failures and when I left my previous institution they gave me a letter that said I was fired without cause because I didn't win enough games," Bielema said. "I know what I did and what I accomplished in that building and that wears on my heart til this day."
Right now Bielema is focusing on assembling a staff that's going to fit the program's identity. He's grateful to have another opportunity at leading a program the way he knows best. Bielema was only 32-years old when he got offered the Badgers job.
He has connections all over the midwest from his days at Iowa and Kansas State also. Bielema plans on using all of those resources to build Illinois into a competitive program. There's no denying he has an eye for talent, especially after he coached the likes of Russell Wilson, J.J. Watt and Melvin Gordon.
Bielema wants everyone to know that rebuilding is going to be a process and not an overnight fix. Patience will be a virtue, but for those who stick with the plan, he's confident the Fighting Illini will mold into a competitive and respectable program.