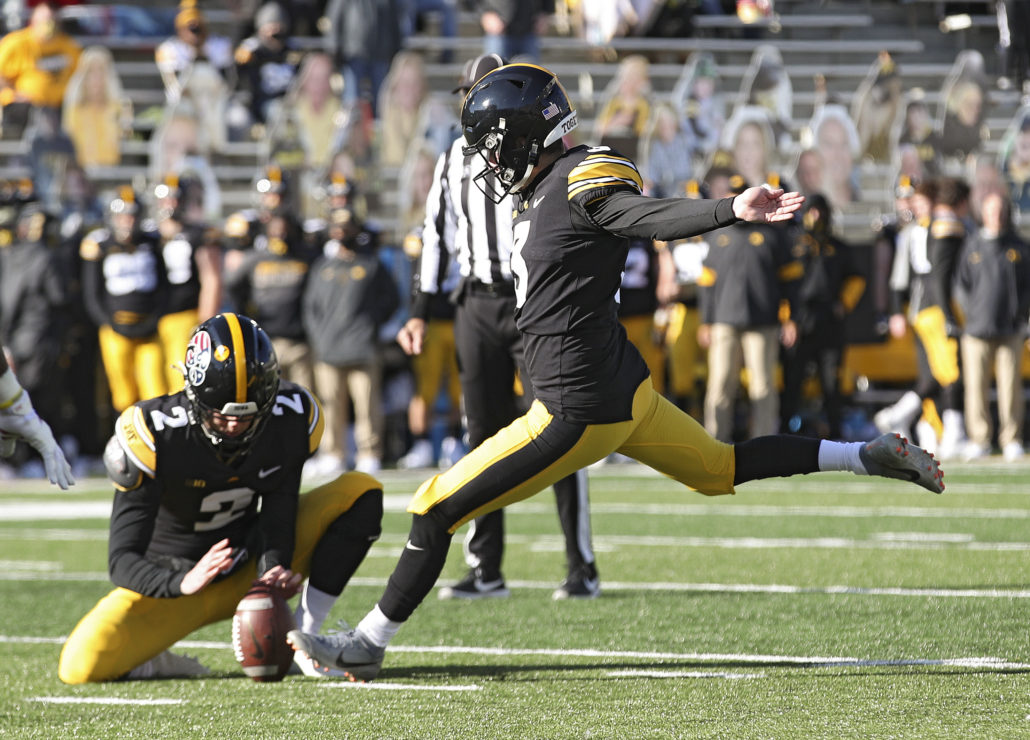 IOWA CITY, Ia. — He's one of the most decorative place kickers Iowa has ever had.
Hawkeye fans quickly fell in love with his witty personality, signature smile and of course his clutch field goals. Now his unforgettable career is coming to an end as he approaches his final home game at Kinnick Stadium Saturday.
So many unforgettable memories for the outspoken 22-year old to count. So much so that Keith Duncan gets goosebumps every time he enters the venue.
Duncan believes playing under the longest-tenured coach in the FBS made him into the man he is today. Coach Kirk Ferentz taught Duncan the values of life unrelated to football, especially being a leader in the community. On the field the Hawkeyes have had lots of success and won 40 games during Duncan's time in Iowa City.
The North Carolina native felt right at home in the community because it reminded him of being back home and the southern hospitality. Duncan has a special bond with Coach Ferentz and son Brian. He jokes around with the two all the time and they always go back and forth humoring each other.
On top of that Duncan has never lost to rivals Iowa State, Minnesota and Nebraska. That speaks volumes of the job Ferentz has done and he hasn't shown any signs of slowing down.
"He's a future Hall of Fame Coach in my opinion and he has so much wisdom that he brings every single day," Duncan said. "When I was a freshman I was like a sponge, taking in as much as possible and now in the team meetings I'm just writing down everything that he says."
Despite Iowa having all of that success there's one team that has had its' number during that span. Wisconsin has won four-straight over Iowa and that's something Duncan wants to change before he ends his collegiate career. He's prepared to deliver Saturday afternoon if his number is called.
Snow is being projected in the forecast and Duncan welcomes that type of weather. After all, he has never kicked a field goal under those conditions. There won't be any fans in the stands to cheer on the Hawkeyes, but the 5-foot-10, 179-pounder is still going embrace his last time putting on the black and gold jersey at home. He also found clever ways to get tickets for 13 members of his family to attend the matchup.
It's going to all be sentimental for him and Duncan can't wait to experience 'The Wave' one last time in a Iowa uniform.
"It's been great being a Iowa Hawkeye, I've loved every single second of it and wouldn't trade it for the world," he said. "Again I think this will be my last home game, it's a very emotional thing to say and its' been great being here, I'm just having fun."
Duncan is planning on his future, which includes NFL aspirations and a career in Sports Communications. He feels he's a personable type of individual and can thrive in any work environment. After leading the nation in converted field goals last season, Duncan is sort of disappointed this fall. He's not a semifinalist for the Lou Groza Award and felt snubbed for not winning the hardware last year.
He's using that as motivation despite his numbers being down. Duncan still holds the school record for his 29 field goals he made in a single season. There's nothing like having a confident individual, who has been consistent and remains a leader on and off the field.
Hawkeye Nation will get to enjoy No. 3 one last time at Kinnick. Rather Duncan is blowing a kiss at the opposition in celebration, or entertaining Iowa fans with his antics, they're hoping he puts on a lasting performance for his final curtain call.