Pat Fitzgerald impressed by Peyton Ramsey's poise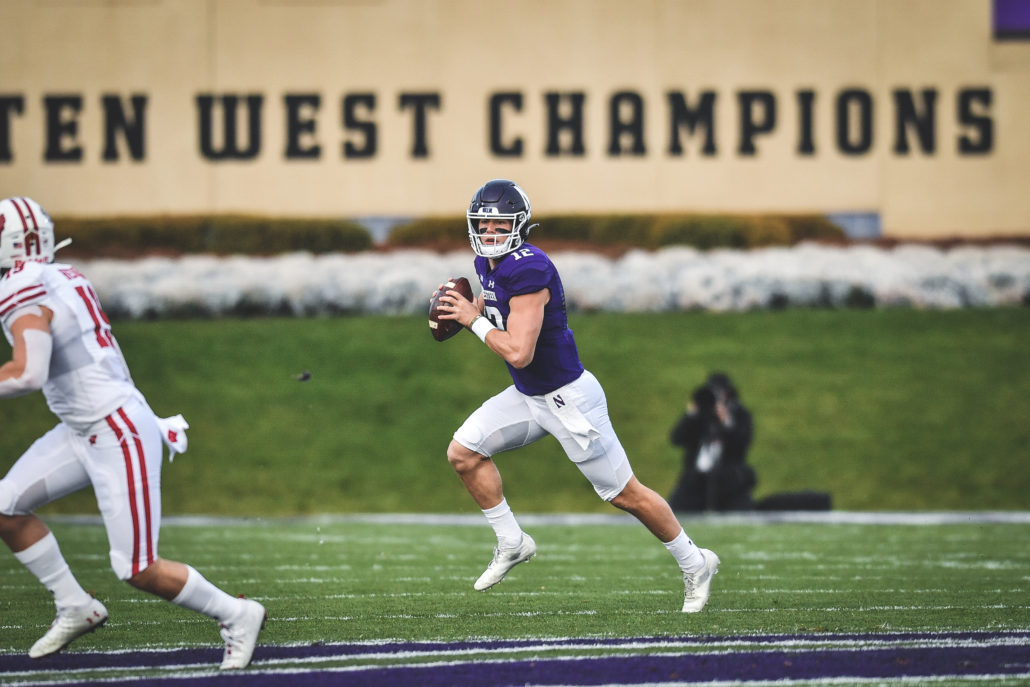 EVANSTON, Ill. — There's a glaring difference between a Wildcat team that won three games last season, and the undefeated version that's taking the Big Ten by storm this fall.
Northwestern's shortcomings a year ago wasn't its' defense, which finished 25th in total yards allowed. The quarterback position was the team's achilles heel. Aidan Smith, Hunter Johnson and Andrew Marty combined for a 39 percent  completion rate, six passing touchdowns and 15 interceptions.
Fast forward a year later and Peyton Ramsey has made himself a household name in the Big Ten. The former Indiana signal-caller hasn't made Northwestern fans forget about Clayton Thorson, but he has ignited his own legacy with the program.
The Wildcats are 5-0 in Big Ten play and ranked 11th in the nation for the first time since 1996. Not to mention Northwestern has won its' first five games for the fifth time under Pat Fitzgerald. The second-longest tenured coach in the conference has seen several quarterbacks over the years. However, every week Ramsey continues to surprise him with his performance in the clutch.
The Cincinnati native has thrown for five touchdowns and one interception over the Wildcats' last two games. Plus Purdue and Wisconsin were both undefeated at the time, which makes those victories more impressive on Northwestern's resume. Ramsey's experience in the league has helped with his leadership and production on the field.
Fitzgerald thought his quarterback stepped up to the plate, delivered in the clutch and carried the Wildcats to the finish line against the Badgers.
"I thought it was absolutely outstanding the way he took care of the football, extended plays and made really good decisions when things weren't there," Fitzgerald said. "I'm very thankful for him to be in our program obviously."
The six-foot-two, 220-pounder has displayed a short term memory when things go wrong on offense. Ramsey never gets down on himself and his teammates feed off his energy. It seems his confidence is at an all-time high. Fitzgerald emphasized how his team has been battle-tested, but weathered the storm in tight fourth quarter games. Which is why the 45-year old coach wants the ball in his quarterback's hands when the team is in desperation mode.
"That two minute drive when he goes seven for seven and you don't know until hindsight, but ends up being the game-winning drive," he said.
The Wildcats have a shot at running the table because their remaining three opponents have a combined record of 5-9. Fitzgerald knows there's something special about this year's group of Wildcats. He makes sure his players remain humble and not take anything for granted.
"I think one thing about our team right now that jumps out to me is no one cares about yards, stats, carries, tackles and interceptions," he said. "They just want to do everything they can to be unselfish teammates to help our team win."
Northwestern's next two games are on the road and that's always a challenge in the Big Ten. Still, Fitzgerald remains confident in his squad because he knows he has Ramsey lined up behind center.