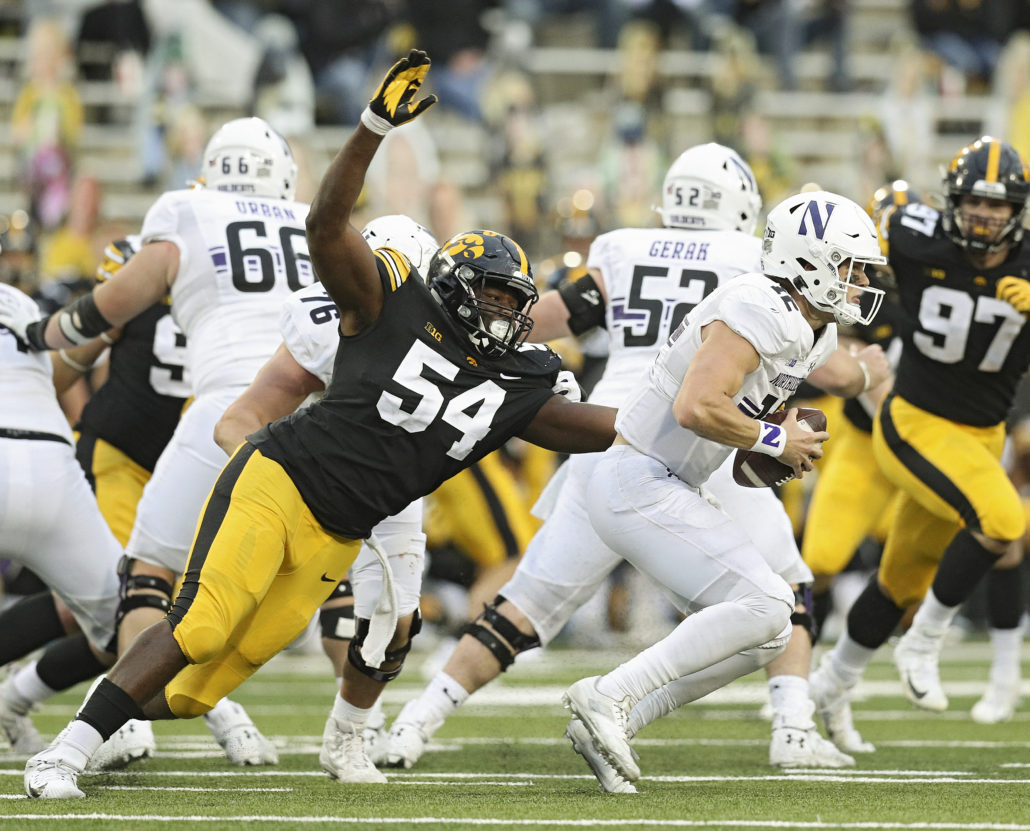 STATE COLLEGE — Iowa's star defensive tackle is an enforcer, who loves to wreak havoc on opposing quarterbacks.
Nixon is not your average space-eating, brick wall that clogs up the middle. He's disruptive, dominates in the trenches and plays with a tenacity very few Big Ten offensive linemen can match. It's rare for an individual of his size to be so athletic and versatile.
Which is why it's no surprise that Nixon is second in the league in tackles for loss and has 4.5 sacks under his belt after Iowa's 41-21 win over Penn State Saturday. The Wisconsin native became a household name in the Big Ten after he intercepted Sean Clifford's pass and returned it 71 yards to the house in the waning minutes of the fourth quarter.
The jaw-dropping play by Nixon could've easily made ESPN's Sportscenter top-10. Not to mention the six-foot-three, 305-pounder displayed extreme athleticism on the return. After Nixon scored he thought it was an amazing feeling. Not to mention it was his first-ever career touchdown in football.
"My first mindset was to run through the quarterback, but I seen the right tackle close enough to me," Nixon said. "So I'm like I got to go score, if I get the ball in my hands the first thing I want to do is put it in the endzone."
Iowa's defense also held Penn State's offense scoreless in the first and fourth quarter. The Hawkeyes continue to field one of the best defenses in the Big Ten every year and the unit is getting stronger game by game. The November version of the Hawkeyes is light years ahead of where the team was in October and they've outscored their last three opponents 125-35.
In hindsight, the Hawkeyes are looking like the second-best team in the Big Ten West. Nixon isn't surprised by Iowa's success as of late and knows the defensive line has played a vital part.
"We know that this team feeds off our energy and that everything we do starts up front whether it's our offensive or defensive line," he said. "We know we got to go out every game, every snap, every series, every play and try to make a difference in the game."
Nixon takes pride in everything he does on the field and enjoys setting the tone for the big boys up front. There's nothing like anchoring a dominant defensive line and mauling the opposition. He doesn't like when the opposing offense scores and hates to lose. That is another reason why he's taking it upon himself to not let the Hawkeyes experience that again as they navigate through the rest of the Big Ten meat grinder.
"Our statement for the rest of the season is to come out and be the best Iowa football team we can be."