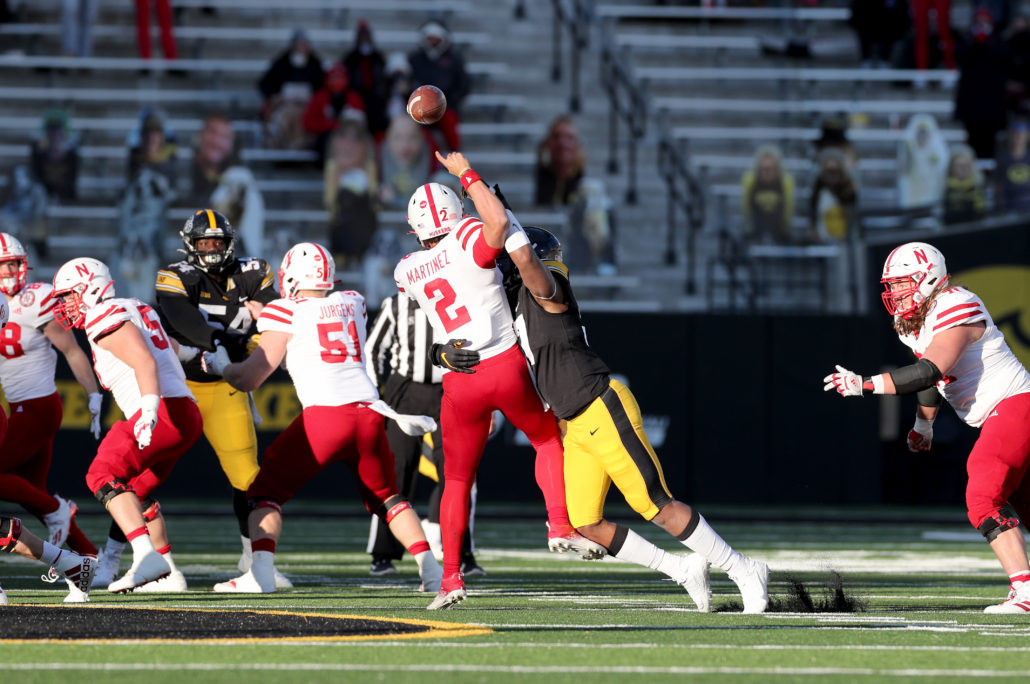 IOWA CITY, Ia. — Iowa's senior edge rusher continues to be a disruptive force for arguably the best defensive line in the Big Ten.
Chauncey Golston made his presence felt throughout Friday's win over Nebraska and he spearheaded the game-clinching play. The six-foot-five, 270-pounder has a non-stop motor and a relentless attack that makes him a nightmare for offensive linemen to deal with in the trenches.
In order to be a successful defensive end in the Big Ten an individual must be relentless, with flexibility in the hips and have good hand placement at the point of attack. Golston has displayed all of those attributes throughout his career. From playing alongside A.J. Epenesa last season, to anchoring the Hawkeyes' front seven this fall, Golston is proving why he's one of the best defensive linemen in the league.
Kirk Ferentz isn't surprised by the success Golston been having on the field. After all the 65-year old coach knows his journey has been amazing and will continue to get better because of his drive.
"He's grown into a really good player, not just this year, but it's been a process," Ferentz said. "The bigger picture for me is he really embodies to me what an Iowa football player is."
The Detroit native has made plays all over the field for the Hawkeyes' defense. He has 28 stops, seven tackles for loss, four sacks and an interception. The Hawkeyes have won four-straight games after dropping their first two and they're expected to surface in the AP rankings that'll be released Sunday afternoon.
Iowa (4-2) has a chance to win six conference games for a second-straight year. Luckily for Ferentz the defense has delivered for the team in the clutch because Spencer Petras has struggled. Golston's experience, leadership and production are the reasons he's a captain. He continues to benefit his team down the stretch and Ferentz is thankful for his contributions. There's nothing like having a player that's highly respected on and off the field.
"Credit goes to him for working hard and just taking advantage of the opportunities," he said. "We're thrilled he's on our football team."
A Big Ten Championship Game is not out of reach for the Hawkeyes. Especially if Iowa wins its' last two games and Northwestern loses its' last two. The defense has put the team in a position to take over the West. That's mind-boggling, considering where the state of the team in October.
The Hawkeyes are playing their best ball as of late. Ferentz credits his stud along the edge for paving the way and is proud Golston is starting to get the recognition he deserves.
"He's done his work here," Ferentz said. "He's an absolute delight any time you're in the room with him, the guy just has a really positive energy."