Wildcats in control of West after stifling the Badgers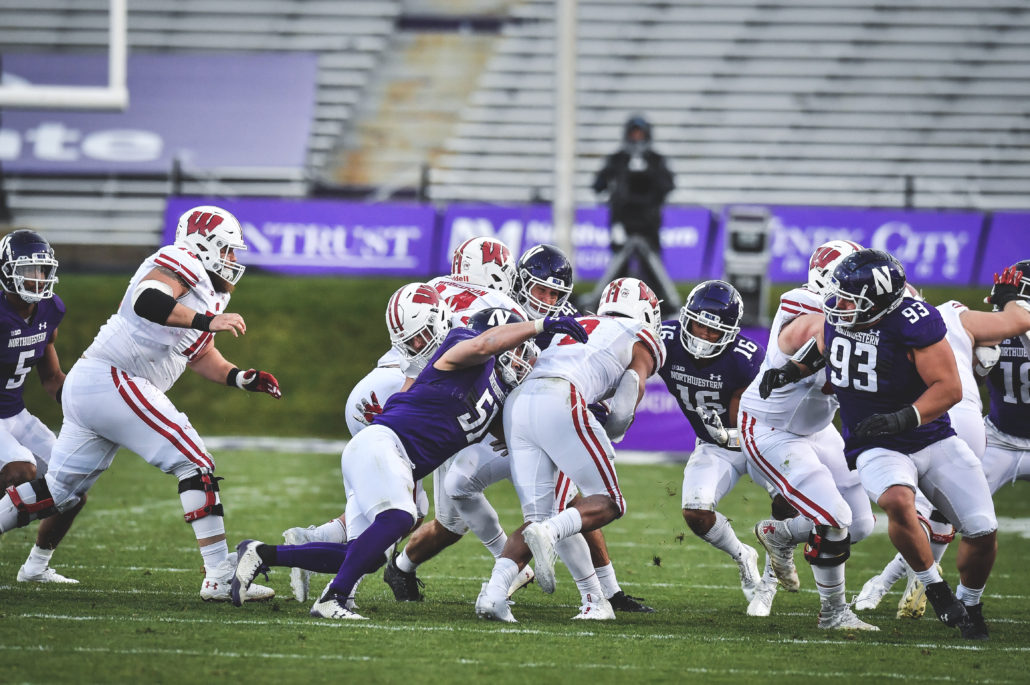 EVANSTON, Ill. — Northwestern snatched the red carpet from under Wisconsin Saturday night and now holds all the cards in the Big Ten West.
The Wildcats struggled to run the ball and were held to their lowest point total of the season, but they're now one of two remaining undefeated teams in the league after their 17-7 win over the Badgers. For a third-straight game Wisconsin's offense failed to produce a 100-yard rusher, which was a statement performance by Northwestern's defense.
The Badgers' seven points was their fewest in the last eight games. Not to mention it was the first time Paul Chryst's team been held scoreless in the second half since last year's loss in the Big Ten Championship. Although Wisconsin led in total yards, time of possession and first downs, Northwestern had fewer turnovers and penalties.
Pat Fitzgerald emphasized earlier in the week how his team had benefited from winning ugly. In a game of evenly matched teams that proved to be the difference.
"I'm just proud of our team, tonight was a team effort and we played pretty solid complimentary football," Fitzgerald said. "At the end we went for the jugular."
It was the Wildcats' first double-digit win over a top-10 team since 1959 and they're 5-0 in conference play for the first time since 1996.
Quarterback Peyton Ramsey played smart with the football, threw for 203 yards and two touchdowns. Those stats may not blow people away on paper. However, factor in that Northwestern only had 24 yards on the ground and Ramsey's numbers look more impressive. Receiver Ramaud Chiaokhiao-Bowman had a game-high, 95 receiving yards and a touchdown catch, plus Kyric McGowan hauled in seven passes.
Northwestern's defense played with tenacity and forced five turnovers, including three interceptions. The unit is arguably the most physical in the Big Ten and allowed the fewest points to a top-10 opponent in 53 years.
"I just think our squad is a tough group of football players and they love the game," Fitzgerald said. "I think it shows in the physical and mental toughness that they demonstrated on the field."
The 56-year old coach is thrilled his team is playing the game the way he taught them. Selfless, grit and determination is why Fitzgerald believes his team is successful. In hindsight, the Wildcats are light years ahead of where they were last season.
The win over Wisconsin (2-1) could potentially push Northwestern into the top-15 for the first time since 2015 . Regardless, Fitzgerald still feels his team hasn't played a complete game that he knows they're capable of, which means he won't let his players be complacent. There's nothing like running the table and controlling your own destiny.
"We expected to win this game," he said. "Not any disrespect to Wisconsin, but because the fact that we feel like we're still not playing our best football."