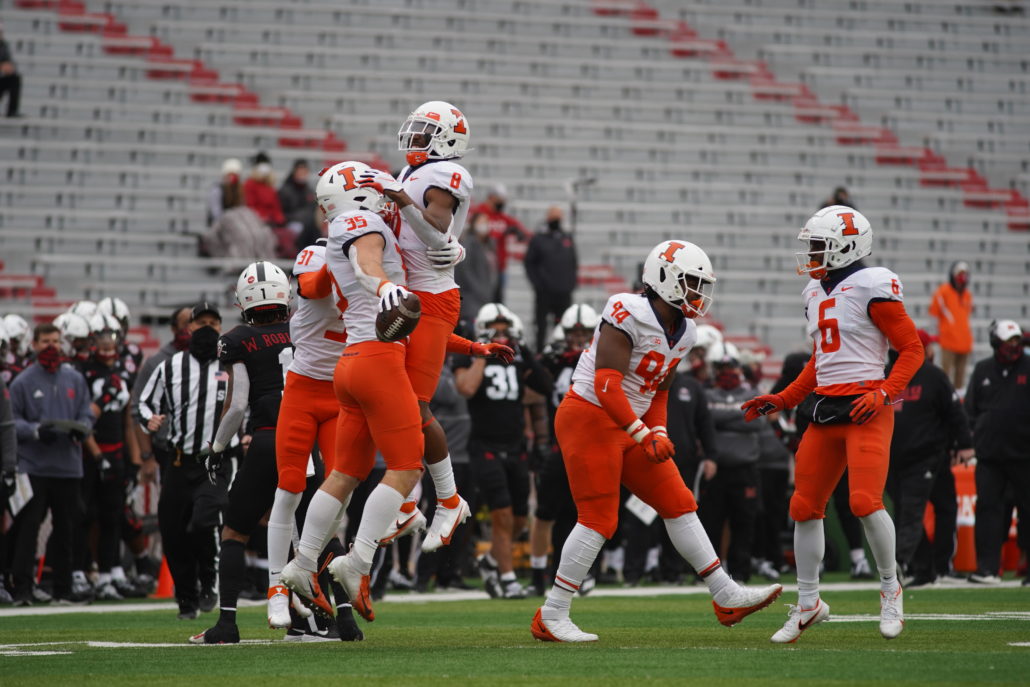 LINCOLN — The Fighting Illini dominated the Huskers in the trenches and played like a complete team for the first time this season.
Illinois' 41-23 win over Nebraska Saturday was its' first in Lincoln since 1924, which was Red Grange's initial collegiate game. Not to mention the 41 points by the Fighting illini was their most on the road against a Big Ten opponent since 2015. Lovie Smith's team set the tone from the start, never trailed the entire afternoon and he felt they played perfect in all three phases of the game.
"Our guys played well today, we deserved to win, we practiced that way all last week," Smith said. "Special teams had a big say in it, the defense did taking the football away."
The offense racked up a season-high, 490 yards and kept the Huskers on their heels with a balanced attack. Quarterback Brandon Peters returned to the lineup after missing the past three games. He steamrolled Nebraska's defense for 241 total yards and two scores. The big boys up front mauled the opposition and allowed Peters time to make his reads and extend plays.
"I thought we were well prepared, we played physical up front, so you have give a lot of props to the offensive line," Peters said. "They made a lot of things happen up front and opened up big holes for our running backs."
Mike Epstein and Chase Brown both went over 100 yards rushing and combined for three touchdowns on the ground. It was the second time this season that Illinois had two players eclipse the century mark in rushing. The two running backs were like lighting and thunder on the field and provided Peters with a dangerous one-two punch.
"It's just a reflection of our hard work and I think that's the best way I can say it, we're both grinders," Brown said. "It was a big moment for me having my first career rushing touchdown and two in the first quarter."
Receiver Josh Imatorbhebhe was unstoppable in one-on-one matchups, made clutch catches and had a game-high, 70 receiving yards. Peters spread the ball around to multiple receivers and everyone got a chance to shine.
However, Illinois' defense was the most impressive and forced five turnovers. The Fighting Illini scored 20 points off takeaways and kept a three-score cushion. Illinois ran more plays, led in time of possession and third down conversions.
"It was a good game plan going in, but in the end it's about execution," Smith said. "This was a game the guys have been waiting a long time for and offensively we got to score points, it's simple as that."
Now Smith's team has momentum and will need it next week in the rivalry game at home against Ohio State. The Fighting Illini have persevered through the storm to win two-straight and they're starting to gel at the right time. Like last year, Illinois is having a mid-season surge.
Smith believes his players are having fun and and performing with a lot of confidence, which makes them one of the most dangerous teams in the Big Ten West.
"We've been building this football team for a while and have to understand how we started this season," he said. "A lot of these guys have played a lot of football, are good players and it showed on the field."