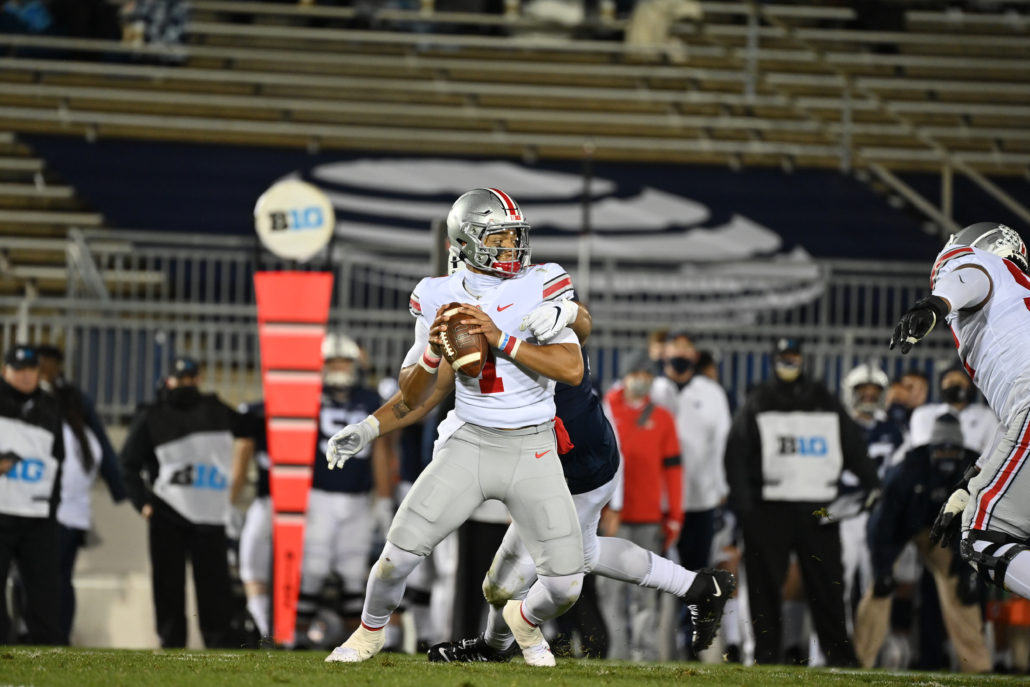 College football is now in the month where everything gets serious.
Teams are fighting to stay atop their conference standings and one loss can put players on the outside looking in. Statement performances are a must and style points remain vital. Players have to impress every week to stay in consideration for the game's most prestigious trophy.
It's not always about what program an individual plays for, instead leadership, production and character always stands out once the smoke clears. Here are the 10 players who have displayed those attributes and why they're the favorites heading into the third month of action.
10. Kyle Pitts, TE, Florida: He's by far the most dynamic tight end in the country and led the Gators in catches last season. Now Pitts has picked up right where he left off this fall and leads all tight ends with seven touchdown catches, which is tied for fourth-best in the FBS. The six-foot-six, 246-pounder is a nightmare for defenders to cover out in space and he's a NFL caliber athlete playing College ball. The Philadelphia native had a jaw-dropping, four touchdown receptions in Florida's season-opening win over Ole Miss. Pitts scoring numbers have decreased since then because opposing defenses key in on him before every Gator offensive snap. Pitts makes his quarterback's job look easy the way he hauls in passes and if the John Mackey Award was handed out today, he'd take home the hardware. Georgia is the biggest game on the slate and gives Pitts opportunity.
9. Breece Hall, RB, Iowa State: The true sophomore has been the biggest surprise in the Big 12 this season as he continues to steamroll defenses week after week. Hall has eclipsed the century mark in rushing every game this fall. Plus he leads the conference in carries, rushing yards and touchdowns on the ground. Not too shabby for a former four-star prospect. The naysayers continue to criticize the Big 12's defensive credibility, which is why Hall hasn't received more recognition. However, he has been running behind a rebuilt offensive line and that makes his numbers more impressive. Not to mention the Cyclones are the second-highest ranked team in the league at No. 17. Opposing defenses know Hall is going to get the ball, but still can't do anything to slow him down. He's arguably the best running back Iowa State has had since the Davis brothers.
8. DeVonta Smith, WR, Alabama: He's one of the best playmakers in all of College football, hands down. Smith hauled in 14 touchdown passes last season and he's No. 2 in the Power Five this fall in receiving yards and touchdown catches entering November. The six-foot-one, 175-pounder is a true deep threat and can stretch the field on any given play. The Louisiana native is coming off a career-high, four receiving scores against Mississippi State and had 203 yards through the air. Smith also had double-digit receptions and over 100 receiving yards against Ole Miss and Georgia. He makes everything look so effortless and is a man among boys on the field. NFL wide receivers seem to grow on trees at Alabama and Smith appears to be the latest version of the pipeline. It'll be a shocker if Smith isn't the Biletnikoff Award winner by the end of the season.
7. Trevor Lawrence, QB, Clemson: He went from being the Heisman favorite, to behind the eight ball because COVID-19 forced him to miss at least two games. Still, Lawrence is the most accomplished quarterback in the FBS and a projected No. 1 overall pick in next year's NFL Draft. The Georgia native has owned the ACC since he arrived on campus and surpassed his five-star billing out of high school. Clemson is pretty much a National Title or bust type of program because of Lawrence and he'll continue to break school records in the process. After the Tigers got off to a slow start last week without him in the lineup shows Lawrence's worth to the team. After all, great quarterbacks make others around them better. He's still trying to forget last season's National Title performance. However, Lawrence could potentially lead Clemson to its' second National Title in three years.
6. Zach Wilson, QB, BYU: The junior signal-caller has flown under the radar because the Cougars haven't played a Power Five opponent. However, Wilson has put up video game numbers and look like a future first rounder. He's third in the FBS with 19 touchdown tosses and fourth with 2,152 passing yards. Kansas City Chiefs' star quarterback Patrick Mahomes even gave Wilson a shoutout on his performance this season. BYU has yet to play anyone with a pulse, which is the only reason why Wilson isn't the clear-cut favorite at this point. The Cougars are undefeated and ranked in the top-10 for the first time since 2009. If that's not a statement, then the Cougars playing their first ranked opponent this Friday will be the perfect opportunity to make one. If Wilson can beat Boise State on the 'Smurf Turf' he'll be in the conversation. BYU needs to take advantage.
5. Travis Etienne, RB, Clemson: There's no denying he's the most electrifying player in College football. Etienne is literally a human highlight reel. He surprised the nation when he decided to return for his senior season. After all, the Louisiana native was already Clemson's all-time leading rusher. It turned out to be a great decision and now he sits atop the ACC's all-time rush list. He also has very soft hands for a running back and dangerous out in the open field. Etienne is tied for third in the nation among running backs, with 11 total touchdowns and showed how vital he is to the Tigers' offense after their come from behind victory last week without Lawrence. Clemson is approaching its' biggest game of the season and Etienne should expect a heavy workload. By the time Etienne finishes up his eligibility his records will be nearly impossible to reach, but maybe that's what he wanted to happen when he decided to return to school.
4. Najee Harris, RB, Alabama: He's by far the most beasty running back in the game. Harris can do it all, from running between the tackles, to blocking and catching the ball out of the backfield. Not to mention he can hurdle a defender at a drop of a dime and take it to the house. Harris leads all running backs in the FBS, with 14 total touchdowns. He also leads the SEC in rushing yards and rushing touchdowns. Harris steamrolled Ole Miss' defense for a jaw-dropping, 206 yards and five touchdowns. The California native also went over the century mark in rushing in wins over Georgia and Mississippi State. Everyone thinks the race for the Heisman Trophy has become a quarterback beauty contest. However, Harris has the best chance of any rusher to bring home the hardware since Alabama's Derrick Henry won it in 2015. Nick Saban has had some great backs during his tenure with the Crimson Tide and Harris is holding down the position just fine until the NFL comes calling.
3. Kyle Trask, QB, Florida: His journey has been better than an Oscar-worthy Hollywood script. Trask went from being a walk-on to one of the hottest quarterbacks in the SEC for the past two seasons. He's currently No. 6 in the FBS in total offense and second in the SEC in pass efficiency. In three out of the Gators' past four games the Texas native has thrown for at least 300 yards. Not to mention Trask had at least four touchdown passes in every game this fall, including six in the opener against Ole Miss. The six-foot-five, 240-pounder has a plethora of weapons around him, including Pitts and Kadarius Toney. Dan Mullen is a quarterback guru with one of the best track records of any active College coach. Mullen's scheme is very quarterback-friendly and Trask should continue putting up huge numbers. The rivalry game against Georgia this Saturday will solidify if Trask is a pretender or true contender. Win that game and Florida will take back over the SEC East. By that time everyone will be jumping on Trask's bandwagon.
2. Justin Fields, QB, Ohio State: In just two games he has reminded the nation why he was the Heisman favorite coming into the 2020 season. Fields can score on any given play with his arm and legs. It's mind-boggling how he makes everything look so easy. His accuracy has been spot on. The Buckeyes have scored 90 points in just two games and look like world beaters. Ohio State's schedule sets up perfectly for Fields to remain in the mix for the remainder of the season. The rest of the Big Ten is finding out the hard way why Fields wanted to play so bad this season. Ryan Day is another coach who has a system that's quarterback-friendly and because of that Fields is poised to lead the Big Ten in several offensive categories again. Regardless, with Ohio State it's National Title or bust. Fields was one bad throw from playing for all the marbles. Now he has used that as fuel to his fire and is on a mission to get his team to the promised land. After all, he's the only Heisman finalist that's playing this year.
1. Mac Jones, QB, Alabama: The Crimson Tide has never had a Heisman winning signal-caller in its' storied history. Jones has an opportunity this season to change all of that and he has been convincing. He leads the SEC in passing efficiency and yards through the air. Naysayers claim his numbers are padded because of all the weapon at his disposal and the all-star offensive line protecting him. Still, Jones has matured before the nation's eyes. Although he hasn't made Crimson Tide fans forget about Tua Tagovailoa, Jones has a chance to accomplish just as much with the program. Most of the Alabama quarterbacks under Saban have been glorified game managers. However, Jones has proved time and time again that he can put the team on his back and carry them to the finish line. Alabama has looked like the No. 1 team in the nation with Jones behind center. The Florida native has thrown for over 400 yards in three-straight SEC games against Texas A&M, Ole Miss and Georgia. It's crystal clear that Jones' numbers don't lie.