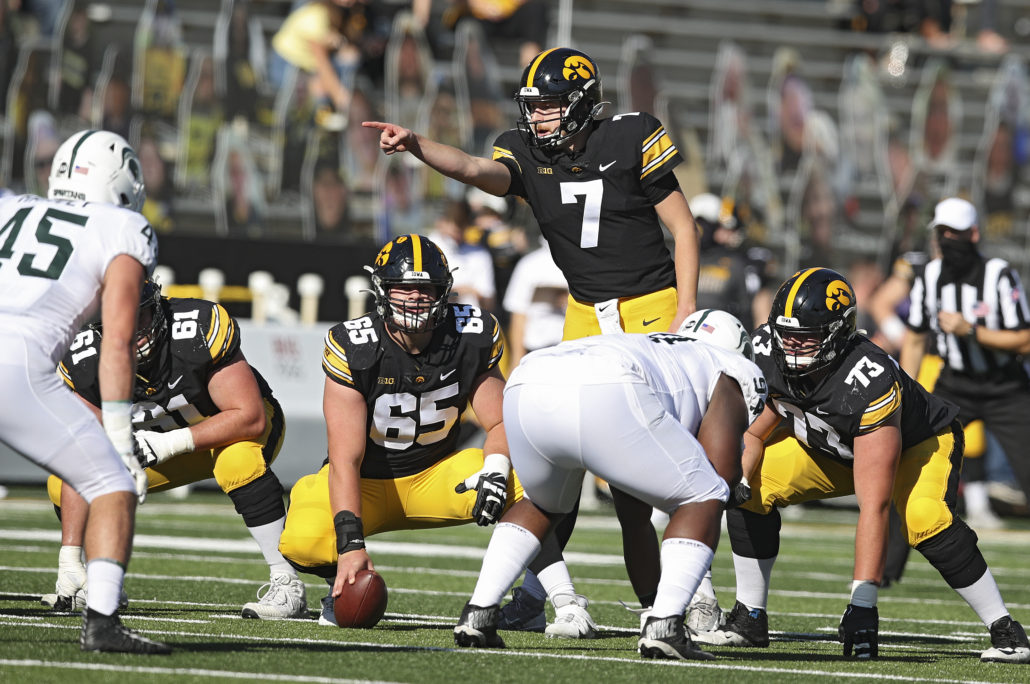 IOWA CITY, Ia. — With their backs against the wall Saturday afternoon, the Hawkeyes were able to avoid an 0-3 start and came out firing on all cylinders.
Iowa scored 35 first half points for the first time in 17 games and demolished Michigan State 49-7. The win allowed the Hawkeyes to snap a three-game losing streak to the Spartans. Plus it was Iowa's largest margin of victory to date in the series. Iowa held a Big Ten opponent scoreless through two quarters of play for the first time since October of 2019 and now has racked up 49 points in two of its' past four games.
Coach Kirk Ferentz was pleased with his team's performance. The Hawkeyes finally played up to their potential and resembled the squad that won last year's Holiday Bowl. After all, Iowa had two touchdowns on their first two drives. Not to mention the Hawkeyes' defense returned an interception for a score and special teams returned a punt for a touchdown.
"I'm really proud of our team today, just really proud of their effort all week," Ferentz said. "Obviously their performance today was everything we had hoped for."
Ferentz thought his team played hard, tough and physical. However, he doesn't want his players to be satisfied with the win. Instead the 65-year old coach hopes his team continues improving as they navigate through the Big Ten meat grinder.
"Certainly in all three segments we played well and most importantly they complimented each other," Ferentz said. "So I'm really happy about that and the fact that we got off to a strong start."
Quarterback Spencer Petras played a turnover-free game, finished with 167 yards through the air and had a touchdown pass. Sophomore running back Tyler Goodson eclipsed the century mark in rushing for the first time this season, with 113 yards on the ground and two touchdowns. The Hawkeyes racked up 405 yards of total offense and limited the Spartans to 286.
"We've seen the last two weeks how we can play when we play turnover free, penalty free and that starts with me," Petras said. "Last week obviously I had three turnovers myself so we made that a point of emphasis to try and play clean football."
The Hawkeyes' defense was relentless, picked off Michigan State's quarterback Rocky Lombardi three times. Now Iowa has had a pick six for 13-straight seasons. The Spartans were held to a season-low, 59 yards on the ground. Iowa kept the pressure in Lombardi's face, sacked him twice and spoiled his homecoming.
Senior defensive lineman Chauncey Gholston dominated in the trenches and finished with six tackles, two stops for loss and put Lombardi to the turf nearly two times. The Detroit native knew that if the Hawkeyes got pressure on Lombardi it would take away his high percentage passes.
"We've been getting better week by week so I guess we're building towards the last game," Gholston said. "We knew if we kept working eventually we would push through."
The Hawkeyes will celebrate this win and carry the momentum into their two games. Both will be on the road, including the Battle for Floyd Rosedale next Saturday.