How Ian Book can ride legacy into Notre Dame lore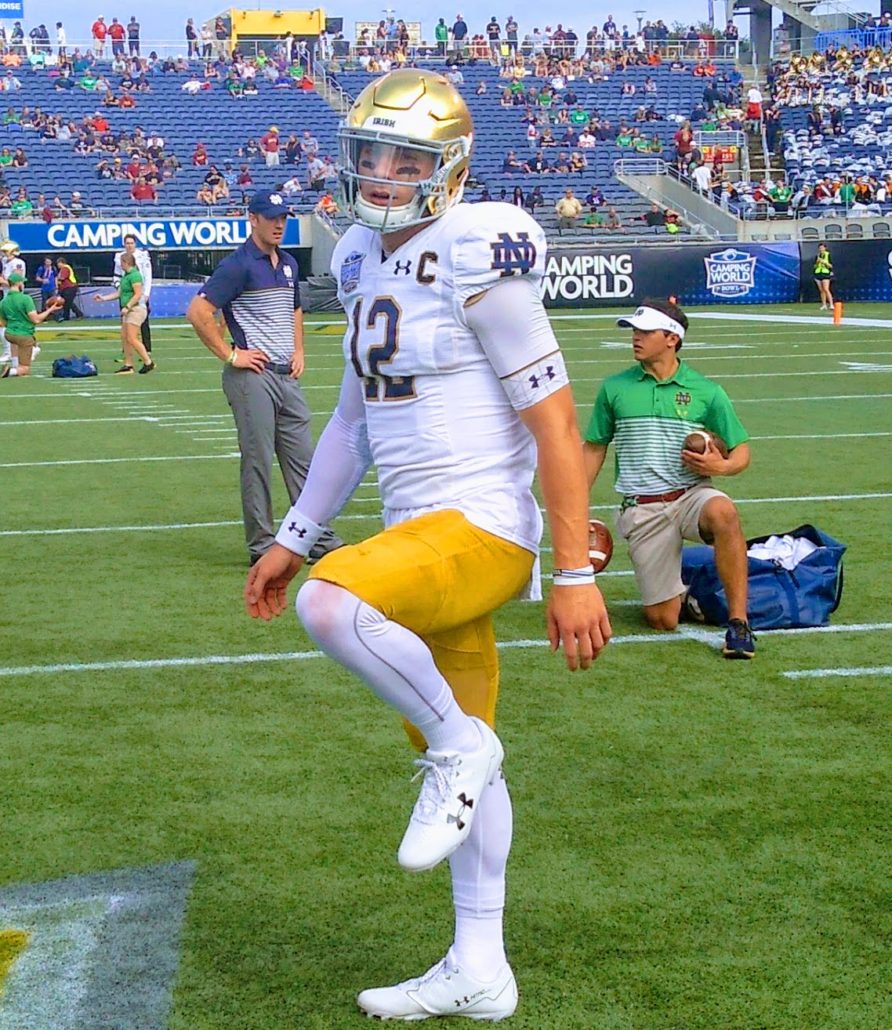 When a quarterback is 27-3 as a starter, has a Playoff appearance under his belt and is 25 total touchdowns away from shattering a big-time school record, he deserves to be a household name in College football.
There's no denying Ian Book is one of the most accomplished signal-callers in the FBS. However, he still doesn't get the same recognition as Trevor Lawrence or Justin Fields. Notre Dame is currently ranked in the top-five, undefeated and it's November. That speaks volumes, but Book doesn't have the Heisman video game numbers behind his name.
The California native only has 12 total touchdowns so far this season, but needs 25 more scores to become Notre Dame's all-time leader. It might sound far fetched, but factor in that Notre Dame has four games left in the regular season. Not to mention a potential ACC Championship Game berth, and if the Fighting Irish win they'll get a chance at two additional matchups if they wind up playing for all the marbles. By accomplishing that, Book will have plenty of opportunity to break the record.
Right now the spotlight is on Book. If he wants his name mentioned with Fighting Irish legendary signal-callers like Johnny Lujack, Joe Theismann and Tony Rice, he'll have to make a statement at home this Saturday against the No. 1 team in the nation.
Notre Dame hasn't beat a AP top-ranked team at home since 1993, which was Charlie Ward and Florida State. Since then only Eric Crouch's Huskers and Matt Leinart's Trojans have stormed into South Bend as the No. 1 team, and beat the Fighting Irish in dramatic fashion. Clemson will be without star quarterback Trevor Lawrence, which should tilt the game in Notre Dame's favor.
Brian Kelly's team is still ticked off for being passed over by Ohio State in the rankings. That's mainly because Notre Dame has yet to beat a team with a winning record this fall.
Now Book and the Fighting Irish have a chance at silencing all of the naysayers with a statement performance against the Tigers. Not receiving the respect they deserve should be more than enough motivation for Kelly's squad. Notre Dame will be coming into Saturday's matchup with a chip on its' shoulder.
A win over Clemson would boost Notre Dame to that No. 1 spot in the AP Poll for the first time since 2012. Regardless, the magnitude of this game can be a program changer for the Fighting Irish. Kelly and Book both have a chance at cementing their legacies with Notre Dame.
Bottom line, all eyes will be on the Golden Domers. Kelly can garner his first signature win after a decade on the job and Book can become one of the best quarterbacks in school history, making this Notre Dame's biggest game since the 2012 BCS National Championship.